LSU gymnast, NIL star Livvy Dunne says she's just getting started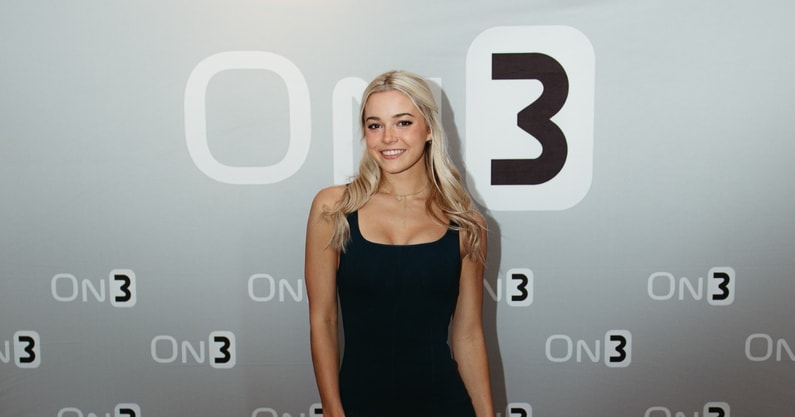 NASHVILLE – Walking around the foyer of the Thompson Hotel, Livvy Dunne comfortably navigated her way through a meet and greet Wednesday at the On3 NIL Elite Series presented by Mizuno with some of the nation's top high school football recruits.
Colin Simmons, the top-ranked EDGE in the 2024 recruiting class, threw up an "L" with the LSU gymnast, teasing a possible commitment to the Tigers. Tennessee defensive line commit Carson Gentle showed off his flexibility, striking a split right in front of her.
Nearly two years ago, Dunne was in a similar position to many of these recruits. With college athletes finally able to monetize their publicity rights, the gymnast started to vet marketing agents and figure out what types of brands she wanted to align with. Able to do something with her budding platform, she made the most of her opportunities.
Her decisions during the first months of college sports' new world have paid off. Now the most followed college athlete on social media, the rising senior at LSU has become the face of NIL. Her portfolio includes a multi-year agreement with Vuori Clothing. She's also one of the first college athletes to ever appear in the SI Swimsuit edition.
And in her eyes, she is really just getting started.
Speaking with some of college football's future stars, she shared a simple message.
"I would say taking your time to pick your brand deals and to be picky," she told On3. "There's no problem in saying no to brands if it doesn't feel right to you."
Building strong support system
Livvy Dunne made the trip to Nashville with her mother, Katherine, who joined her on stage for their session with recruits and parents. As prospects go through the recruiting process, trying to find the right agent to assist in communication with collectives and brands is crucial.
The LSU gymnast's NIL success has been a team effort. Her older sister, Julz, has been a help in posting content to her social media. Making the most of her time in college is important, too. Dunne can't be doing NIL work while she's at practice or sitting in class.
For her, it is working closely with her family. But having a trusted group of advisors made the difference.
"I would say having a good support system is so important," the 20-year-old LSU star said. "My family, they stand behind me, and my mom, she helps me. My sister helps put together videos and sends them to the brand while I'm at practice or competing. So, she's definitely a huge component in my everyday life and helping me with these brand deals. But having a good support system and compartmentalizing your day, so you don't get overwhelmed [is crucial]."
Working closely with Garrett Yaralian and Jason Rosenberg at WME, Dunne has crafted a brand that resembles her beliefs. The gymnast has turned away plenty of possible deals. With her massive social media following that currently sits above 11 million, companies are swarming to align with the gymnast.
But signing every deal that is offered is not sustainable, and it isn't a smart decision. College athletes have quickly learned that the brands they align with are also a representation of them.
"She has accomplished that by being very selective and strategic about who she partners with and the content she puts out," Yaralian said. "She says no more than she says yes to brand deals. Yes, Livvy has a lot left to accomplish as a student-athlete and as a creator."
LSU has played key role
Livvy Dunne has been one of the success stories in the young NIL era. But she is not the only LSU athlete who has built a national brand. Angel Reese and Flau'jae Johnson helped the Tigers win the program's first women's basketball national championship this past season. Reese has seen her platform take off with more than 4.5 million followers on her socials and deals with Raising Cane's and Mielle Organics. A rapper and SEC Freshman of the Year, Johnson is a Puma athlete.
Each athlete also sits in the On3 NIL 100, the first of its kind and defacto NIL ranking of the top 100 high school and college athletes. Dunne has a $3.4 million On3 NIL Valuation, which is the highest female student-athlete valuation in the country.
Back in July 2021, LSU did not shy away from embracing NIL. Quickly developing a program to help student-athletes leverage their publicity rights, the athletic department developed NILSU to assist all parties in the execution of an endorsement deal.
The same moniker rings true to the success LSU athletes have had in the name, image and likeness space. Female athletes have emerged as some of the largest earners in the last 22 months.
"LSU has helped in so many different ways," Dunne said. "They have so many amenities for all the LSU student-athletes and helping with NIL and helping navigate the whole thing, because at first, it was just so unprecedented. And it was such a new area for everyone. And even for myself, they've helped so much.
"We have a whole NIL department at LSU, which is new and they're so helpful. And they always check in on their student-athletes, which is awesome. And they have backdrops if you want to make social media content. They just have everything. They are willing to do whatever they can do to help."
What comes after LSU, NIL for Livvy Dunne
This upcoming academic year will mark Livvy Dunne's last as a gymnast. This past season was filled with various injuries for the former USA National Team member. Ending her time at LSU on the right note is the focus come the fall.
But as a social media influencer, she is starting to give thought to what could come after LSU and gymnastics. Her massive following will only continue to grow. And once she earns her college degree, she will have more time to work on endorsement deals.
Dunne is working on leaving a legacy at LSU in gymnastics but also NIL. She is more than a social media star, too. She has her eyes set on creating a brand and possibly even releasing a product after college.
"I have one more year of school at LSU, and one more year of gymnastics my whole life, which is insane to me," she said. "So, I'm hoping to just have a good last year at LSU. But after school, I would definitely like to have my own brand. Yes, I love working with brands, but I would like to have my own thing, my own product, one day.
"I'm not sure exactly what that is yet, but I definitely feel like I can do something entrepreneurial."