Michigan State's Dillon Tatum signs NIL deal with Ovation fragrance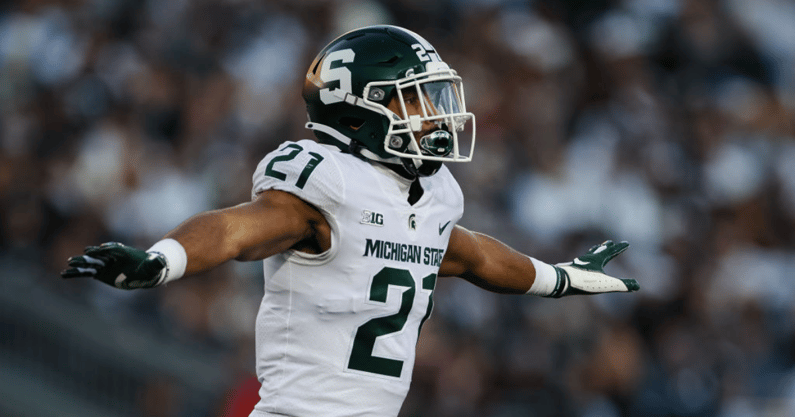 Dillon Tatum could see himself having his own fragrance someday.
But first, baby steps.
The Michigan State freshman has signed a NIL agreement with Ovation for Men, a fragrance company based out of Atlanta. A year-long partnership, Tatum hopes to see the deal grow into a long-lasting relationship.
A former On3 Consensus four-star recruit, the defensive back has not had problems finding opportunities off the field in his first year in East Lansing. But as the first NIL athlete for Ovation, Tatum believes this could just be a start.
"We're gonna sign a year-long deal with the hope to renew it next January and keep it going, maybe to even the pros," Tatum said in a phone interview last week. "Every young man needs a fragrance. And I really want to make sure I have my fingers on it. I like to look good, but it's to hard look good if you don't smell good."
Founded by Shawn Crenshaw, Fadelf Jackson and Cecil Cross, Ovation was created to produce a fragrance celebrating the, "style, creativity, and showmanship of African-American men."
Ovation for Men is a perfume that has a blend of bergamot, cardamom, aqua, tobacco, and vetiver with hints of amber, vanilla, and leather, according to the company's website. Tatum is promoting Ovation for Men Sports, which has yet to launch.
Signing the Michigan State player is only the start of where the fragrance company plans to go in NIL, Crenshaw told On3. The brand has been in talks with multiple athletes, with more announcements expected in the coming weeks.
"The brand's purpose and vision are celebrating the accomplishments, style, and showmanship of men of color, a target audience historically ignored by mainstream fragrance brands," Crenshaw said. "When we consider rising stars in college football, Dillon epitomizes everything that the brand represents. With our upcoming launch of Ovation for Men Sport, we knew Dillon would be a great fit."
What stuck out to Tatum about his partnership with Ovation was the opportunity to promote a brand targeting black men. He hopes he can help spread awareness about the brand.
"It's a black-owned business," he said. "What we're doing with Ovation for Men and Ovation for Men Sport is really trying to get out there, making sure young black men and have their own fragrance that comes from where we come from. You know, their slogan is every man deserves a little ovation. I like that a lot."
Dillon Tatum shares lessons learned from NIL
A top-10 player coming out of the state of Michigan in the 2022 class, Tatum was thrown right into the mix as a freshman this past fall. He played in all 12 games with a heavy presence on special teams. The defensive back finished with 14 total tackles and a pass breakup.
Trying to manage football, the classroom and NIL all at once proved to be hectic at times, Tatum said. But he kept football the main focus, reminding himself his on-field play would land him NIL opportunities.
"Really, it's just all about your play," he said. "Because, to be honest, at the end of the day, if you don't play well, you're not going to get any deals coming your way. I made sure this past season, I made sure I got on the field, do what I can to make some plays and learn everything I could, while also keeping my grades up, because I know that will all help out."
He currently has a $76,000 On3 NIL Valuation, which ranks in the top 700 of college football. Through one season at Michigan State, Dillon Tatum has nearly 18,000 social media followers.
The On3 NIL Valuation is the industry's leading index that sets the standard market NIL value for high school and college athletes. A proprietary algorithm, the On3 NIL Valuation calculates an athlete's NIL value using dynamic data points targeting three primary categories: performance, influence and exposure.