Naomi Osaka, KINLÒ sign five athletes to NIL deals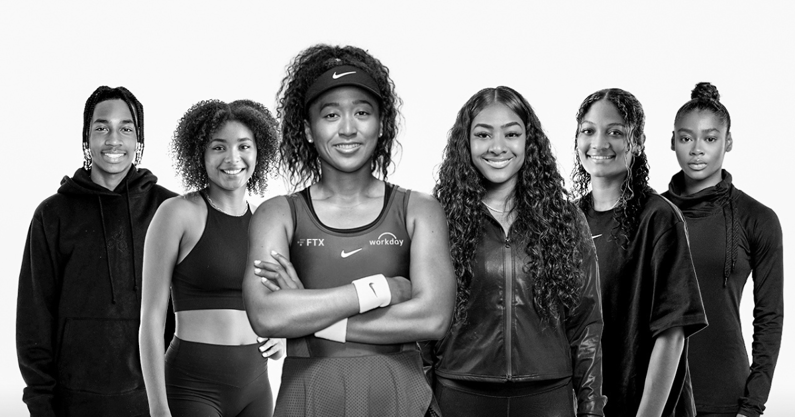 Naomi Osaka's suncare brand, formulated specifically for people with melanated skin, has signed five athletes to NIL contracts.
KINLÒ has inked brand partnerships with Deja Kelly (North Carolina women's basketball), Reilyn Turner (UCLA women's soccer), Robert Dillingham (Kentucky basketball commit), Xolani Hodel (Stanford beach volleyball) and Ziyah Holman (Michigan Track). The five athletes join the suncare company for the inaugural #GlowOutside social campaign.
In their roles with KINLÒ, the student-athletes will embody the brand's values of empowering their communities, celebrating and embracing diversity, and striving to create a broader positive cultural impact. The partnerships come after April's big news, when the company's products were put into over 2,500 Walmart stores across the nation.
As part of the partnership, the athletes will demonstrate how KINLÒ products can be used as protection against sun damage, as well as advocate for preventative suncare and education for people with melanated skin. The suncare brand was formulated in partnership with Dr. Naana Boakye, who now serves as KINLÒ'S dermatology director and is certified by the American Academy of Dermatology.
"I'm so excited to partner with these amazing student-athletes to help spread awareness for our Glow Outside campaign," Osaka said in a press release. "As young, influential voices in the space, they are the perfect fit to help champion such an important initiative and as a brand, we couldn't be prouder to empower and support NCAA athletes."
She is the first Asian player to hold the top ranking in singles. She's won seven WTA titles and four Grand Slam titles, winning the U.S. Open and Australian Open each twice.
Why KINLÒ chose 5 specific athletes
The brand's name pays homage to Naomi's bicultural heritage. Both Kin and Lo mean 'gold' in Japanese and Haitian Creole, respectively.
And KINLÒ chose each athlete for a specific reason, too. Holman and Dillingham have excelled in the classroom. Hodel stood out to the suncare brand because she's established a place for African-American athletes in the predominantly white sport of beach volleyball. Kelly has been passionate about her want to give back to her community.
Dillingham is the No. 6 overall prospect in the class of 2023, per the On3 Consensus. The top-ranked recruit out of California, he's allowed to sign NIL deals as a high schooler and has WME Sports for representation. The Kentucky commit has an On3 NIL Valuation of $190k, which places him ninth in the top high school basketball NIL rankings.
Turner earned second-team All-Pacific-Region and All-Pac-12 honors last season and was also named to the Pac-12's academic honor roll. She was also a trailblazer in NIL, as she became the first athlete to ink a deal with Nike this past December.
She was second on UCLA's roster last season in goals scored and has been outspoken about her want to give back to the community. Turner partnered with a variety of Los Angeles-based nonprofit organizations to encourage young girls to be active and participate in sports with her Nike deal. She plans to spread a similar message with KINLÒ.
"As a Black woman and Mexican American, I think about those who have paved the way for me and how they used their platforms to create so much change, even beyond sport," Turner said to ESPN after she signed with the sportswear company. "I hope to be a role model for those around me and those after me."