Nijel Pack on publicity of NIL deal with LifeWallet: 'It's getting me prepared for the next level'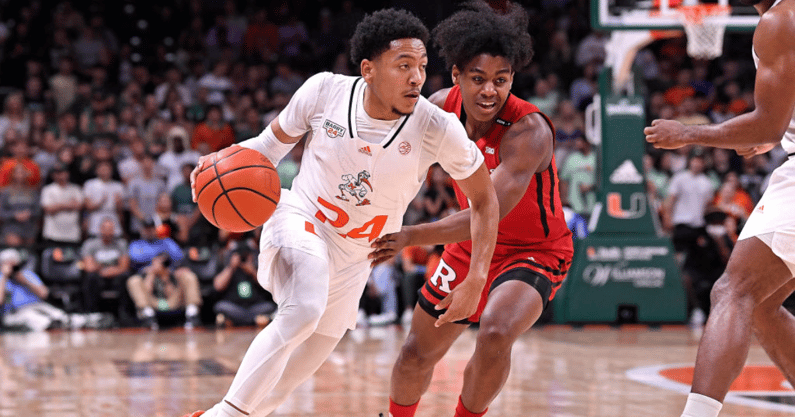 Nijel Pack quickly became a face of name, image and likeness last spring.
The Kansas State transfer announced his commitment to Miami back in April. A guard, he chose the Hurricanes over Ohio State and Purdue.
But on the same day of his announcement, LifeWallet owner John Ruiz announced on Twitter the two parties had agreed to terms on an NIL deal. Not only did Ruiz celebrate the transfer with the news, he announced the specifics of the partnership.
A two-year deal, Pack is receiving $400,000 this year and next, plus the keys to a car. It's the biggest NIL agreement LifeWallet has executed to date, and his name will forever be tied to it.
Headed into Saturday's game against Duke, however, Pack was asked how he's handled the fallout of last spring's NIL announcement. And if the details were supposed to be made public.
"No, I didn't know it was going to become public," Pack said Saturday on ACC Radio with Chris Spatola. "Obviously, I saw it kind of how everyone else did over social media. Am I mad? No. Am I upset it happened? Yeah, but obviously it brought a lot of exposure to the school to my name to John's name. There's nothing I can do about it. It's obviously in the past now.
"I see it as a blessing. It's getting me prepared for the next level. When you make it to the next level, people are going to know how much money you make and they're going to have a certain expectation of you, especially when they know how much money you're making."
In 18 starts this season for Miami, he's averaging 11.9 points, 2.5 rebounds and 2.4 assists. The Hurricanes are 15-4, ranked No. 17 in the country and third in the ACC.
The guard holds a $92,000 On3 NIL Valuation, which ranks No. 89 in college basketball. He also has more than 14,000 social media followers.
The On3 NIL Valuation is the industry's leading index that sets the standard market NIL value for high school and college athletes. A proprietary algorithm, the On3 NIL Valuation calculates an athlete's NIL value using dynamic data points targeting three primary categories: performance, influence and exposure.
What is John Ruiz's return on investment?
There's little doubt the attorney has received a strong return on investment from the Nijel Pack announcement. At the very least, he's drawn more attention to LifeWallet and Miami basketball, along with his own name.
But as Ruiz has repeatedly stated, winning games on the football field or basketball court are not the driving force behind his NIL investments.
Since the inception of NIL in July 2021, Ruiz has worked to sign more than 110 active Miami athletes from football to women's basketball to baseball. He allocated $10 million to spend on compensating student-athletes in Year 1 and plans to grow his investment.
He also has not restricted himself to setting up NIL opportunities for only Miami football athletes. Hanna and Haley Cavinder have deals in place with both LifeWallet and Cigarette Racing — Ruiz's boating team — and transferred from Fresno State to Miami this past spring.
At the end of the day, Ruiz says winning is not the return on investment he is looking for. Specifically, how Nijel Pack performs for Miami.
"I don't look at the results on the field," Ruiz told On3 back in November. "Do I want them to be better? Absolutely. Nobody is going to deny that. Do I want the University of Miami to win? Absolutely. Who is going to deny we want the University of Miami to win? I'd want them to win even if I wasn't putting up a dime for NIL. But my business strategy is completely different than anybody else's.
"…We're super happy with our return on investment. We're super happy with where we are in terms of the branding we've done."
Ruiz has also since announced all LifeWallet athletes will be required to have a little brother or little sister as a charitable component of their deal.