Oregon takes step in helping brands secure NIL deals with its athletes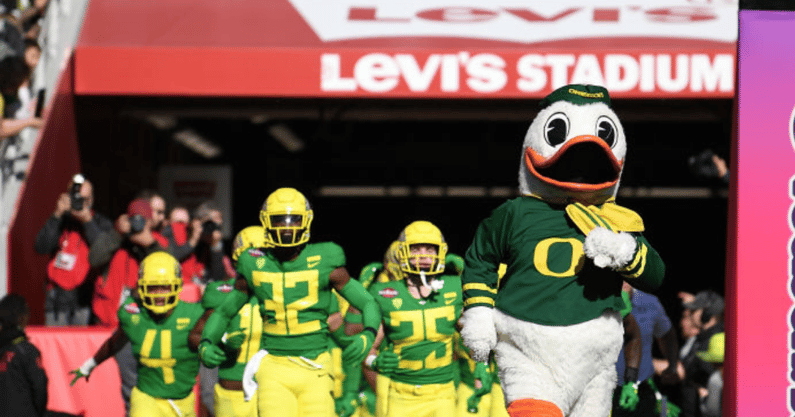 If brands, donors and sponsors want to engage in endorsement deals with athletes from a particular university, how do they start the process? Where do they turn? Through four-plus months of the NIL era, it has become clear to Blake Lawrence, the CEO and co-founder of Opendorse, that a large number of companies and individuals who want to engage in the NIL marketplace lacked direction.
"There needs to be a place to go, this is clear," Lawrence told On3. "They don't know where to start the journey."
That was the rationale behind Opendorse and Division Street, an NIL company focused on University of Oregon athletics, revealing the upcoming launch of the Official NIL Marketplace of the Oregon Ducks. This is a first-of-its-kind marketplace in college sports that will provide a platform for brands and Oregon supporters to secure partnerships with the school's athletes.
The one-app experience will be used to connect with Oregon athletes to book appearances, autograph sessions, video shoutouts, social media content and more. The curated marketplace is set to launch early in 2022 at oregon.opendorse.com. In the meantime, Division Street will use Opendorse to offer a streamlined experience for brands to facilitate deals with the school's athletes.
Division Street a company founded by Oregon donors
This is an important partnership between companies on the front lines of innovation in the NIL world. Opendorse is a sports technology company that seeks to maximize endorsement value for athletes. Division Street is a sports venture company founded by Oregon donors, including Nike co-founder Phil Knight, to help supercharge NIL opportunities for the school's athletes. 
Division Street, whose launch was announced September 30, has plenty of heavyweight expertise behind it. The team working with Division Street includes Adopt, a creative company focused on athletes recently co-founded by Klutch Sports Group founder and CEO Rich Paul. Adopt co-founders and Nike and Jordan Brand executives Nicole Graham, David Creech and Josh Moore are expected to offer significant industry knowledge. In addition, Division Street has partnered with former Oregon women's basketball star Sabrina Ionescu to serve as the company's chief athlete officer. 
Lawrence believes it's only a matter of time before this type of marketplace becomes the standard not only at all Power 5 schools but also at every school that has a willingness to fully engage in the NIL space. 
"Athletes from Power 5 to Division III to NAIA and junior college are now earning hundreds of dollars or thousands of dollars through NIL," Lawrence said. "And just a quick conversation with any athlete at any level, it's still confusing on how to manage these things. So this is not just for Power 5 schools.
"Fans know where to go to buy tickets, they know where to go to buy merchandise. [Now] they know where to go to buy NIL opportunities. That is the vision, and Oregon being the first is pretty exciting."