Outback Steakhouse signs seven players to NIL deal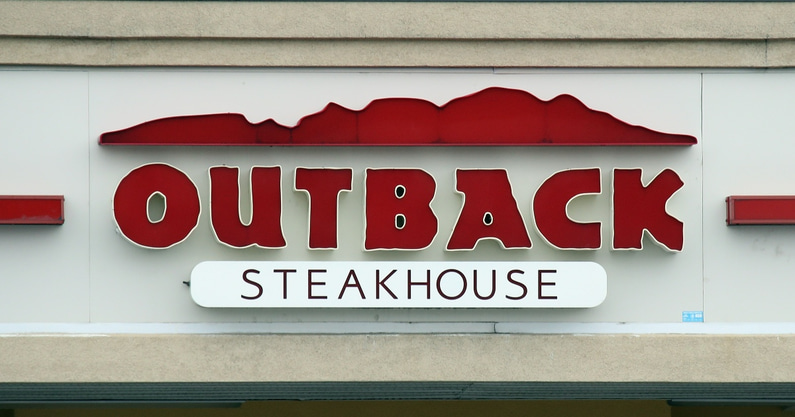 Outback Steakhouse signed an impressive roster of college football players from three schools to join its new TeamMATES program. Through TeamMATES, Outback Steakhouse's roster of athletes will give back to their communities by raising money locally and nationwide.
The athletes signed by Outback Steakhouse are Ohio State quarterback CJ Stroud, Ohio State wide receivers Chris Olave and Garrett Wilson, Michigan wide receiver AJ Henning, Michigan running back Blake Corum and Florida quarterbacks Anthony Richardson and Emory Jones.
Starting Saturday, Oct. 23, Outback Steakhouse will make donations of meals to military families in need through Operation Homefront. The players will also dine with teammates and host local give-back nights at select Outback Steakhouse locations to raise money for their favorite charities.
"College football Saturdays are filled with excitement and the connections people make at tailgates, in stadiums, and at our restaurants," Brett Patterson, President of Outback Steakhouse said. "We are excited to partner with our inaugural class of athletes to continue to forge those moments along with memories for our athletes and our communities."
To celebrate the partnerships, college students in Gainesville, Fla., Ann Arbor, Mich. and Columbus, Ohio will receive ten percent off of their check by showing their valid student ID in the restaurant or using promo code "10STUDENTS" when ordering online or in the app from Oct. 21-24.
All seven players signed are having standout seasons. After a slow start, CJ Stroud has come into form, throwing for 1,699 yards and 18 touchdowns, to just three interceptions leading the Buckeyes to a 5-1 record. Stroud has found Wilson for 546 yards and six touchdowns, while Olave has 494 yards and seven touchdowns.
Michigan sits undefeated through six games, behind the efforts of Blake Corum and AJ Henning. Corum leads the team in rushing with 610 yards and eight touchdowns on 97 attempts, adding 102 yards and touchdown receiving. Henning has 100 rushing yards of his own, along with 36 yards receiving.
Though Emory Jones has been locked in as Florida's starting quarterback throughout the season, second-year freshman Anthony Richardson has carved out a role for himself, even starting a quarterback controversy among fans and media. Jones has thrown for 1,302 yards and 10 touchdowns, along with nine interceptions, while rushing off 495 yards and two touchdowns. Richardson, in five games, has thrown for 392 yards, five touchdowns, and three interceptions. On the ground, Richardson is a dangerous threat using his legs rushing for 348 yards and three touchdowns on just 28 rushing attempts.
Heading into winter and spring sports seasons, Outback Steakhouse will continue to build the TeamMATES program with additional male and female college athletes and is calling for all eligible student-athletes to apply for consideration at www.outback.com/teammates.