LOOK: Paige Bueckers reveals custom Gatorade products as part of NIL deal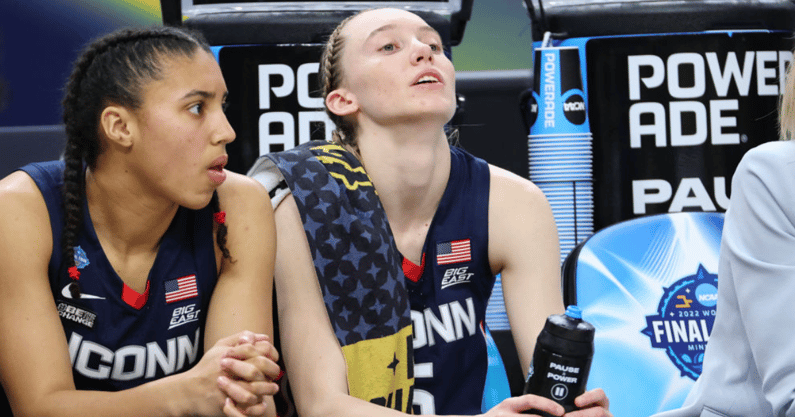 Paige Bueckers signed one of the most high-profile NIL deals for a female athlete when she joined forces with Gatorade last year, and now has her design on nationally distributed products. As part of her deal, she has helped create a custom bottle which girls, boys and parents can buy.
With the chance to express themselves and promote their brand, Paige Bueckers – along with Trevor Lawrence, Fernando Tatis Jr and Sydney McLaughlin – have each worked with the Gatorade design team prior to the custom bottle release as part of the Fuel Tomorrow Gx Collection.
Bueckers design, which was published in a series of images by Forbes, features purple and blue accents with a basketball hoop and several phrases. One prominent set of words reads, "Be you, be great."
Her other prominent NIL deals include partnerships with educational platform Chegg and footwear brand Crocs. In addition, Bueckers used her status as a local celebrity during the Women's Final Four in Minnesota with guest appearances and charitable donations in partnership with a pop-up grocery store.
More on Paige Bueckers, Gatorade deal
Gatorade has always been synonymous with some of the biggest athletes in the world. Paige Bueckers joined their team as the first student-athlete to ever sign an NIL deal with the company in November of 2021. She released a statement at that time about her history and future with the brand.
"It was a blessing to win Gatorade Player of the Year in high school. Now, it's truly surreal to be an official member of the Gatorade Family," Bueckers stated. "I know this is just the beginning of our partnership and I can't wait to get to work with Gatorade to drive impact in the community and on the women's game."
Gatorade also issued a statement at the time, revealing the reason for the partnership which will last over multiple years.
"From her electrifying performances on the court to fueling change off of it, Paige exemplifies everything it means to be a Gatorade athlete," said Jeff Kearney, global head of sports marketing at Gatorade, per ESPN. "Partnering with her is a statement to the next generation of our continued commitment to women in sport."