Aliyah Boston signs NIL deal with Under Armour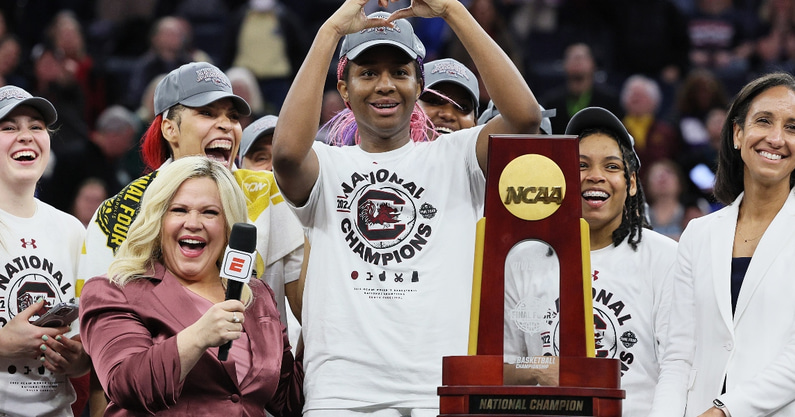 South Carolina Gamecocks women's basketball star Aliyah Boston took over college basketball this season, winning the national championship to go along with a slew of personal awards, including Naismith National Player of the Year. Now, she is signing a game-changing NIL deal with Under Armour, looking to expand the world of women's basketball.
Boston and Under Armour announced their partnership earlier this month, where the two will be doing a few things to grow women's basketball across the globe. One will be hosting a UA Next women's basketball camp in St. Thomas, Virgin Islands. Being the hometown of Boston, high school athletes will be able to access equipment, coaching, and facilities sometime this summer.
She will also be working with Under Armour's design team, providing insight on future basketball shoes for women athletes. Boston will continually be working toward bettering the game she loves, something she calls a "huge honor."
"Working with Under Armour is a huge honor," Boston said in a statement. "It means so much to me because it's a brand I've been wearing for years — both for cross-training and when I'm on the court. With Under Armour, I'm most excited to continue building and growing the women's basketball community. I'm really looking forward to giving more young girls access to the sport at the community level."
Under Armour themselves are pretty excited to work with Boston as well. Sr. Director & Head of Americas Sports Marketing Charece Williams Gee said teaming up with Boston will do nothing but help increase the access women have to play basketball.
"Aliyah Boston is a once-in-a-generation talent and someone who inspires us all with her dedication and willingness to stop at nothing to achieve her dreams. This has been a huge year not just for Aliyah, but for the University of South Carolina, and all who support, play, and work within women's sports. Teaming up with Aliyah will help in increasing access to basketball for young women around the world."