Stetson Bennett changes nickname to 'Milkman' in latest NIL deal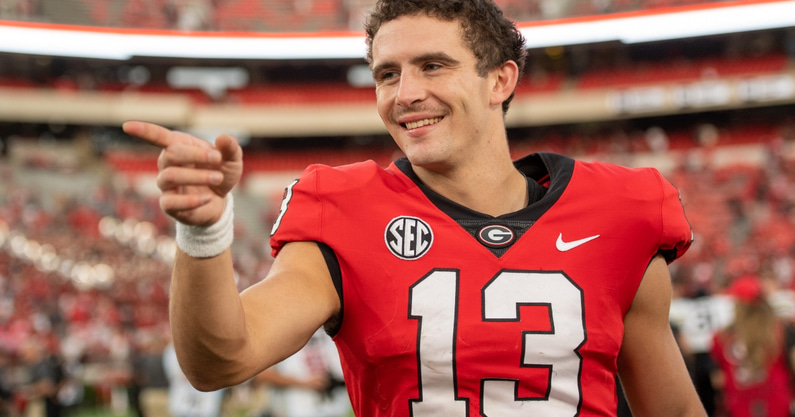 Stetson Bennett has had a change of heart.
The Georgia quarterback has switched his nickname from the "Mailman" to "Milkman" in his latest NIL deal, this time striking a partnership with Georgia Dairy Alliance.
"After careful consideration, I have made the decision to re-evaluate my nickname," Bennett says in a video advertisement for the endorsement deal. "Yes, the mailman delivers. But sometime you get junk mail. And I want to deliver great things every time I'm on the field. So from now on, I've decided I'll be the milkman."
The mailman nickname was born from his time as a high school quarterback prospect. When he was traveling around to recruiting showcases across the country — including five Elite 11 regional competitions — wore a US Postal Service Hat. It was a way to be noticed by college football coaches. And, obviously, become a talking point and eventually a moniker.
Bennett's deal with Georgia Dairy Alliance was brokered by Everett Sports Marketing and adds to a growing portfolio. Following the Bulldogs' national championship season, he signed with Fanatics and Georgia Power. Over the past few months, he's added AARP, Synovus Bank and Shuman Farms to his list of partnerships.
"Stetson is bona fide talent," ESM marketing agent Faryn Heatly said in a statement to On3. "Not only on the field but in front of the camera. He brings a certain awareness to creative messaging and improv that is rare in this space. Couple his meteoric success in college football, and he not only delivers championships but now he is of course delivering delicious milk in the most authenticv on brand way possible."
The quarterback has Georgia back at No. 1 in the College Football Playoff rankings. With a perfect 10-0 record, the Bulldogs already have their spot in the SEC title game locked up. Bennett has continued to progress this season, positioning himself to challenge for the Heisman. He's thrown 14 touchdowns with a 67.8 completion percentage this season. He's can be a problem on the ground, too, with seven rushing scores.
Stetson Bennett's massive On3 NIL Valuation
Stetson Bennett's On3 NIL evaluation currently sits $984,000 following. His social media following has continued to climb after he secured Georgia's first national title since 1980. He currently has 120,000 between his Twitter and Instagram accounts, holding a per post value of $3,100.
The On3 NIL Valuation is the industry's leading index that sets the standard market NIL value for high school and college athletes. A proprietary algorithm, the On3 NIL Valuation calculates an athlete's NIL value using dynamic data points targeting three primary categories: performance, influence and exposure.
While the algorithm includes deal data, it does not act as a tracker of the value of NIL deals athletes have completed to date, nor does it set an athlete's NIL valuation for their entire career. The On3 NIL Valuation calculates the optimized NIL opportunity for athletes relative to the overall NIL market and projects out to as long as 12 months into the future.
The Georgia quarterback's On3 NIL Valuation ranks No. 24 in the On3 NIL 100, which is the first of its kind and defacto NIL ranking of the top 100 high school and college athletes ranked by their On3 NIL Valuation. The valuation also ranks No. 13 in college football.