Trent Dilfer illustrates mindset of Bryce Young, CJ Stroud in NIL era of college football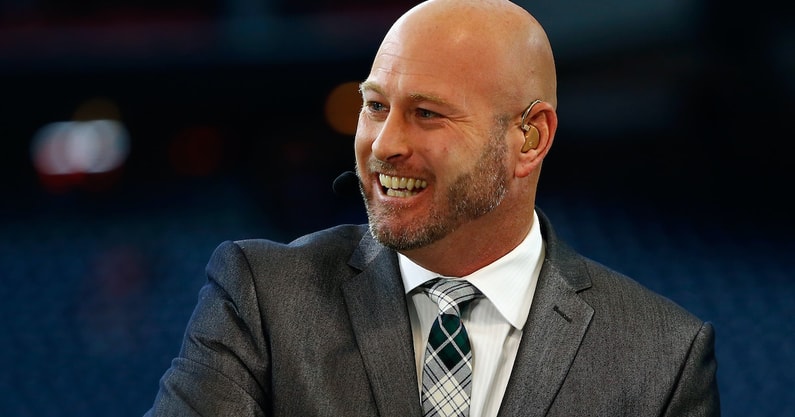 The NIL era of college football is a paradigm shift, giving players the power to profit off themselves and altering the locker room dynamics across the country. In a guest appearance on On3's LeverUP NIL Show with Shannon Terry and Jim Cavale, former NFL and Fresno State quarterback Trent Dilfer shared how two of the top names in the sport — Alabama's Bryce Young and Ohio State's CJ Stroud, both quarterbacks — handle themselves in the open market.
Dilfer — currently a high school coach who also coaches the Elite 11, an annual competition/camp among high school quarterbacks — coached Young and Stroud through that summer program before welcoming them back as counselors this past summer. There, Dilfer said, they held a roundtable with some of the college quarterbacks about how life is on campus these days.
"Talked to Bryce a lot about this," Dilfer said. "And his perspective is exactly what you said. He's like, 'Yeah I'd be an idiot not to use what's happening to provide some revenue platforms. But the second it takes away from my team, the second it takes away from my focus of being the first pick in the draft, the second that it does anything to weigh on me — because that's the other thing that's not talked about. Now guys are traveling, they're jumping on a plane to go down to Florida to shoot a commercial on their day off when their coaches give them time to rest and recover. So now they're not recovering, so they're coming back to school, they're not in the same shape, they're not mentally fresh, they're not physically recovered. He's like, I don't want any of that to happen, because that's going to take away from my ability to go do what I did last year when I was completely invested in doing everything in my power to help my team win and be the best player I can be."
CLICK HERE to subscribe to the On3 YouTube channel today for all of the latest news on college football, recruiting, NIL, more!
Dilfer continued, dropping in Stroud's take: "CJ Stroud chimes in, 'Yeah, I get all these street agents coming to me with all these different opportunities and they're flashing numbers like 50 grand, 100 grand, 150 grand, but here's all the strings attached to it.' He's like, at some point, all those strings are going to take me away from what I'm trying to do."
Young and Stroud are the two-highest ranked athletes currently in college in the On3 NIL 100. Young and Stroud have NIL values of $3.2 and $2.5 million, respectively. Both have made significant money, but you couldn't tell based on their play. Young won the Heisman trophy in 2021 and Stroud finished fourth for the award; both players are among the favorites to win it this season.
That approach — optimizing NIL earnings without detracting from football — is the ideal as far as Dilfer is concerned. But that balance is a lot easier to find and keep for guys like Young and Stroud because of who they have around them and who they are as individuals. Dilfer knows that not everyone is as well positioned to navigate marketing themselves while playing college sports.
"The problem though," Dilfer said, "is that we're talking about really mature kids. Kids with great families. Kids with great high school coaches. Kids with great support systems. It's the ones that don't have those support systems. It's the ones that don't come from the same programs as CJ and Bryce and the other really mature kids. It's the offseason that's gets them. The biggest dangers I see, because this is what I see happen when we have them — and when I say we, I mean the coach. So when the coach, the coaching staff, the support staff, has the kids in our watch, they're fine. Because — football is so great because you're buying in to something bigger than yourself. So you're buying in to team. You're buying in to purpose. You're buying into the process. You're buying into a goal. The season ends and we lose them. The rules in a lot of these states is season ends, you can't coach them. You can have them for strength and conditioning. But you no longer become the primary voice in their life. The primary voice in their life becomes the street agent. The 7 on 7 coach. The travel ball coach. And that's where a lot of this stuff is going sideways. Is, once they leave the team structure and they go to the individualized structure or where somebody else is trying to capitalize on their brand, that's where this thing gets off the rails."