Tweet from South Carolina linebacker Mo Kaba leads to NIL deal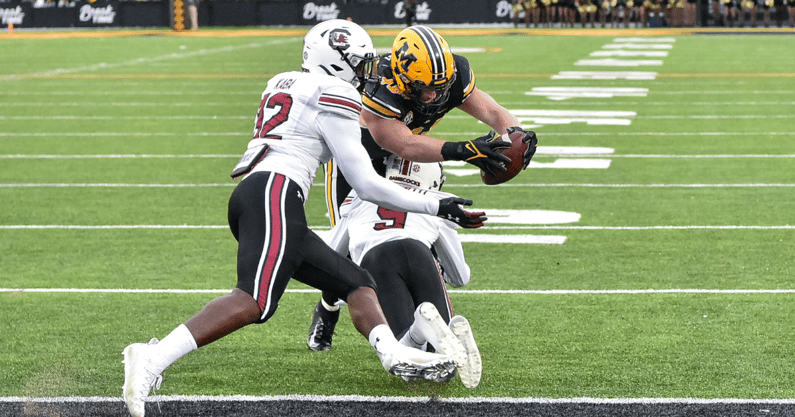 A month ago, South Carolina linebacker Mohamed Kaba had zero endorsements and an unkempt yard. Now, he has a freshly mowed lawn and an NIL deal in place with Catoe's Power Equipment. All thanks to this tweet from Kaba in mid-May:
In addition to summer football workouts, Mo Kaba was preparing to spend his spare time on the field — other people's fields, though, cutting their grass. Luckily, if he does plan to follow through with his landscaping endeavors, he'll have a partner by his side in Catoe's.
Here was the tweet from the Power Equipment company announcing their deal with the Gamecock linebacker:
He was a significant contributor last season as a sophomore and is expected to have a substantial role in the 2022 South Carolina defense. Sounds like everything, including his lawn care business, is on the up and up for Kaba.
Spencer Rattler addresses the role he plays in South Carolina recruiting
By Sam Gillenwater
With plenty of chances to recruit or host visits, a popular opportunity is a team's Spring Game. Any new staffs or players have already been integrated, which gives everyone a clearer look at what a roster will look like come the fall. That was the case for the Gamecock's 2022 Spring Game where they hosted multiple recruits over that weekend.
Following the Spring Game, Rattler said they have an open-door policy in Columbia for anyone interested in the program.
"We always got guys in the facility every day. Recruits, high school coaches, parents, anything and just coming by. It's an open arm facility," said Rattler. "We'll really let anybody that supports the program or is a recruit (come in)."
Although he's one of the newest faces on the roster, he has quickly become on of the faces of the program. That tends to happen when a Heisman-favorite from the season prior transfers in. Although he's a recognizable name and the likely-starting quarterback for next season, Rattler said it's not just on him to help on the recruiting front. He believes it's a team effort to try to bring top-end talent to their team.
"That's just another part of the game. You got to do your part and recruit good players to come here," he said. "I feel like with this year's recruiting class, we've done a good job with that and we're still going. I'm excited to see where that goes."
The Gamecocks finished with the 26th best class in On3's 2022 Consensus Team Recruiting Rankings. With Rattler pulling his weight and another year with Shane Beamer at the helm, they'll look to finish even higher in 2023.