Utah business offers to pay tuition to BYU walk-ons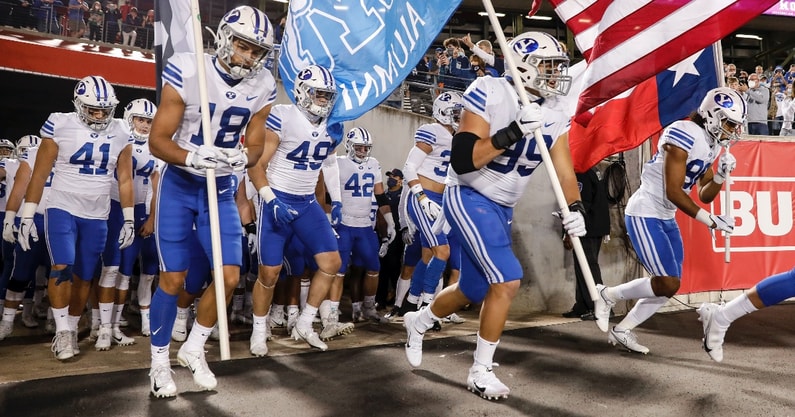 Provo-based protein bar company Built Bar will pay the tuition of all 36 walk-ons on BYU's football team. The team helped make the announcement on social media Thursday.
Built Bar, a protein bar company based in Utah, markets their bars as the "best tasting protein bar on the market"
Built Bar's co-founder and CEO, Nick Greer, made the announcement in front of the entire team in a video shared to social media. Greer spoke first to walk-on quarterback Nick Billoups. Billoups is a second-year freshman who transferred to BYU from Utah, where was a walk-on as well.
"Nick, at Built, we want you to be Employee No. 1," Greer said in the video. "We want to pay for your tuition."
Greer then called up third-year walk-on wide receiver Talmage Gunther, making him "Employee No. 2" and offered the same deal. Greer then asked all BYU walk-ons to stand up, and offered all the same deal.
According to a school news release, the agreements include "compensation to all members of the team, including compensation to all walk-on players in the amount comparable to the costs of tuition for the academic year."
Gunther, the second player offered the deal, is entering his third year at BYU, but is still technically a freshman after redshirting in 2019 and gaining a free year in 2020 due to COVID-19. He is a Utah native.
Billoups is a California native. As a senior at San Clemente, Billoups passed for 932 yards and 11 touchdowns, 554 rushing yards and 13 touchdowns. Billoups also played defense, finishing with 32 tackles with 10 passes defended and five interceptions.
Details of the NIL deals
Per Front Office Sports, Built Brands will pay every BYU Football player an amount equal to the cost of tuition. Players entering the agreement will wear Built branding on their practice helmets and participate in events for Built.
It's a groundbreaking deal which is no doubt life-changing for the 36 BYU walk-ons who no longer have to worry about paying for their schooling.
BYU is coming off one of their most successful seasons in recent history, finishing 11-1, with their only loss coming against Coastal Carolina. Nittany Lions quarterback Zach Wilson was the second overall pick in the 2021 NFL Draft to the New York Jets with hopes he can be a franchise quarterback under first-year head coach Robert Saleh.