Following MAC's lead, conferences explore evolving data deal space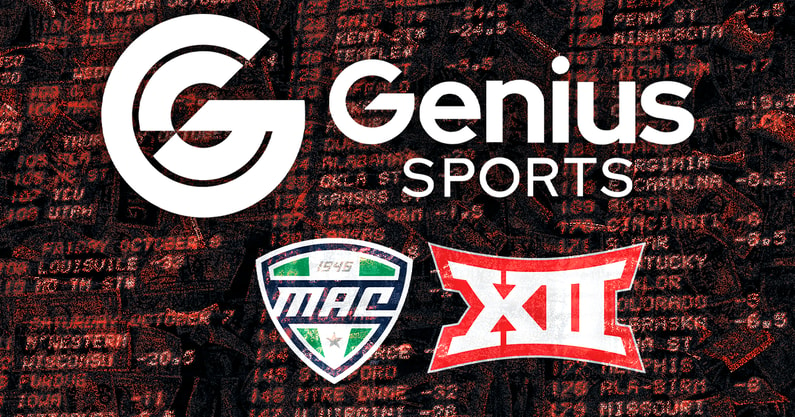 "I'll call it a journey – how about that?" recalled Mid-American Conference Commissioner Jon Steinbrecher.
What began in 2021 with initial discussions with his Board of Directors ended some nine months later – after taking notice of how professional leagues were monetizing their official statistics and after clearing NCAA hurdles on policy interpretation – with the MAC ultimately positioned as a trailblazer.
The league became the first NCAA conference to secure a statistical data partnership and sponsorship deal with a data provider.
The five-year pact with London-based Genius Sports, signed in March 2022, is essentially two deals. There's both a sponsorship and data deal component – which is the attention-grabbing part because it enables the company to sell the league's official data to sportsbooks.
"We were the first ones in the collegiate space who were willing to go there," Steinbrecher told On3. "Here we are, sitting in the collegiate space, and we talk ad nauseam about finding new sources of revenue. Well, this is truly a new line of revenue."
Eighteen months later, the data deal space is highly relevant because a growing number of conference commissioners are exploring the possibility of following the MAC's lead. But by doing so, it also means venturing into a sports wagering category long considered taboo – although that is rapidly changing – and doing so at a time when a spate of scandals, most notably with Alabama baseball and in Iowa, have attracted heightened awareness. 
So as conferences wade into data deal waters, they do so carefully. 
Leagues want to control data
The Big 12 Conference anticipates securing its data deal by year's end. League commissioner Brett Yormark said that deal will represent one portion of his league's two-pronged strategy to address the fast-evolving sports betting space. The other aspect: doubling down on its relationship with Las Vegas-based firm U.S. Integrity, which provides a suite of monitoring and educational resources. 
Regarding the potential data deal, Yormark told On3: "Controlling our data and how it is disseminated and where it is disseminated is critically important for us."
Mike Aresco, the American Athletic Conference commissioner, framed the dilemma for conference commissioners like this: "The question becomes: Are you facilitating gambling if you do a data deal – all you're doing is giving them up-to-date, reliable data that they are already getting, [although] theirs was just not as reliable? 
"We have wrestled with that. And we have not made a decision yet. It is still something we are debating. A data deal does provide you with more revenue. It's like a sponsorship. We were concerned about appearing to be promoting gambling because that is not what we really want to do … There is still a [industry] reluctance to do it [data deals]."
'Able to compensate our members' in a new area
Pro leagues have gone all in, including the NFL contracting with Genius in 2021 and extending the deal this summer. Additionally, the NBA extended its agreement with Sportradar in 2021. 
But 18 months after the MAC signed its deal, it still stands alone in college sports with its specific data deal.
One week after the MAC announced the Genius deal, the Pac-12 Conference secured a partnership with San Francisco-based startup Tempus Ex Machina to be the league's technology and data solutions partner. At least initially, the Pac-12's deal did not include selling data to sportsbooks.
The NCAA has a deal with Genius to collect and distribute data at championship events, including the NCAA tournament. But data is not sold to sportsbooks. 
In his discussions over the past year-plus with other league commissioners, Steinbrecher said, they most often express curiosity about the deal and how league stakeholders arrived at their decision. He said Genius has been selling the league's official data to sportsbooks. He did not elaborate on the extent of the sales or financial figures involved.
Steinbrecher described the partnership as part of a multi-layered strategy for the broader sports wagering space. The league had already been involved in sports betting education with its student-athletes, coaches, administrators, etc. In addition, it is working with Genius on sports integrity solutions, ensuring that MAC events are being tracked anywhere they appear in a sports book.
What's more, this fall the MAC and a third-party vendor will roll out a service in which any sports participant – athlete, coach, official, etc. – will have access to a league-specific app to report a problem they may be having with harassment or any inappropriate behavior they are aware of related to sports gambling.
What are data deals worth?
But tapping into a new revenue stream is clearly an attractive element in the data deal, which was brokered with multimedia rightsholder JMI Sports.
Navigate, a Chicago-based firm that provides valuation data for professional and college conferences, told The Associated Press that such a deal could be worth between $1 million and $1.5 million per year.
The firm projected that the SEC could potentially garner up to $20 million annually. The Big Ten could potentially yield some $15 million with similar deals. 
"We're able to compensate our member institutions in an area in which they were not being paid previously," Steinbrecher said. "And we hope that's an area that we can grow. But we're being conservative in our thoughts around that." 
'We're up to the eyeballs' exploring data deals
Conference commissioners are actively weighing the pros and cons. 
Gloria Nevarez, the Mountain West Conference commissioner, told On3 that the league has engaged in conversations with every major vendor. Plus, the MWC is doing its due diligence to research nuances of potential deals. She said the league is optimistic about the potential. But, separate from that, Nevarez says the MWC needs to balance the integrity piece to ensure games are not compromised and athletes are protected from undue influences.
"We are deep in it – we are up to the eyeballs," Nevarez said. "It's such an evolving space. When you go to market for media rights, everyone's bidding on your media rights. And there are some different ways to couch it, but, by and large, they pay us. They license the rights, whereas this space is so different. 
"Vendor A offers something that sounds like, 'We'll buy your rights for data for the purpose of entertainment.'  Another [says], 'We'll use it for gambling.' It's just so different. We're really trying to get our arms around, 'Ok where do we fit? What pieces and parts do we want? And can we monetize that in the market?'"
The space is complex and ever-evolving. Consider the expert viewpoint of Matt Holt, U.S. Integrity's CEO and founder, who says, in theory, what the conferences want to do makes sense: Control where their data goes, who has access to it, what it's being used for and invariably share in the profits.
But here's why the business model is complex:
"So, Genius Sports paid, whatever, $120 million a year to the NFL for their data rights," Holt told On3. "Of the 96 regulated sports books in North America, 10 use the official NFL data feed from Genius. And out of those 10, probably nine of them use it. Because they want to use the trademarks, the logos, they want to make sure they're getting preferential advertising and placement. So, the purpose of the official data is supposed to be to fuel live in-play betting odds. So, if only 10 of 96 are getting those live feeds, how many of the other 86 do you think are offering full live in-play betting odds in the NFL?
"Eighty-six – all 86 – because they can get the same level of speed and accuracy from non-official data feeds as they can from the official ones. Yet they pay pennies on the dollar to get the non-official feeds. So, while the biggest sportsbooks in the country who make up the vast majority of the betting handle might be able to afford to pay the millions of dollars a year for the official one, most sports books are happy paying a few thousand for the unofficial one. So, the only thing you're getting from paying the millions is maybe some preferential advertising placement and trademarks and logos."
What's 'long-term perspective' with data deals?
Conferences are taking varied approaches as they explore the market.
For the Big West Conference, commissioner Dan Butterly and his membership earlier this year placed a priority on integrity elements over revenue generation, therefore securing a deal with U.S. Integrity. The league pays the firm for its services.
"Jon Steinbrecher did a great job for them with Genius Sports," Butterly told On3. "But it ultimately comes down to, are we interested in protection, or are we interested in some revenue? And I was very much interested in the protection. I'm really prioritizing protection at this point. I'm looking at it from a long-term perspective, not a short-term gain. There's short-term gains to be made out there financially if you want to make them, but there's also risks when going in that direction."
Tom Wistrcill, the Big Sky Conference commissioner, said the league is taking a "cautious approach" regarding data deals but maintains interest and has engaged with at least three companies. Wistrcill is a good friend of Steinbrecher, having been the athletic director at Akron between 2009 and 2015. 
"We are kind of putting our toe in the water to explore the opportunities while also trying to figure out what the potential pitfalls are," Wistrcill told On3. "I could see us at some point entering into that arena. We've got a team of three people here who are kind of in that exploration phase on our staff. If I talk with you a year from now, my guess is we will probably have something in place or a very good reason why we don't."
Will other leagues follow the MAC?
Steinbrecher, the MAC commissioner, is unsure whether other leagues will soon follow in the footsteps of his league. When they signed the deal, the MAC was the only Football Bowl Subdivision league with sports betting legalized throughout the conference's five-state footprint. 
Now, it's legal in nearly 40 states and the public is inundated with sports betting commercials. More than $150 billion is expected to be wagered on sports in North America this year. And at a time when schools and conferences are pulled financially in an increasing number of directions, here is a new revenue stream they can tap into.
If Steinbrecher were running another league, he knows exactly what he would do.
"It would be something I would be interested in," he said. "It just seems to me to make sense."