On NCAA enforcement and the possibility of a 'catastrophic' college sports betting scandal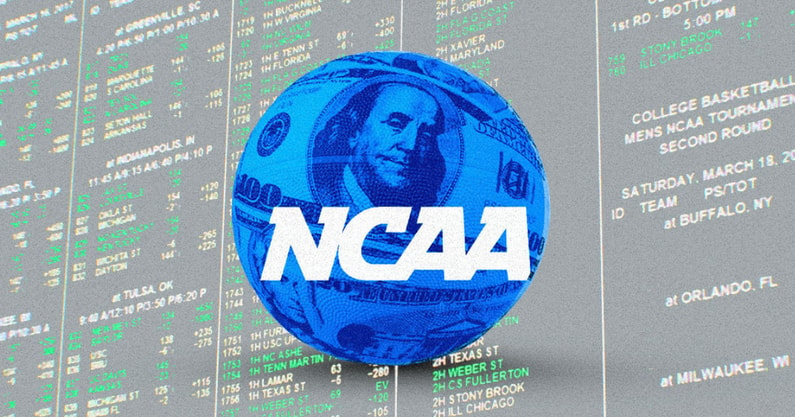 Think about the most significant issue facing college sports. Is it that NIL has turned into routine pay-for-play schemes that boosters and coaches use to recruit and retain athletes? Is that that we're inching down a road toward athletes becoming employees of their universities and perhaps receiving a slice of the revenue pie?
Tom McMillen, a former Congressman who now is CEO of LEAD1 Association, which advocates on policy issues facing FBS athletic departments, believes the biggest issue is something else entirely: Ramifications from the legalization of sports betting. 
This is part 2 of a Q&A with McMillen (part 1 is here) whose LEAD1 Association also creates working groups on issues such as NIL, transfers, diversity, equity and inclusion and enforcement, and it provides feedback to the NCAA on best practices for representative governance. It also seeks to generate consensus opinion among FBS athletic directors on significant issues.
Three important takeaways from McMillen:
+ McMillen said, down the road, the implications of sports betting on college sports is "truly existential." The ramifications could be "catastrophic." He said the NCAA last conducted a study on how much student-athletes bet on sports in 2003 – long before it became legal in more than half of the states – and the entire industry would benefit from an up-to-date study to benchmark the prevalence of sports wagering by athletes. He said sports integrity experts say there is a 100% likelihood of a sports betting scandal on a college campus in the next few years.
+ McMillen's view is that the NCAA should strongly consider outsourcing its enforcement apparatus. Staging championships like March Madness while also being tasked with policing rulebreakers makes for an odd juxtaposition.
+ The majority of NIL deals, he said, have turned into so-called "goodwill payments" so coaches can recruit and retain athletes. That's not what NIL was intended to be.
The interview has been lightly edited for clarity and context.
Q: What do athletic directors believe the NCAA's role should be? Is there a consensus?
McMILLEN: Obviously, everybody respects the ability to put on championships. The rulemaking role is under some challenge because of all the antitrust [issues]. And we're going to have to see how that plays out, whether you can devolve rulemaking and still have a national enterprise. That's something that's going to be out there. I think the enforcement thing has to be looked at, in different ways. And the role of the NCAA – I can't imagine that you can have national college sports without having some kind of national organization. States have gotten involved in this – 30 states have passed [NIL laws]. How can you run an association where every state is passing their own laws to favor their institution? So, there is a role for the NCAA. I think it will be defined. It may change over the next 10 years. I think people are going through this transformation period. Will devolution work? We don't know. Can you expect that conferences or competitors are able to make rules that are for the betterment of the larger enterprise? I mean, some of that is certainly true. Power 5 schools are very different than a lot of the other schools. And so you do need to have delineation. But a lot of these things are going to be tested over the next five to 10 years. And, generally, I think Congress will act where they see crisis and scandal. That's just generally how they focus. 
Q: What's the biggest issue facing college sports today?
McMILLEN: We haven't talked about sports betting. You'll find this interesting: 2003 was the last study the NCAA did of student-athletes and their gambling habits. In 2003, they found out in that study that 60% of the male athletes had gambled on something in the previous years and 42% of women gambled on something in the prior year. When that study was done, it was before 30 states had passed legalization. I know the NCAA is looking at this. They need to refresh that study because I was talking to an athletic director and asked him, "How many of your student-athletes have bet on your games?" He said, "I don't know. I have no idea." And he said, "I almost don't want to know." …
This is something that I feel very strongly about. So you asked me what the biggest issue in college sports is. This. If you ask me, down the road, because this is truly existential. The last [betting] scandal that occurred in Germany involved 200 teams. Can you imagine a scandal in the United States that involved 100 athletes? Remember, sports betting also has to do with mental health because kids are being lambasted because bets go wrong on social media. It has to do with mental health. It has to do with the integrity of games. It has to do with everything. It is a big issue. We have to benchmark where we are. That's all.
Maybe it's all under control. I know the FBI goes into these schools and tells them you can't bet on your games. Maybe that has worked. We just have no idea. One of the interesting things, in the states that haven't legalized it, is the FBI going into those schools? When I was in the NBA, we had the FBI come in every season and give us a lecture. I know they do that in schools now. The question is: Are they doing it in Texas, where it is not legal? But those Texas teams are playing in legalized states. We are doing a webinar on this. The sports integrity experts will say there is 100% probability of a sports betting scandal on a campus – 100% probability – within the next few years.
Q: 100%?
McMILLEN: In a ranking order of things, NIL is small ball. Employment is going to evolve. Sports betting could be catastrophic. Here's what I do need to say: I think sports betting is here. It is here to stay. But we need a national sports betting bill that will have compliance resources given to our schools. That is my point. I'm not trying to shut out sports betting across this country or the world. It's a $200 billion industry. What I am saying is that we need resources. We need a federal law to harmonize state laws. … Right now, you have a plethora of states and operators. It becomes very hard to determine where there's problems. And U.S. Integrity is one of the integrity firms, and they'll tell you – and this has been publicized – they said on every Saturday football afternoon, that there's five games that they think there's anomalous betting occurring, where they see anomalies in their computers and all that. And so the United States' fragmented system makes it doubly risky.
That's the general point. I'm not saying that there's anything wrong with sports betting. Nowhere near saying that. I am saying that we need to focus on compliance and national legislation to protect our universities. I don't want to sound like I'm the Pollyanna of doom on sports betting; I think it has got to be handled and managed much better than it is in the United States currently.
Q: On the enforcement front, the NCAA has levied sanctions against Miami in the first NIL-adjacent case. It wants everyone to believe that it will, when warranted, disassociate implicated boosters in NIL cases. Do you believe that the NCAA actually will do that? And will it invite lawsuits?
McMILLEN: This is the age-old struggle between boosters and the NCAA. This is not new. There's nothing new in the scheme of history. But it was interesting. I'm not sure optically I would have picked on the Cavinder twins first, given the gender issues that are prevalent with the NCAA. But with the [new] presumption of guilt standard, I'm sure there'll be litigation on this matter. I mean, [Miami booster] John Ruiz said he is going to sue. One of the long-term things that has to be done, and I haven't really had a chance to talk to Gov. [Charlie] Baker [the new NCAA president] about this one … is there a better method? The great thing the NCAA does is put on championships, and they have to be the bad guy on the street. It is like the Securities Exchange Commission, they're always the enforcement arm. But the SEC doesn't put on championships. You expect the SEC to be bad guys, tough guys, because that's what they're doing. They are protecting financial markets. 
The NCAA is kind of a mix of March Madness and being the bad guy. I'm not sure that model shouldn't be looked at. I've been studying the U.S. doping agency. They have limited subpoena power. They investigate all the drug issues involving Olympic athletes. I think there should be real consideration to outsourcing the enforcement model. That's my own view. That's not the view of the association. I think this is going to be tested. When these lawsuits do come, that's one area that they are trying to stand up on. Because I think, as I said, honest recruiting will be supportable and justifiable in courts of law. Colleges depend upon honest recruiting. If you don't have honest recruiting, then it's just the money will win. And I think maybe the courts will stand up to that. Even Justice [Neil] Gorsuch [talked about] the Lamborghini standard. He brought that up in the Alston case. [In the Supreme Court finding in the case, Gorsuch wrote: "Under the current decree, the NCAA is free to forbid in-kind benefits unrelated to a student's actual education; nothing stops it from enforcing a 'no Lamborghini' rule."] I do think that the NCAA standing up for a non-Lamborghini standard is defensible. We'll find out. The discovery on this will be very interesting. I wouldn't want to be sued and have all this stuff come out. That is one of the risks that litigation brings for the school.
I personally think one of the things the NCAA should look at is outsourcing this whole enforcement thing. Because the other thing that's interesting, when I was in Congress, the NCAA came down on Maryland. And I got up on the floor of the Congress and I railed at the NCAA. Every school that has had actions taken against it by the NCAA, the member of Congress rails against the NCAA. You can go through and pick out hundreds of floor speeches on this subject. So it is routine. When it happens, your member of Congress is going to defend your state institution. What happens is that over the long haul, you lose a lot of goodwill with members of Congress. And once you burn a bridge with a member because of an enforcement issue, it's hard to get it back. That's one of the by-products of what's happened to the NCAA: They have been the bad guy. And Congress is standing up for their local school. And over time, that becomes very debilitating for the NCAA to get anything positive through. So it is conflict, the result of the conflict, to be the good guys on championship and bad guys on enforcement – that has resulted in this lack of goodwill for the NCAA. It needs to be addressed because if the NCAA is going to continue to come down with enforcement actions, regardless of how meritorious they are, they're going to have members of Congress standing up for their institutions.
Q: What should a post-amateurism college sports world look like?
McMILLEN: "Amateurism" is an anachronistic word. I don't think amateurism is the appropriate word. I think that where you have high revenue models, there's going to have to be a different social contract with the student-athletes. … What would that model look like? I personally would love to see a model, a number of models explored, but none of them have employment aspects. It may have to be codified by Congress. That is why I said this is not an overnight victory. Right now, college sports operates in a gray zone on the tax side. The IRS never comes down on the fact that the only thing that's supposed to be tax-free in a scholarship is your tuition fees, not your room and board and cost of attendance and all that. And college sports has been treated differently by the IRS. So there's a precedent for being treated differently. And that can be a whole different status. 
It could be a licensing arrangement for these kids. It doesn't have to be employment; it could be licensing where they're given more money. I had an AD call me the other day and said, "Why can't we just give kids licensing payments directly?" The NCAA has a rule that a school can't give licensing. It can't come from the school. But I've had people raise those questions. So the new model would be means-tested. It would be some kind of new social contract involving student-athletes, which means providing more benefits, but it would not be employment status. For the bulk of college sports, it would pretty much remain the same. And that wouldn't be a good thing because lots of universities around the country invest in sports because it's a branding thing. It helps them market their school. And you would hate to say, "OK, we're not going to do this anymore because we got semi-pros working here now." And I think that's why it has to be [gradient]. It's not going to be one-size-fits-all. I think that the social contract will have to take into account revenue.
Q: A year ago, I reported a lot about schools being concerned that collectives were siphoning booster money away from traditional athletic department projects. How big of a concern is this today among athletic directors?
McMILLEN: I would say what I've heard, and I was on a road trip last week, I've heard more about that from smaller schools. Group of 5, not so much from the Power 5. The other thing that I've heard very clearly is that this is very little about NIL today. It is about what I call "goodwill payments." I'll give an example. A coach says, "Look, for me to get ahead, I'm going to have to give each one of my football starters $25,000 and give the guys on the bench 'X' amount." In other words, it has to do with goodwill – recruitment and retention – not publicity rights. And the irony of that is that is one thing it wasn't supposed to be. There are some legitimate name, image and likeness deals out there. But I would say the vast majority of them are goodwill payments.
Q: Texas A&M's fundraising arm, the 12th Man Foundation, created the 12th Man+ Fund, enabling donors to contribute to a fund that pays athletes. Will we see more of this, where a university's booster organization will try to operate in a gray area and be so heavily involved in NIL?
McMILLEN: I think we're in a temporary situation where eventually schools will be more involved, not less involved. Not having accountability with the collectives is not a good thing for college sports. It exacerbates the situation.