Jalen Ramsey gives update on injury timeline ahead of season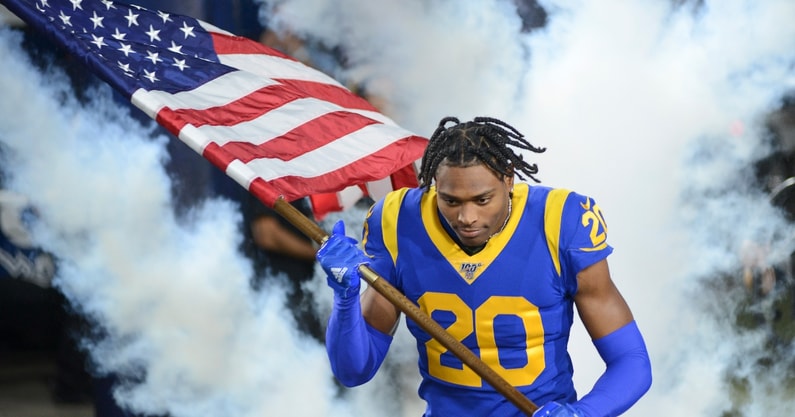 Star cornerback Jalen Ramsey has been a dominant player for the Los Angeles Rams. This offseason, Ramsey underwent shoulder surgery to repair his AC joint. This came after he considered a non-surgical procedure to recover.
Now, Jalen Ramsey has an update on his health, ahead of the 2022 season. Ramsey told reporters that there's "No doubt in my mind," that he'll be ready to go for Week 1. This means that his recovery is going as expected. He was always
Rams head coach Sean McVay had previously suggested that Jalen Ramsey may spend time on the physically unable to perform, or PUP list. That's not the case, though. While he's not ready to participate in everything, Ramsey is able to participate in most of the team's jog-throughs.
Jalen Ramsey was an All-American at Florida State, before being drafted in the first round of the 2016 NFL Draft by the Jacksonville Jaguars. There, he emerged as one of the NFL's top defensive backs. In 2019, Jacksonville traded Ramsey to Los Angeles. During his career, Ramsey has won a Super Bowl, been selected to five Pro Bowls, and is a three-time First-Team All-Pro selection.
Why Jalen Ramsey didn't go on the PUP list
Originally, the Rams intended to put Jalen Ramsey on the PUP list. However, they ultimately changed their minds. Sean McVay, ultimately, is the one who made this decision. ESPN's Sarah Barshop explained the decision on Twitter.
"Sean McVay said the Rams decided to pivot and not place CB Jalen Ramsey on the PUP list. McVay said the doctors were able to clear Ramsey to be able to participate in the 'above the neck' drills during training camp," tweeted Barshop. "If he was on the PUP list, that wouldn't have been possible."