Alabama beats Texas A&M-CC in first round of NCAA Tournament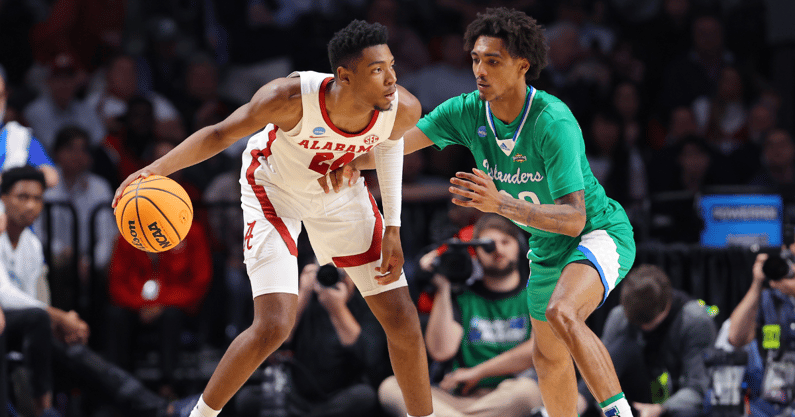 BIRMINGHAM, Ala. — The top-seeded Alabama men's basketball team has reached 30 wins in a single season for the first time in program history. The impressive total comes on the heels of a 96-75 victory over No. 16 seed Texas A&M-Corpus Christi on Thursday in the first round of the NCAA Tournament.
The win sends the Crimson Tide to the Round of 32, which will also see them play in Birmingham against the No. 8 seed Maryland, who beat West Virginia 67-65 on Thursday. Before we officially move on to Saturday, let's talk more about what happened on Thursday between Alabama and the Islanders.
First off, this wasn't Brandon Miller's best performance. The five-star freshman was held scoreless for the first time in college after going 0-for-5 (0-for-3 from the three-point line). Alabama was still able to win, however, mostly due to the extra contributions from some unsuspecting candidates.
We'll start with forward Nick Pringle, who got some extra run on Thursday due to other bigs getting in foul trouble. The JUCO transfer tied his career-high in points with 19 while also snagging a career-high 15 rebounds. That gave him only his second double-double of the season.
Ohio transfer Mark Sears also found his shot, scoring 15 points while hitting three of his four three-point attempts. He also had three assists. Nimari Burnett and Noah Clowney put up 11 and 10 points respectively. Charles Bediako added nine points to go along with eight rebounds and four blocks. That means the sophomore center has four or more blocks in three of Alabama's last four games.
Jahvon Quinerly was the fifth and final Alabama player to score in the double digits (13 points). He's scored 10 or more points in six of the Crimson Tide's last seven games. That strong play has helped with Sears struggling prior to the Big Dance, but with both guys putting points on the board on Thursday, that helped mask some of the struggles from Miller and Jaden Bradley (0-for-4).
Overall, the Crimson Tide shot 45.5% as a team from beyond the arc.
So now Alabama moves on to the second round of the NCAA Tournament. As I already mentioned, they'll play No. 8 Maryland on Saturday. Oddly enough, that's the same team they played during the second round of the tournament two years ago, and Alabama won by an impressive 19 points (96-77). We'll see if the Crimson Tide are able to have a repeat performance this time around.
Not a member? Join BamaInsider!
Have you subscribed to BamaInsider.com? You can sign up now for $29.99, which gets you premium access until Aug. 31, 2023! Or, you can also get monthly access for just $9.99 per month. Get access to premium articles covering the University of Alabama athletics, recruiting content and also join thousands of Crimson Tide fans on the Talk of Champions message board! CLICK HERE!