Top JuCo Linebacker Justin Jefferson attends first Alabama game, growing more comfortable in Tuscaloosa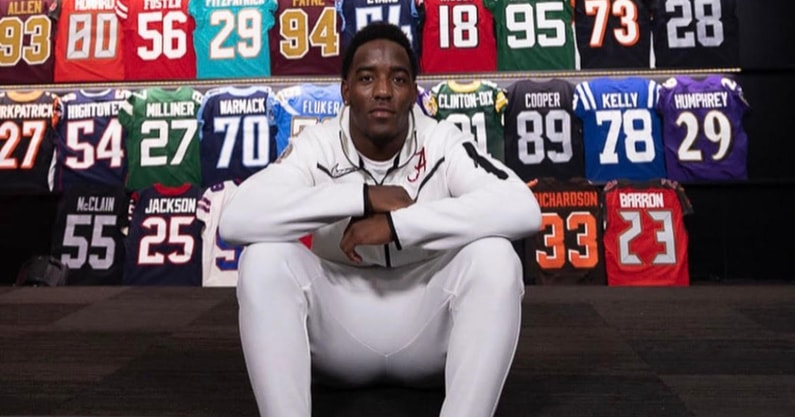 Subscribe to BamaInsider today for only $1.00 for exclusive team and recruiting coverage! This deal ends soon! CLICK HERE TO JOIN!
Justin Jefferson, four-star linebacker from Pearl River Community College in Scooba, Mississippi, attended his first Alabama football game on Saturday night at Bryant-Denny Stadium. It wasn't just his first game in Tuscaloosa.  It was the first time he has watched a game inside the stadium of a Power 5 conference school.
"It was everything you can expect from being at an Alabama game," Jefferson said. "My teammates and I had a really good time. It was an amazing visit.  It was my first time to ever go to a game of that magnitude. I've only been to games at Memphis in the past.
"It was crazy. I told my teammates how you can look anywhere in the stands and there wasn't an empty seat. The fan base is really great. The game went as I expected.  
"Alabama is the best team in the country. I paid attention to the linebackers. It made me more excited about the future. They are the best-of-the-best. I was impressed with everyone."

Jefferson, who is ranked the No. 2 overall junior college player in the country according to On3 Sports, committed to Alabama in June.  He returned for the Champions Cook-Out in late July, and expects to spend a lot of time in Tuscaloosa this fall.  The relationship with the Alabama staff continues to grow stronger.
"I talked to everyone," he said.  "I am really building a good relationship with all of those guys. It's always good vibes when I go there. There's always good vibes in Tuscaloosa. 
"I talked to Coach Golding and Coach Sam Petitio. Coach Golding just talked about a couple of the plays they ran.  He talked about some of the plays we ran in our game. He told me to just keep getting better. Coach Saban talked about my game, and he asked about my mom."
SEC schools still pursuing Tide commitment
Jefferson considers himself very solid with his commitment despite continued interest from other SEC schools. He does not anticipate taking any other trips outside of returning to T-town.
"Florida, Ole Miss and Mississippi State have still been talking to me," he said.  "I am locked-in with Pearl River and Alabama. I will not take any other visits. I am locked-in with Alabama. I will likely be back for the next home game, but definitely will return for A&M.  I plan on attending most home games this season.
"I feel more comfortable there. It was kind of like last year versus this year at Pearl River. I am more comfortable with everything and everyone. Just very comfortable walking around and talking to the players and coaches. I feel really at home."
So how does Jefferson feel about Alabama's upcoming game in Austin against the Texas Longhorns?
"Utah State was good team, but Texas will be a good test for them," he said.  "Texas is recruiting well, but this is Alabama. I will say Roll Tide all day!  We are the best in the country."
Big performance in Game 1
Jefferson helped lead his team to a season opening win on Thursday night, a 49-24 win against Holmes Community College. The Tide commitment recorded nine tackles, one tackle for loss and an interception. Pearl River travels to Northeast in Booneville, Mississippi, on Thursday.
"I feel great out there especially with all the things I have going for me," said the No. 1 ranked junior college linebacker.  "I am just so ready to win. It's been amazing to be out there with my teammates. We are out there working and have been for the last year. 
"It felt good being out there and just letting loose. Just doing what I am doing. I am more comfortable, and also more comfortable around my teammates.  It's a real family.  Everyone has a good bond with each other."