Clemson commit Toriano Pride earns fifth star in updated On300 rankings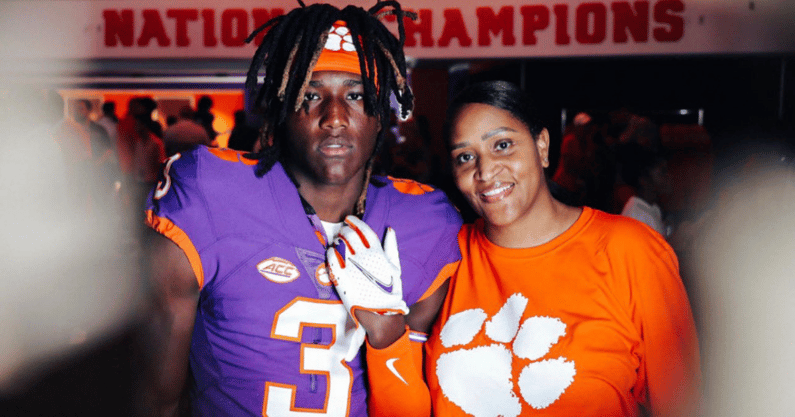 Although they recently missed out on priority wide receiver target Andre Greene Jr., Clemson's 2022 class is still regarded as one of the best in the nation.
That was validated once again on Monday as On3 unveiled its updated On300 rankings for senior prospects across the nation. The big news of the day, for Tigers fans, was Toriano Pride earning his fifth star on our network.
Along with national rankings, On3 grades are assigned to each prospect. 98-100 indicates five-star status, 90-97 are for four-stars, and 80-89 are for three-stars.
Read Clemson Sports' piece below to see where each of the program's commits stand in the new rankings.
Daylen Everette (98) – No. 7
Once again, there was no change for Daylen Everette in the updated On300 rankings. Everette, a native of Norfolk (Virginia), remains a five-star prospect and the No. 7 overall player in the country.
Toriano Pride (98) – No. 14
One of the biggest movers on Monday was East St. Louis High School's Toriano Pride. Pride jumped up 11 spots to No. 14, making him a five-star for the first time in our rankings.
Here is what Charles Power recently wrote about Pride when breaking down his skill set.
"The 5-foot-11, 185-pounder has outstanding man cover skills with the ability to redirect and mirror wide receivers off the line of scrimmage and downfield," Power wrote. "Pride also has some of the better verified athleticism among the deep corner group along with a 6-foot-4 wingspan. Those technical skills and physical traits have showed up on the field this fall."
Jihaad Campbell (97) – No. 29
There was a slight drop for IMG Academy's Jihaad Campbell in the new rankings. Campbell went from No. 28 to No. 29, but maintained his 97 grade on our network.
Campbell is listed as an edge rusher on our database, but is dynamic enough to stand up and rush the passer at the next level as well.
QB Cade Klubnik (97) – No. 35
Another Tigers pledge who had a slight drop today was Cade Klubnik. Klubnik, who missed several weeks due to a shoulder injury sustained in early October, fell six spots to No. 35.
Charles Power had the following to say about Klubnik following his monster performance against Lake Travis.
"He's an accurate, efficient passer with very good mobility who is running one of the best offenses in high school football," Power wrote. "The arm talent is not to the level of several other highly-rated quarterbacks in this cycle. With that said, the previously mentioned traits and his pedigree in playing against tough competition points to a high floor."
CB Jeadyn Lukus (96) – No. 57
Staying put at No. 57 in the On300 is one of Clemson's top defensive back pledges: Jeadyn Lukus. Lukus now checks in as the 11th-ranked cornerback in the 2022 class.
The product of Mauldin High School missed the rest of his senior season with a shoulder injury, but informed us that he will be ready to go come January.
LB Jaren Kanak (95) – No. 74
Moving up three spots in the updated rankings is linebacker pledge Jaren Kanak. Kanak did most of his damage on offense this season, racking up multiple games of 100-plus rushing yards and 100-plus passing yards.
The 6-foot-2, 190-pounder also had one of the best plays of the year on this 61-yard TD run in the playoffs.
WR Adam Randall (95) – No. 80
Adam Randall saw his stock rise significantly on Monday. Randall moved up nearly 40 spots from No. 119 to No. 80 in the country.
If you've been following him this season, this should not come as a surprise. Power recently wrote about Randall following his 10-catch, 255-yard and five-touchdown performance in early November.
"Randall showed off the open-field ability on what looked to be a hook-and-ladder play," Power wrote. "He kept the ball instead of pitching and broke some arm tackles while racing for a long score. We also saw the four-star prospect separate within his route and win downfield in addition to catching a short touchdown on an out-breaking route."
S Keon Sabb (94) – No. 101
While Randall did have a big rise on Monday, Keon Sabb was the one who had the biggest drop in his rankings. Sabb fell 18 spots to No. 101, but did keep his 94 grade in the On300.
OL Blake Miller (94) – No. 110
The Clemson commit who saw his stock rise the most on Monday was Strongsville (Ohio) offensive lineman Blake Miller. Miller not only leapfrogged 50 spots to No. 110, but he also saw his grade improve from 92 to 94.
S Sherrod Covil (92) – No. 199
Chesapeake (Virginia) prospect Sherrod Covil fell slightly in the rankings, from No. 192 to No. 199. His grade did improve, however, from 91 to 92.
Despite a recent trip to UNC, the four-star defensive back told us recently that he is locked in with the Tigers.
OL Collin Sadler (92) – No. 209
Along with Miller jumping in the rankings, fellow offensive lineman pledge Collin Sadler saw his stock rise, too. Sadler improved from No. 220 to No. 209, and also saw his grade go from 91 to 92.
If you haven't already, be sure to sign up for a ClemsonSports membership today. We're running a seven-day free trial right now, which you can access HERE.