Kickoff time announced for the Florida Gators' game at Kentucky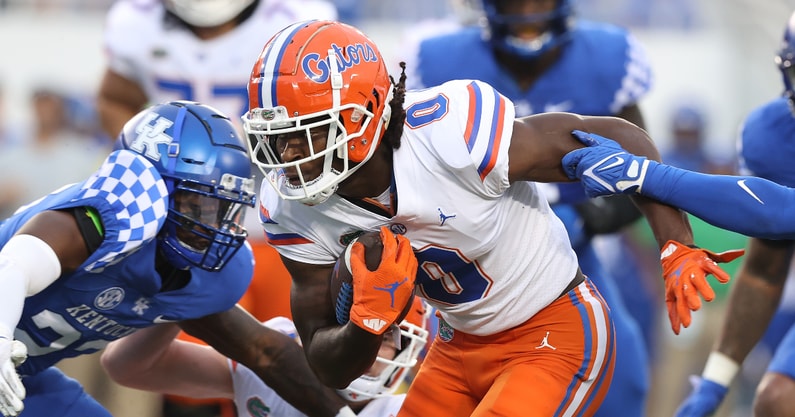 GAINESVILLE, Fla. — Kickoff has been set for Florida's SEC road game at Kentucky. The Wildcats (3-0) will host the No. 25 Gators (2-1, 1-0 SEC) at noon on Sept. 30, airing on either ESPN or SEC Network, the league announced on Monday.
This year's matchup will be the 34th in Lexington with the Gators owing the all-time series 22-11. The overall series favors Florida with a 53-20 mark, but Kentucky has won back-to-back games.
The Wildcats were victorious in The Swamp last year, pulling out a 26-16 victory in the Gators' first SEC contest of the season.
The network (ESPN or SEC Network) will be determined after games of Sept. 23. The full schedule of SEC games on Nov. 12 is below.
Missouri vs. Vanderbilt at 4 p.m. on SEC Network
No. 1 Georgia vs. Auburn at 3:30 p.m. on CBS
No. 12 LSU vs. No. 15 Ole Miss at 6 p.m. on ESPN
No. 13 Alabama vs. Mississippi State at 9 p.m. on ESPN
South Carolina vs. No. 23 Tennessee at 7:30 p.m. on SEC Network
Texas A&M vs. Arkansas at 12:00 p.m. on ESPN or SEC Network*
SUBSCRIBE TO THE GATORS ONLINE YOUTUBE CHANNEL
Kentucky going for three in a row
After 31 straight losses in the series, Kentucky coach Mark Stoops finally snapped the streak in 2018 and his program has defeated the Gators three out of the last five seasons.
After winning in Lexington in 2021 for the first time in 35 years, Stoops and the Wildcats beat Florida in The Swamp last season in Billy Napier's SEC coaching debut. UK hadn't won back-to-back games since 1977 and 1976.
Kentucky has had UF's hand in recent years, almost winning at home in 2019 and 2017 as well. These results have changed the SEC East pecking order, and another victory over the Gators this fall could further establish UK's supremacy in the division.
It would also mark the Wildcats' third win in a row against Florida and their second straight victory in Lexington. They haven't won three straight in this series since a four-game winning streak from 1948-51 under legendary coach Bear Bryant. That included two games in Lexington in 1948 and 1950, when Bryant led the program to its first SEC title and only national championship.
SIGN UP FOR THE GATORS ONLINE NEWSLETTER AND GET BREAKING NEWS SENT TO YOU FOR FREE