Florida State Baseball returns home to host soaring Boston College Eagles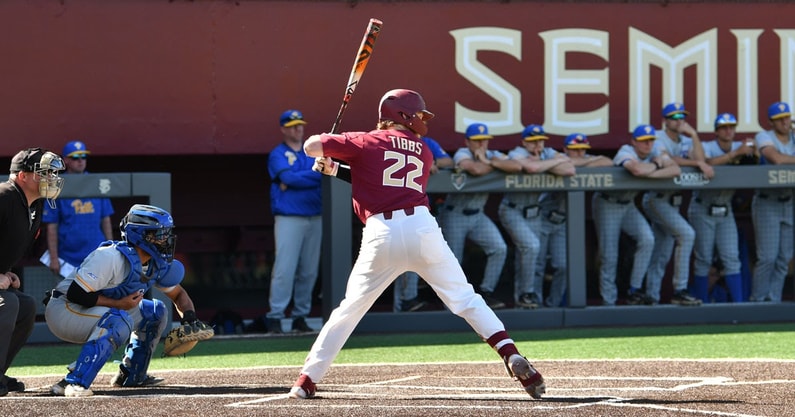 After dropping a pair of midweek games at UCF, the Florida State baseball team likely will face another stiff challenge this weekend from visiting Boston College.
While the Eagles were picked to finish last in the ACC's Atlantic Division in a preseason poll of league coaches, they are off to an incredibly hot start to this season.
Boston College comes to Dick Howser Stadium with a 12-2 record, including a stunning 7-6 win at No. 2 Tennessee in a midweek game, and a surprising series victory at No. 10 Virginia Tech. After dropping the first game of that series, the Eagles won the next two.
Florida State is 11-6 overall and 2-1 in the ACC.
While the Eagles were one of the worst teams in the conference last season, with an overall mark of 19-34 and a 5-25 record in ACC play, the story has been completely different so far in 2023.
Senior outfielder Barry Walsh leads the way offensively with a .383 batting average and three home runs, while the Eagles' top power hitters have been juniors Cameron Leary and Joe Vetrano. Leary and Vetrano have each blasted six home runs, and they're tied with Walsh for the team lead with 13 RBIs.
Boston College's pitching staff also has gotten off to a strong start, led by grad transfer Chris Flynn. The right-hander, who previously played at a Division-III school, is 4-0 with a 0.79 ERA in four starts. He is expected to pitch Saturday in a head-to-head matchup with Florida State's top pitcher, junior left-hander Wyatt Crowell (3-0, 0.87).
The series opener today will feature Florida State sophomore right-hander Jackson Baumeister (1-1, 2.65) vs. Boston College freshman lefty A.J. Colarusso (0-0, 6.43).
FSU, which won two of three games last year at BC, is led offensively by sophomore outfielder/first baseman James Tibbs (.393, 6 HR, 20 RBIs), senior catcher Colton Vincent (.393, 1 HR, 10 RBIs), junior shortstop Jordan Carrion (.353, 17 RBIs) and sophomore right-fielder Jaime Ferrer (.347, 4 HR, 18 RBIs).
*ALSO SEE: Florida State catcher Colton Vincent finds new groove as switch-hitter
Due to concerns about weather this weekend, the series opener today has been moved from an evening start to 3 p.m. ET. Saturday's game is scheduled for 7 p.m., and Sunday's first pitch has been moved to 11:30 a.m.
Stay connected with Warchant.com for coverage throughout the weekend.
***Talk with other Seminole fans on the FSU Baseball Forum***