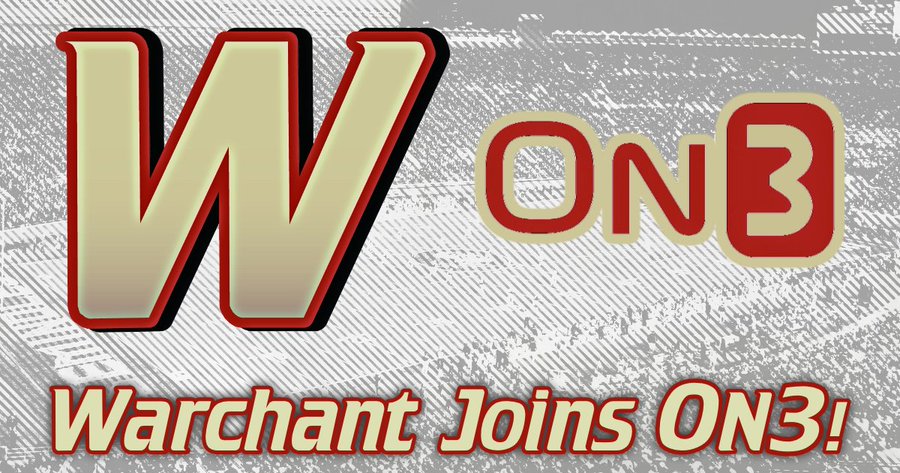 Warchant.com has been covering Florida State sports since the mid-90s. The purpose of Warchant.com is to provide Seminole fans with total coverage of Florida State athletics, with an emphasis on football, basketball, baseball and recruiting. Warchant.com has become the definitive source on Seminole football, basketball, baseball and recruiting. In 2003, 2004, 2005 and 2007 Warchant.com was honored as the top team site in the Rivals.com Network. In 2004 Warchant.com was honored for having the top premium community (Tribal Council). In 2007, Warchant.com was recognized for giving its users the "best fan experience". In 2012 and 2014, Warchant.com was named as the top social media site on Facebook by Rivals.com. Warchant.com provides both free and premium content to our users.
Follow us on twitter @warchant.
Please do not send e-mail if you have a sports related question or comment. Instead please use the Warchant Forums. For all message board issues including warnings, bannings and disruptive posters please use the Report Tab under the post, or you can email the moderators directly: [email protected]. General issues, questions or for technical support e-mail [email protected]. For changing usernames and emails, or inquires about log-in issues email [email protected] OR submit a Support Ticket.
Warchant.com Staff
Gene Williams, aka 'Dot Com' Warchant.com Founder and Administrator
Williams is the founder and administrator of Warchant.com, winner of multiple awards for the top on-line college site within the Rivals.com Network. He has been writing stories and features covering all of FSU's sports with an emphasis on football and football recruiting since the mid-90's and has covered the last two football national championships (1999 & 2013). During past football seasons he hosted a weekly sports radio show in Tallahassee on 1270 The Team (WNLS). He also appeared as a regular weekly guest on ESPN Radio Tallahassee, and other radio stations throughout the country. Williams is also a former ACC correspondent for College Football News (weekly national newspaper). More: Gene Williams' 'Nice Little Hobby' Grows into THE Online Source for FSU Football. Email: [email protected] / Twitter: @WarchantGene
—————————————–
Ira Schoffel, Warchant.com Managing Editor
Schoffel joined Warchant in July of 2014 after serving as sports editor of the Tallahassee Democrat the past couple years. Schoffel has been covering college athletics since 1991, and he has been on the Florida State beat since 2002. During his 13 years covering the Seminoles, Schoffel served as managing editor and then general manager of the Osceola, and then senior writer and later sports editor of the Tallahassee Democrat. He also has been a frequent contributor to a variety of regional and national publications. In each of the past two years, Schoffel's work has been honored with national awards in the Associated Press Sports Editors writing contest. In the 2012 contest, Schoffel received first-place honors for project reporting, and in 2013 he and a colleague took first-place for explanatory writing.
Email: [email protected] / Twitter: @iraschoffel
——————————————
Corey Clark, Warchant.com Senior Writer
Clark joined the staff in December of 2017 after working for the Tallahassee Democrat. He spent more than three years as the newspaper's lead sports columnist and the previous five as its Florida State beat writer. He had been at the Democrat since 2007, and he has nearly 20 years' experience in the business. Clark and Warchant's managing editor Ira Schoffel make up two-thirds of the popular weekly radio show and podcast, "Seminole Headlines," which also features ESPN-Tallahassee's Jeff Cameron and airs on 97.9-FM Tallahassee. The University of Georgia product followed Florida State from a young age because his father, John Clark, was an FSU alum and a longtime supporter of Seminole athletics. Before his time at the Democrat, Clark was an award-winning sports writer at three newspapers in Georgia — the Gwinnet Daily Post, Valdosta Daily Times and Thomasville Times-Enterprise.
Email: [email protected] / Twitter: @Corey_Clark
——————————————
Michael Langston, Warchant.com Recruiting Writer/Analyst
Langston joined Warchant in October of 2010 after being the publisher of FlaVarsity.com for eight years. In 2008 he was honored with the "Distinguished Service" award given to the person who sacrifices the most to assist sites in the Rivals.com Network. FlaVarsity.com also won the top High school site in 2008 under Langston's leadership. He currently serves as Warchant.com's full-time recruiting writer. Langston has a decade of experience covering prep athletes and has built numerous contacts and sources throughout the state. His established relationships with Florida high school coaches and knowledge of the recruiting process will be a huge benefit to the readers who follow the 'Noles' recruiting efforts.
Email: [email protected] / Twitter: @MichaelWarchant
———————————————
Aslan Hajivandi, Director of digital media
Aslan started his sports journalism career as an intern with Warchant.com. Since then, he has been the Sports Director at CBS affiliates in Montana and Alabama as well as the ABC affiliate in Jackson, Mississippi where we won two Associated Press, 1st place awards for his sportscasts. In 2017, he also hosted a two-hour morning drive show on ESPN 107.7 that served the tri-state area of FL, GA, and AL. Aslan has covered the Super Bowl, NFL Draft, College Football Playoff National Championship, NCAA Men's Basketball Tournament and the College World Series. You can catch he and Corey Clark weekdays mornings on Wake Up Warchant.
Email: [email protected] / Twitter: @aslanhodges
———————————————
Jeff Cameron, Director Multimedia / Host Jeff Cameron Show and Warchant show host
Jeff Cameron joined the Warchant staff in August of 2021. Jeff began attending FSU football games in the early 80's with his Father and either as a student or fan has been following the program for 40 years. Jeff has, in a professional capacity, covered Florida State, college football, and professional sports at large for 23 years. His self titled radio program of which he is the Host, 'The Jeff Cameron Show,' is the longest running and most successful sports talk show in Tallahassee history. You can listen live in Tallahasseeon 93.3 FM every day from 1-3 p.m. ET, or via Warchant TV on YouTube. Before joining the staff full time Jeff worked with Warchant as a host and guest analyst for over 20 years. Jeff is also a host on the SiriusXM PGA Tour Network alongside FSU Head Golf Coach, Trey Jones. Email: [email protected] / Twitter: @JCameronShow
——————————————–
Tom Lang, Warchant.com Director of Original Content/Executive Producer, "The Jeff Cameron Show"
Tom joined the Warchant staff in July of 2021. He has covered Florida State for both broadcasting and website media since 2009, working with 1270 WNLS-AM as an assistant producer of "The Jeff Cameron Show" and as the JCS producer, operations manager and general manager of 97.9 ESPN Radio Tallahassee. Tom has worked with Warchant on and off since 2012, crafting projects behind the scenes and in front of the camera. After dipping toes in the Warchant waters for nearly a decade, he decided it was finally time to call this website home. Tom graduated from FSU in 2009, and has followed the program closely since his oldest sister attended FSU in the early 1990's.
Email: [email protected] / Twitter: @_TomLang
———————————————
Matt LaSerre, Warchant.com Staff Writer
Matt joined the Warchant staff in March of 2023. After graduating from Florida State in the fall of 2022 with a degree in Digital media production, Matt started his career in college football as social media and journalism intern with Mike Farrell Sports. Matt also worked in the Florida State Athletics digital media office as a student as well as in the communications department at the PGA North Texas Section. .
Email: [email protected] / Twitter: @LaserreMatt