Former Georgia WR Dominick Blaylock makes his college choice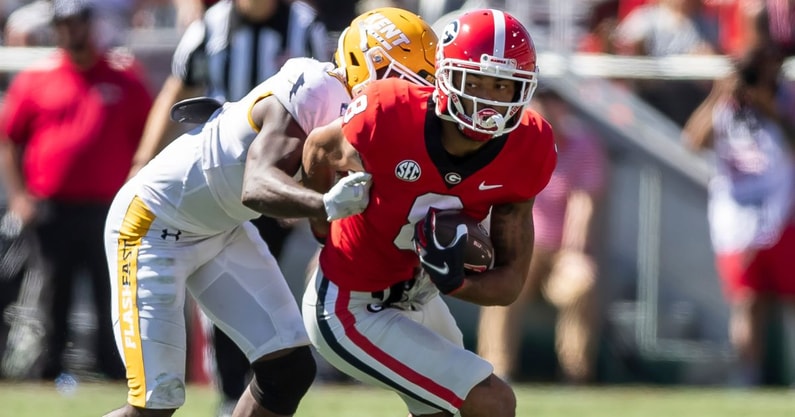 Dominick Blaylock is staying in the Peach State to continue his College Football career but it won't be at the University of Georgia. The former Bulldog wideout entered the transfer portal in January and has chosen Georgia Tech as his landing spot.
"Proud to say that I am graduating this week from the University of Georgia," Blaylock said in an exclusive interview with DawgsHQ. "After talking to over 15 programs, I have decided to further my graduate studies and finish my eligibility at Georgia Tech. Thank you Athens and for everything and all the great memories. GO DAWGS"
"Dom has loved everything about Georgia, he has loved his experience at Georgia, he loved Kirby Smart, he loved it all," His mother, Janelle Woods, told DawgsHQ Tuesday evening. "This decision was about the rest of his life for the path he wants to take after football. He is so excited to have his degree from Georgia as well. I think it is important for Bulldog fans to know he loved there and this is his next chapter for him. He can also be closer to his brothers who live in the city as well and they are very close. Going to Georgia Tech is really the next phase for him whether it is NFL or working in the IT world, which he is really interested in too. I think at this stage, Georgia Tech was the best spot for him, he can play football and learn further in their IT departments."
Blaylock had a strong true freshman season at Georgia, catching 18 passes for 310 yards and five touchdowns. The Bulldogs had two receiving touchdowns of more than 50 yards that season and Blaylock had two of them. But it was what happened in his final game of that season, the SEC Championship loss to LSU, that changed the course of his Bulldog career.
The Walton High School product suffered a torn ACL inside Mercedes-Benz Stadium. COVID-19 impacted the entire planet a few months later and created a bit of an odd offseason, but Blaylock was on track to return for the 2020 season. Then he tore the same ligament in the same knee during preseason camp, ending his 2020 campaign before it started.
He successfully got back on the field in 2021 but only for two games. Blaylock had two catches for 11 yards in 2021 before taking a big step forward as Georgia marched to back-to-back National Championships in 2022. The former four-star prospect hauled in 15 passes for 227 yards and a touchdown. No catch was bigger than the one he made to convert a third down in a 26-22 come-from-behind win at Missouri in October.
Blaylock has two years to play two for the Yellow Jackets. He was a borderline five-star prospect coming out of high school in the 2019 class. The On3 Industry Ranking, a weighted average taken from all four outlets that provide recruiting rankings, viewed him as the nation's No. 35 overall prospect. He was the nation's No. 7 wide receiver and the No. 8 prospect in Georgia.
Blaylock's offensive coordinator at Georgia Tech will be a familiar face. Buster Faulkner has spent the past three years at UGA as an offensive analyst.