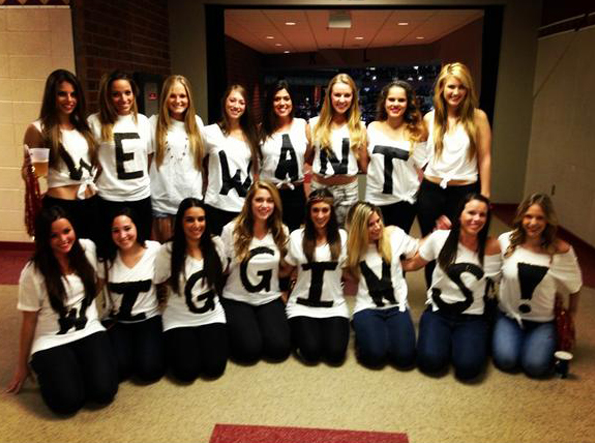 Time is running out...by tomorrow at 12:15 pm, we will have a decision on Andrew Wiggins. You can find out where he picks by either joining the KSR Live Running Diary or listening on air from 10-1 pm. Both are beautiful options. But as we get into these final hours, it is still clear that
really no one knows where Wiggins is going.
Information is everywhere, but I am not sure (as one source told me today) "anybody knows anything." With that said, if he picks each school, this is probably why:
KENTUCKY
:
Why He Picks UK
: Because it makes the most sense. Andrew Wiggins has said over and over that he cares about winning and getting ready for the NBA. Simply put, there is no better place for both than Kentucky. If Wiggins comes to UK, the Cats are a juggernaut. If he wants to go to the NBA, no place has been better recently than Kentucky. It simply makes the most sense.
Why He Doesnt Pick UK
: Only two real reasons explain going elsewhere. First, his family is connected to Florida State and that bond may ultimately send him to Tallahassee. Second, he wants to have the spotlight/not worry about playing with such a loaded team. No other options make sense quite frankly. All indications are that Wiggins loves Calipari and loves UK. If that is true, and we have no reason to think otherwise, then one of the two reasons above would explain a different pick.
FLORIDA STATE
:
Why He Picks FSU
: Family ties are strong. Both Wiggins' mother and father played at Florida State and have been Seminole fans since the day he was born. That family connection means saying no to the parents, which is tough. Plus Leonard Hamilton is probably one of the better recruiters in the nation, often able to get kids to ignore reality, reason and his NBA track record to sell the bright lights and smelly city of Tallahassee. Parents and Leonard send Wiggins South.
Why He Doesn't Pick FSU
: He realizes it is Florida State. Wiggins has three of the five greatest programs in basketball history recruiting him...and then he has a football school that masquerades as a regular NCAA Tournament bubble team. As parents, you love what you did, but want better for your children. All three non-FSU options are better for Wiggins.
KANSAS
Why He Picks Kansas
: Kansas is probably one player away from being a contender and has had a great decade under Bill Self. While his hairpiece is mock-worthy, his ability to coach and put guys in the league isn't. He has been successful. It is the best home court atmosphere in America and the Jayhawk Nation is second only to Kentucky in fan passion. Plus, he will be close to his brother, who plays at Wichita State. Picking Kansas isn't a bad choice...plus their coaches are confident, telling media members that they believe they will be the pick.
Why He Doesnt Pick Kansas
: As good an option as Kansas is, it is only second best (or worse) in every category. They will be good with Wiggins...but not as good as Kentucky. They put people in the NBA...but not like UNC or Kentucky. They have great tradition...but not like UNC or Kentucky. They have great fans, but not as good as Kentucky. Plus as an Adidas school, they would seem at a disadvantage for a player that has widely been considered headed down the "Nike" route.
NORTH CAROLINA
Why He Picks North Carolina
: His dad is rumored to like UNC second best of the choices. UNC could be a compromise pick between what the parents want and what Andrew wants. Plus, the Heels have a great tradition and need their next huge star, post-Jordan. UNC produces many good NBA players, but probably hasn't had a "Star" in the league since Vinsanity was running wild. Wiggins slides in and takes Chapel Hill by storm and makes the Heels into a contender.
Why He Doesn't Pick UNC
: Shhhh don't tell anyone, but Roy Williams hasn't been the best at preparing kids for the NBA. The last top player to go to Chapel Hill, Harrison Barnes, had somewhat of a disappointing college career and seems to have only found his stride since making the league. And while Roy is a very good coach and has won a lot, the last few years have seen some struggles. Is he the same guy with the same passion as a few years back? Some of his fans wonder, and maybe Andrew wonders too? I don't know what he will do...but honestly, there is an explanation for every choice. Enjoy Andrew Wiggins day tomorrow...the silliness is fun and doesn't happen all that often.