Antonio Reeves' growing confidence another key to Kentucky's turnaround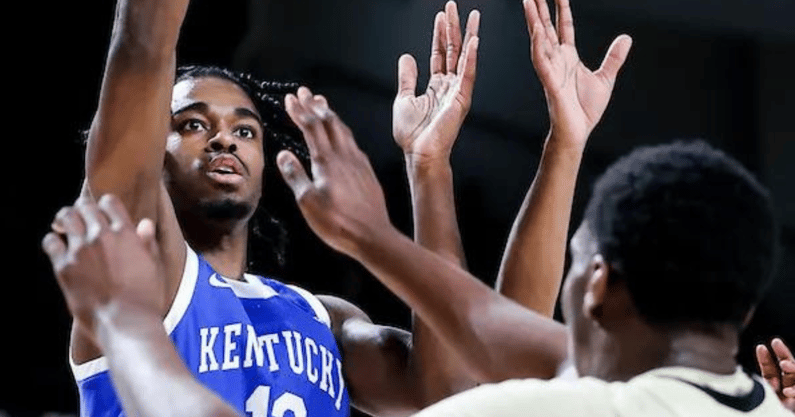 It's been over five months since Antonio Reeves took home MVP honors from Kentucky's trip to the Bahamas. During the exhibition tour, the Illinois State transfer averaged 17.0 points in 19.3 minutes over four games, shooting the ball with confidence and looking every bit the scorer Kentucky needed for the 2022-23 campaign. When the season actually started, Reeves played well at times but had a tendency to disappear when the Cats needed him the most, averaging only 7.3 points in Kentucky's losses to Michigan State, Gonzaga, UCLA, and Missouri.
The most obvious factor behind Kentucky's four-game winning streak is switching the lineup to feature two shooters alongside a primary ballhandler. No one has taken advantage of that more than Reeves. Even though he's still coming off the bench, Reeves is Kentucky's top scorer in the last two games and averaging 17.0 points over the last four. He's shown renewed confidence, not only firing away from the outside but driving the lane with authority.
"You make open shots, we're going to be pretty good," John Calipari said after Kentucky's 69-53 win. "But you can't go and start the game 0 for 12. We've done that. Now we're starting — like Antonio walked right in the game bang, bang. He's on a different level from where he's been."
"Their guys made shots all over the floor," Vanderbilt's Jerry Stackhouse said after the game. "We weren't able to contain them at all."
"He's not just worried about offense; he's worried about playing"
Last night, Reeves followed up his season-high 23-point performance vs. Texas A&M with 16 points vs. Vanderbilt on 50% (7-14) shooting. It was his sixth straight game in double figures, and the points came in a variety of ways. After checking in at the 15:29 mark in the first half, Reeves hit a three to give Kentucky the lead. With 49 seconds to go before halftime, he spun off a defender in a pick-and-roll and hit a jumper to push the Cats' lead to seven.
"I put him in a high pick-and-roll late in that first half," Calipari said. "Bang! And those were all big plays to get out of there and have a lead at halftime like that."
Calipari previously said one reason he was hesitant to play Reeves and CJ Fredrick together was defense and rebounding, or rather, lack thereof. Over the past four games, the pair have proven themselves on the other side of the ball, leading to more time for the "Basketball Benny" lineup.
"He's been good," Calipari said of Reeves. "Very confident. Playing better defensively. Rebounding balls. Mixing it up. And he's not just worried about offense. He's worried about playing."
"Everyone's starting to figure out what they do, where they stand, their role," Fredrick said. "We're not trying to do things that we can't do. And we're starting to realize that each and every single one of us brings something different to the game. We're all coming together in that aspect and playing off each other and just having a lot of fun with each other."
Sahvir Wheeler finally got some run with the Basketball Benny lineup last night as Calipari sought to push the pace. Coming into the Vanderbilt game, Wheeler had only played alongside Reeves and Fredrick for 18 minutes and 16 seconds. Last night, he played eight minutes with Reeves, Fredrick, Jacob Toppin, and Oscar Tshiebwe. The combo had Kentucky's highest score differential (+8) and second-highest points per minute (2.13) behind the Bennies. Wheeler told KSR he loves the scoring opportunities the lineup presents.
"With those guys out there, there being so much space that you can use, and everyone's pretty versatile. Seen some times where they have the ball, they're making some plays, and I was off the ball screening for them, moving, getting rid of it and giving these guys opportunities because they're a hell of playmakers themselves."
Or, as John Calipari would say, a shooter becoming a maker.