Austin Rivers: So you're saying there's a chance?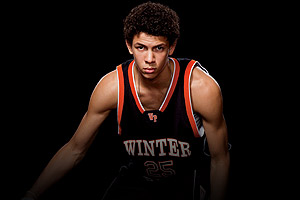 Long considered a pipe dream, the #2 player in ESPN's class of 2011 and #8 in Rivals', Austin Rivers, again
hinted on Wednesday that he might not be whole-heartedly committed to the Florida Gators
while telling the Orlando Sentinel that he plans to sign in November during the early period. The Gators,
now without Ray Shipman
and
Walter Hodges' championship ring
, landed a commitment from Doc Rivers' sharp-shooting son almost two years ago and have been fighting off foes (most notably that rat Coach K) ever since. He's mostly denied any interest in ending up at UK, but offered what seems to be a slight glimmer of light when talking to the Sentinel Wednesday:
"I've been following Duke really closely in the [NCAA] tournament and I love the way they set screens and give so much freedom to [Kyle] Singler and [Jon] Scheyer," Rivers said. "I've always loved the way Florida plays. I've been watching Kentucky and the way [coach John] Calipari let his guys go, which is great. Texas really lets their guards play. "I'm not going to be as busy with basketball as I've been in the past. I'm going to take the time to make my body bigger and stronger and to make this decision. By the time school starts back [in August], I think I'll know where I want to go."
While it should be noted that Rivers is geographically forced to watch the UK games in the NCAA tournament, he does have the option of changing the channel and watching
"My Super Sweet Sixteen"
or that teen soap opera with Drake in it.  So, score one for the Cats.