The BBN Salutes Joe B. Hall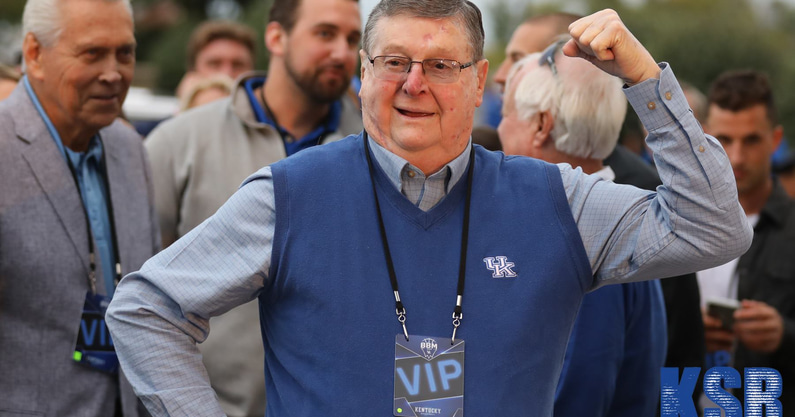 It's a somber around the Big Blue Nation as Kentucky fans mourn the passing of Joe B. Hall.
Whether watching the Wildcats at Rupp or cutting up with his former rival on the radio, the National Championship winning head coach was never far from his Old Kentucky Home. Even though there is sadness in his death, memories of his life are enriching. It's impossible not to smile when you see a young Freddie Maggard at Coach Hall's basketball camp.
Freddie is one of the hundreds of thousands of Wildcat faithful that took to social media to share their memories of the Coach that kept Rupp's legacy alive and ensured that Kentucky great's basketball tradition would not end with Adolph Rupp.
Roger Harden was the point guard for Coach Hall's last Final Four team in 1984.
Oscar Combs' rise through the media coincided with Hall's. The two Kentuckians made basketball mean more across the Commonwealth.
Each of those individuals left an impression on KSR's Matt Jones.
Well before my time, I was introduced to Coach Hall by the Beasman, a character Terry Meiners created on 840 WHAS. The spoof of Joe B. was silly, yet always entertaining.
Hall's success on the court became over shadowed by his kindness once his career concluded. The Cynthiana native was an exceptional ambassador for the state. He did not need to make a grand gesture to prove a point. It's the little things that revealed his true character.
Not every Joe B. Hall story has a touching sentiment. Some are just downright funny, like the time a KGB agent drank all of the vodka out of his house and danced the night away.
Joe B. Hall lived a full life. Before he rests in peace, today is a grand opportunity to send him off with the perfect tribute, a win over Tennessee.
More Tributes to Joe B. Hall