BBNBA: Boogie Cousins and Enes Freedom make debuts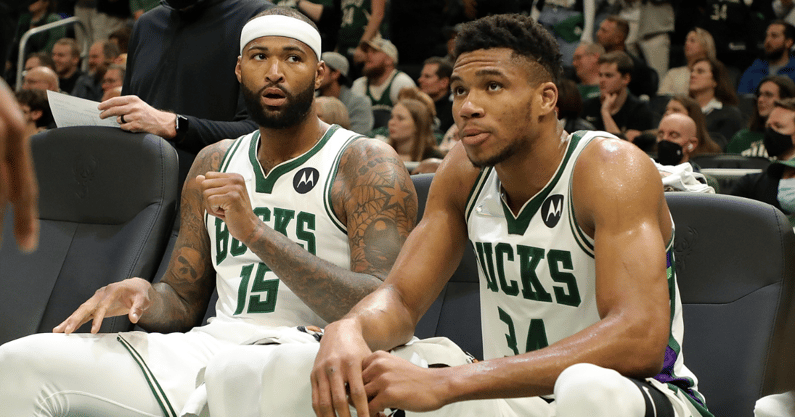 Two former 'Cats made debuts as new versions of themselves last night. Enes Kanter took the court as Enes Freedom for the first time and DeMarcus Cousins appeared in an NBA game as a Milwaukee Buck for the first time.
See how their nights went as well as several other Kentucky guys who impressed on Wednesday.
Welcome back Boogie Cousins
DeMarcus Cousins was absent for the first fifth of the NBA season, a team-less bystander awaiting a shot as a veteran big. Finally the reigning champs picked up the phone to bring Boogie aboard to provide added frontcourt depth.
His Bucks debut came in a barnburner against Charlotte, as he matched up across PJ Washington and Nick Richards in a 127-125 win. Cousins was the third man off the bench, recording seven points and four rebounds in a 15-minute debut.
Loud applause for Freedom
Brand new U.S. citizen Enes Kanter Freedom may have changed his name and nationality, but his identity on the basketball court remained the same. Freedom played 17 minutes in the Celtics win over Philadelphia, grabbing seven rebounds and converting a pair of buckets in the paint to break in the new name on the back of his jersey.
Bad times in South Beach
Miami took two massive losses yesterday. The less important one came as the Heat lost by 26 points to the middling Cavaliers. And the other is that Bam Adebayo is going to miss a while with a torn ligament in his thumb.
Early reports are that the torn ligament — a UCL — will keep Bam out until at least mid-January assuming all the procedures go according to plan.
With the loss of Adebayo and his 18 points a game, Tyler Herro will be tasked with helping replace the offensive production. He scored an inefficient 21 yesterday and could be looked to even more after starting the season so hot.
Other Notes
SGA drops 39, loses again. Oklahoma City got nearly 40 from its star point guard but still managed to lose to the Rockets — the only team behind OKC in the standings. In fact, the Thunder haven't won a game since the last time they faced Houston midway through November.
KAT with 34 & 10 for the roller coaster Timberwolves. Minnesota is tangled up in an intense game of tug-of-war with an above-.500 record. Every time they inch ahead of an even record, they fall right back down. And when they fall behind .500, they find a way to rally back. Last night they lost close to a good Wizards team but remain in the postseason race at 11-11.
Player
Result
Points
FG (3PA)
Rebounds
Assists
Steals
Blocks
TOs
Mins
+/-
Shai Gilgeous-Alexander (OKC)
114-110 L vs. HOU
39
12-26
(1-8)
4
2
0
1
1
38
-15
Karl-Anthony Towns (MIN)
107-115 L @ WAS
34
11-25
(2-4)
10
1
1
1
3
33
-1
De'Aaron Fox (SAC)
124-115 W @ LAC
24
7-14
(2-4)
3
5
3
1
1
36
+6
Tyler Herro (MIA)
111-85 L vs. CLE
21
9-23
(2-7)
1
6
0
0
4
37
-11
PJ Washington (CHA)
127-125 L @ MIL
9
3-9
(2-7)
10
4
0
1
1
36
-5
DeMarcus Cousins (MIL)
127-125 W vs. CHA
7
3-5
(1-2)
4
1
1
0
0
15
+9
Tyrese Maxey (PHI)
88-87 L @ BOS
6
3-13
(0-2)
6
1
0
0
0
33
-9
Enes Freedom (BOS)
88-87 W vs. PHI
4
2-7
(0-1)
7
0
0
1
1
17
-1
Jarred Vanderbilt (MIN)
107-115 L @ WAS
4
2-3
(0-0)
12
0
0
2
0
33
+1
Mychal Mulder (ORL)
108-103 W vs. DEN
0
0-0
(0-0)
0
0
0
0
0
5
-1
Nick Richards (CHA)
127-125 L @ MIL
0
0-0
(0-0)
0
0
0
0
0
1
-7
Bam Adebayo (MIA)
111-85 L vs. CLE
DNP – Thumb
–
–
–
–
–
–
–
–
Isaiah Jackson (IND)
114-111 L vs. ATL
DNP – CD
–
–
–
–
–
–
–
–
Willie Cauley-Stein (DAL)
139-107 W @ NOP
DNP – Personal Reasons
–
–
–
–
–
–
–
–
Today in the NBA:
7:30 (NBA TV): Bulls @ Knicks (Knox, Noel, Quickley, Randle)
7:30: Bucks (Cousins) @ Raptors
8:00: Thunder (Gilgeous-Alexander) @ Grizzlies
9:00: Pistons (Diallo, Lyles) @ Suns (Booker)
10:00 (NBA TV): Spurs (Johnson) @ Trail Blazers