BBNBA: Towns leads scrappy Timberwolves team past Pacers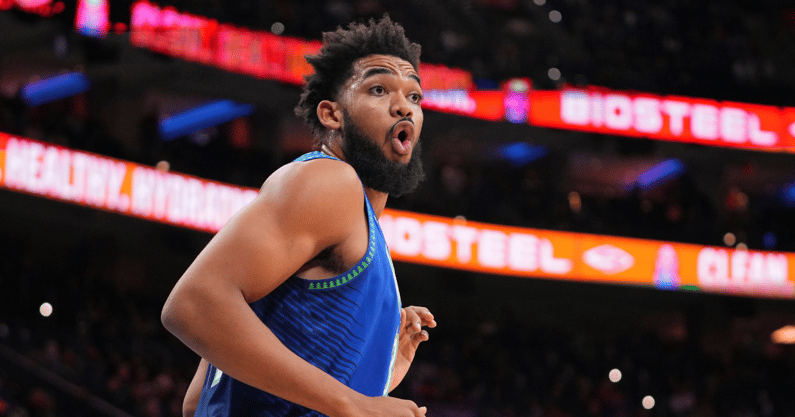 Good morning, BBN! The current 'Cats weren't the only ones with a big win last night, as several NBA squads put up impressive efforts as well. Let's see who.
Towns leads Timberwolves past Pacers
Despite finishing with one of the worst records in the NBA last year, the Minnesota Timberwolves are putting up a fight this season. Last night, the Wolves narrowly beat the Pacers 100-98 to move to 11-10 on the season.
Our guy Karl-Anthony Towns made it happen. Towns led Minnesota with 32 points, eight rebounds and two assists. Half of those points came in the third quarter when he led his team from down 12 back into the game. He is averaging 23.5 points thus far this season, 15th in the league.
Anthony Edwards, the other half of Minnesota's dynamic duo, did his part as well. Edwards posted 21 points and nine rebounds, along with five assists and three steals. D'Angelo Russell had 21 of his own and a season-high 11 assists. The defense made the difference, though, and Minnesota held the Pacers to just 41 points and 29.3% shooting from the field in the second half.
Last night's win was the fifth straight at home for the Timberwolves and the seventh in their last eight games. Between injuries and illnesses, they are having to toy with the starting five a bit, but are making the most of it regardless.
Adebayo, Heat fall short
After a 120-111 win in Miami last night, the Denver Nuggets have snapped a six-game losing streak; their longest in nearly six years.
Reigning NBA MVP Nikola Jokic led the Nuggets with 24 points, 15 rebounds and seven assists. It was his first game back since suffering a right wrist sprain that benched him for Denver's last four games. It was also the first meeting between the two teams since Jokic's hard foul on Miami's Markieff Morris, resulting in a one-game suspension. Morris is still unavailable after the incident with what the Heat are describing as a neck issue.
Denver took the lead early and didn't give it up. Bam Adebayo led Miami with 24 points, 13 rebounds and six assists, but his effort couldn't overcome the gaps in his team's available roster. The Heat struggled without some of their best talent, including Jimmy Butler who is sidelined with a tailbone injury. Former Wildcat Tyler Herro is out as well with an illness.
Lonzo's Bulls topple LaMelo's Hornets
Heat
Nothing better than a good, old-fashioned brother standoff, right? Last night was a classic example. Lonzo Ball and the Chicago Bulls beat LaMelo Ball and the Charlotte Hornets 133-119 in Chicago.
Nikola Vucevic led the Bulls with 30 points and 14 rebounds. DeMar DeRozan and Zach LaVine added 28 and 25 points, respectively. Lonzo finished just shy of a double-double with 16 points and eight assists. Four of Chicago's five starters scored in double figures.
The Hornets, like several other NBA teams, were shorthanded last night due to both injury and illness. Former 'Cat Nick Richards made his first career regular-season start in place of Mason Plumlee, who was sidelined for his third straight game due to a right-half strain. Richards, on his 24th birthday, struggled against Vucevic's length. He scored just two points in his seven minutes of play.
PJ Washington looked a bit more comfortable. He came off the bench for 15 points and three rebounds. All 15 of his points came from the three-point line–yes, you read that right. He shot 71.4% from three, hitting his first four from beyond the arc.
Here are the full stats from last night's games:
| | | | | | | | | | | |
| --- | --- | --- | --- | --- | --- | --- | --- | --- | --- | --- |
| Player | Result | Points | FG (3P) | Reb. | Ast. | Stl. | Blk. | TO. | +/- | Min. |
| Karl-Anthony Towns (MIN) | 100-98 W over Pacers | 32 | 13-22 (1-4) | 8 | 2 | 0 | 0 | 9 | -13 | 32 |
| Bam Adebayo (MIA) | 120-111 L to Nuggets | 24 | 11-19 | 13 | 6 | 0 | 0 | 5 | -9 | 35 |
| Shai Gilgeous-Alexander (OKC) | 102-89 L to Rockets | 22 | 9-20 (2-5) | 3 | 4 | 2 | 2 | 2 | -12 | 33 |
| PJ Washington (CHA) | 133-119 L to Bulls | 15 | 5-8 (5-7) | 3 | 0 | 1 | 1 | 2 | -18 | 32 |
| Keldon Johnson (SA) | 116-99 W over Wizards | 13 | 6-8 (1-1) | 5 | 2 | 0 | 0 | 0 | +18 | 35 |
| Eric Bledsoe (LAC) | 123-104 L to Pelicans | 10 | 4-6 (0-1) | 3 | 2 | 1 | 0 | 2 | -20 | 29 |
| Tyrese Maxey (PHI) | 101-96 W over Magic | 9 | 2-12 (1-4) | 8 | 9 | 0 | 1 | 0 | 0 | 32 |
| Isaiah Jackson (IND) | 100-98 L to Timberwolves | 2 | 1-2 | 1 | 0 | 0 | 0 | 1 | -9 | 5 |
| Nick Richards (CHA) | 133-119 L to Bulls | 2 | 0-0 | 1 | 0 | 0 | 0 | 0 | -7 | 7 |
Tonight in the NBA
7:30 (TNT): Knicks (Knox, Noel, Quickley, Randle) @ Nets
7:30: Grizzlies @ Raptors
10:00 (TNT): Warriors @ Suns (Booker)
10:00: Pistons (Diallo, Lyles) @ Trail Blazers
10:00: Lakers (Davis, Monk, Rondo) @ Kings (Fox)