Beating Florida was critical for the future of Kentucky Football recruiting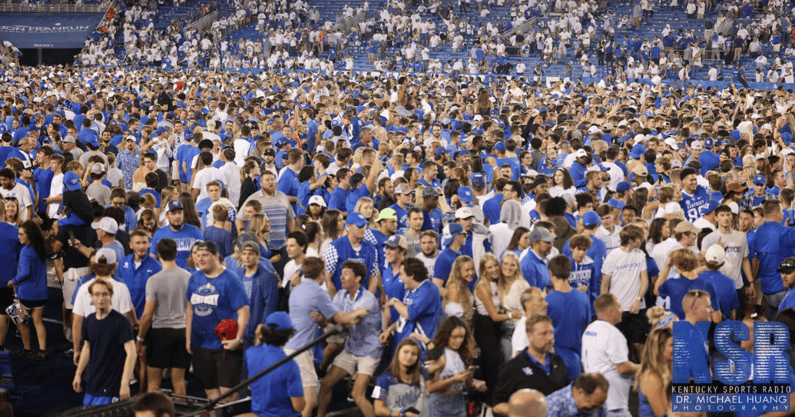 Mark Stoops and Vince Marrow took a bit of a calculated risk.
The Kentucky head coach and his right-hand man packed Kroger Field on Saturday night with high school football players of all ages and talents: five-star seniors, three-star juniors, unranked freshmen, and everyone in between. The plan was to bring as many recruits to Lexington as possible for what could go down as one of the biggest victories in the history of the program–just don't get blown out on national TV.
Not many foresaw what would go down on Saturday night in the Bluegrass State, though. The Wildcats put their perfect 4-0 record up against the then-No. 10 ranked Florida Gators, hoping to pull out the first home win over UF in 35 years. Admittedly, heading into the game, Kentucky hadn't looked especially capable of beating Florida despite the undefeated start–and the narrow UK win over South Carolina the week before didn't invoke additional confidence. Florida wasn't far removed from a two-point loss to No. 1 Alabama.
But the defense came up huge and Wan'Dale Robinson found too much open space. As a result, Kentucky produced the greatest recruiting pitch (or non-pitch, if you ask Marrow) the program could come up with: You can now suit up for Kentucky and compete at an incredibly high level.
"A whole 'nother level," Marrow said during the KSR Postgame Show about where this win takes Kentucky recruiting. "Because here's the deal. You beat a team like Florida, who recently went toe-to-toe with Alabama, and I'm talking to all the players–When you stay in this state, you see what Wan'Dale did tonight. Wan'Dale is a very phenomenal player. So to anybody listening it ain't about no recruiting pitch. You can do it at Kentucky now. Quit letting people fool you. This is where it's going to be done at. Trust me."
Marrow and Stoops have built the current success of this program literally from the ground up. It has been nothing but a steady, upward rise since those two arrived on campus in 2013. They did it through defense first and foremost, so holding Florida to 13 points only confirmed what they've been pitching to recruits for years: if you come play defense at Kentucky, you will be properly developed and given the chance to prove yourself against–and beat–the best.
But the offense still needs some development. Quarterback Will Levis has provided some juice with Robinson on the receiving end. Running the ball remains the gameplan. However, when you see guys like Robinson bust out 41-yard touchdowns on a screen pass, you realize this isn't the Kentucky of 2015. The offense is getting better, and it's the final missing piece to a truly dominant Wildcat roster.
"As we continue, we're going to get better and better offensively. I love what we're doing," Stoops said during the KSR Postgame Show. "We need more and more playmakers, and we're gonna get them. We're gonna recruit them. Guys like Wan'Dale make a difference. We can play with anybody, we just need a couple of game-breakers here or there."
There were a couple of game-breakers in the stands watching the offense up close, too. In particular, four-star class of 2022 wide receivers Dane Key and Barion Brown. Bringing in that pass-catching duo in the same year would be unlike anything this program has seen.
Kentucky didn't have a stellar night passing the ball, but Wan'Dale Robinson still made a big play. Not every game will be flawless on offense, especially against a defense as stout as Florida's. UK just needs to keep bringing in guys who can make something out of nothing and give the 'Cats a chance–they need playmakers. Plenty of them got a look at what it might be like to live in Robinson's shoes.
As Stoops said, he's going to get those dudes. It might not take too long, either. It's likely not a coincidence that Kaden Moorman, a three-star class of 2023 running back from Franklin County, posted to Twitter on Sunday afternoon that he's making his college decision this Friday.
Stoops, Marrow, and Kentucky have always been incredible on the recruiting trail, but the long history of Kentucky on the gridiron hasn't exactly done them any favors. Eight years later and the narrative is changing fast. But if this program actually wants to make it to Atlanta, it will have to continue to beat teams like Florida and parlay that momentum into commitments from four- and five-star recruits.
Saturday night was the first step at that, and hopefully it ushers in a new, unfamiliar yet exciting era of Kentucky Football.