Bill Self on Kentucky's transformation, slowing down Oscar Tshiebwe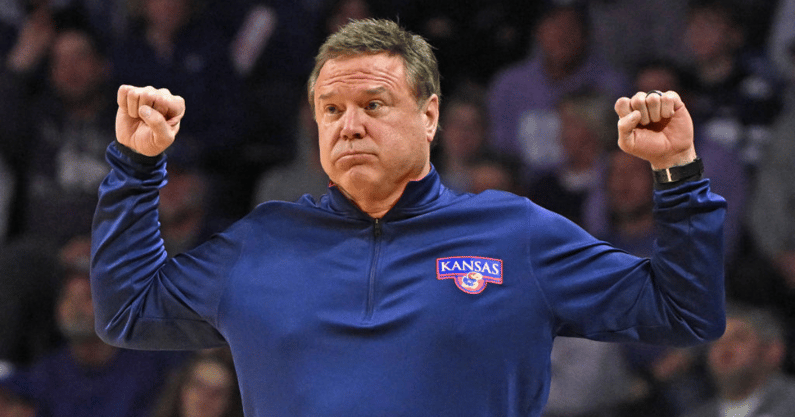 Tomorrow, Bill Self will look to avoid his first-ever four-game losing streak as Kansas' head coach. Following the Jayhawks' 75-69 loss at No. 21 Baylor Monday night, Self insisted he's not panicking about the current state of his squad, a message he doubled down on yesterday in previewing Saturday's game vs. Kentucky in the Big 12/SEC Challenge.
"There have been years where we lost three in a row, and the sky was falling, and then the team wins the league and goes to the Elite Eight," Self said Thursday. "We've been in situations like this before. The sky is not falling. You don't like it when you're going through it, but it's something that a majority of the people in our position will probably have to deal with."
While the Jayhawks have dropped three straight — all to ranked opponents — the Cats have won their last four, upsetting No. 5 Tennessee in Knoxville, beating Georgia and Texas A&M at home, and rolling past Vanderbilt Tuesday night in Nashville. Thanks to some new lineups, Kentucky has transformed itself from the squad that lost to South Carolina on Jan. 10 at home.
"This is a different Kentucky team than the one that was playing a month ago," Self said. "They can all shoot. They're going to have three guys in there that can make threes at all times, and sometimes four. Then you're playing around a big guy that's probably the best big man in the country. I believe he's that. He's certainly the best rebounder in the country. Our standing height and girth aren't great, but how do we offset some of those things? I've always thought Cal's teams made you beat them when you played them. I never thought they helped you at all. They're not going to help this year. They're going to be very sound. We're not going to get a lot of easy opportunities. You're going to have to earn what you get when you play Kentucky."
Kansas' plans to limit Oscar Tshiebwe
Tomorrow will actually be the fifth time Bill Self has coached against Oscar Tshiebwe. Kansas faced West Virginia three times while Oscar was on the Mountaineers' roster. In those games, Oscar averaged a double-double, with over 11 points and 10 rebounds per contest. Last year, Oscar had a double-double, 17 points and 14 rebounds, in Kentucky's 80-62 win in The Phog.
Unlike years past, the Jayhawks don't have an elite big man to go up against Oscar this season. Sophomore forward KJ Adams (6'7″ 225 lbs.) has been manning the middle for Kansas so far, averaging 10.4 points and 4.4 rebounds. Junior wing Jalen Wilson is their leading rebounder (8.6) and scorer (21.4). Adams has also struggled with foul trouble recently, fouling out of two of the last six games.
"We have done some good things against some bigs defensively," Self said of Kansas' preparations for Oscar. "It's a situation where you want to slow him down, but you also don't want to give him so much attention and let other guys have some freedom that may allow them to have really big games too. They're capable at all spots. They're playing with really good guys. We got to do a good job of limiting his good touches. We are working on that right now and hopefully have a pretty good game plan on how to do that by Saturday."
"You can't jump with Oscar; he gets rebounds for a living," Jalen Wilson, who had 8 points and 8 rebounds in last year's game, said. "With a guy like his size, with players around him, they're tough when he's getting rebounds like that, especially second-chance points. That'll be one of the biggest emphasis as far as taking him out of the paint and limiting his rebounding."
"We've just got to bring the physicality to him," Wilson added. "He's a beast in there. I think last year we weren't as locked in on what he was capable of doing as far as taking over our game in the paint. And he's doing it all again this year. So we'll just have to put guys on him, box him out, make someone else on the team get a rebound. I think if we do that, that will limit a lot of their second-chance points and opportunities."