BTI's Rants and Ramblings: Friday Summer Fan Stories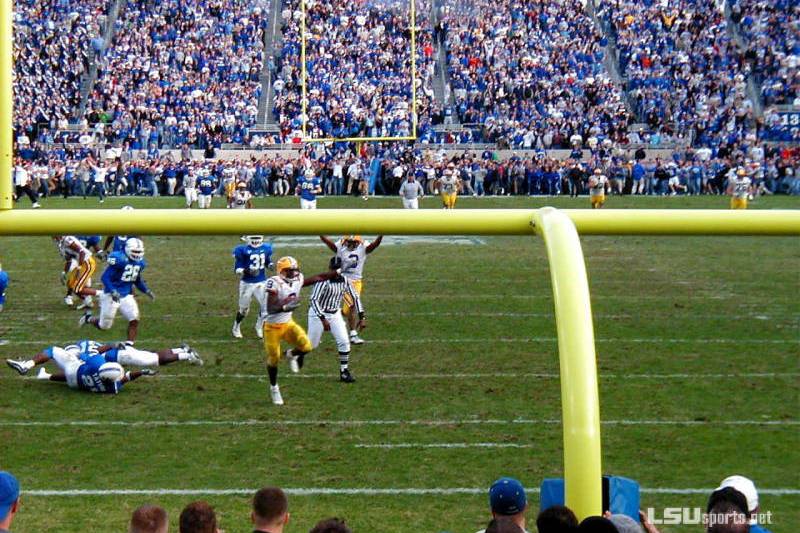 On Fridays from now until football season begins, I give this post to you, the fans.  Part of what makes fans so great is the stories they have to tell.  We all have our own experiences why we love this school and its teams so much.  I think those stories don't get enough attention sometimes.  So if you have a great story to tell, send it my way and I'll get it up on the site.  Send all stories to [email protected] at any point this summer for consideration.
I was raised on UK Football. I'm one of the
rare
breeds that actually cares more about UK Football than UK Basketball. I've only missed a handful of games since I was born. My earliest memories of UK Football are Tim Couch, Craig Yeast, and a James Whalen broken arm but most of the Mumme era is really a blur and I didn't quite understand the game at that age. It wasn't until a couple fellows named Jared Lorenzen and Derek Abney came along that I really started getting into UK Football.
I loved watching that 2002 team play. Derek Abney seemed invincible. I don't ever remember him dropping a pass unless it was because Lorenzen threw it faster than Aroldis Chapman. I'm still waiting for another player to come along that can return punts and kickoffs like he could. However, my favorite player then, and still my favorite player of my lifetime, was Lorenzen. Watching players bounce off of him as he escaped trouble, throw blazing and accurate bullets, and occasionally watching him tuck it and run over someone was the most amazing thing to my young adolescent eyes. I'll never forget playing pee-wee football and the coach asking me what number I wanted. Without hesitation I said "22 coach!". His immediate comment was "Oh we got a young Emmitt Smith here" to which I was appalled that he thought that. I wanted to be 22 because I wanted to be like Jared Lorenzen.
Then came the game that I most vividly remember as a kid and will never forget.
November 9, 2002
It was just my dad and I . The entire crowd was standing on there feet, cheering in celebration with 2 seconds left on the clock. But I was zoned in on the action because I was also taught about another 2 second UK moment and that it's "never over until it's over". The ball is snapped and the crowd erupts but not me. I'm all eyes on the ball as my heart is racing. Then the ball is tipped for what seemed like a dozen times. Students were rushing the field but I had no idea because I was still watching the play. Then I remember the ball floating in the air, going right towards the hands of a LSU wide receiver. At that moment, I knew what was going to happen and I knew there was no chance in hell a UK player was going to tackle him before the endzone.
I started bawling. I couldn't believe what had happened. A lot of the crowd didn't even realize what had happened. I looked at my dad with tears rolling down my face and asked "Why did that just happen?!"
In the most calm and unsurprised manner possible, he replied "Son, that's Kentucky Football."
-Evan