Cason Wallace gives player comparison; explains commitment to defense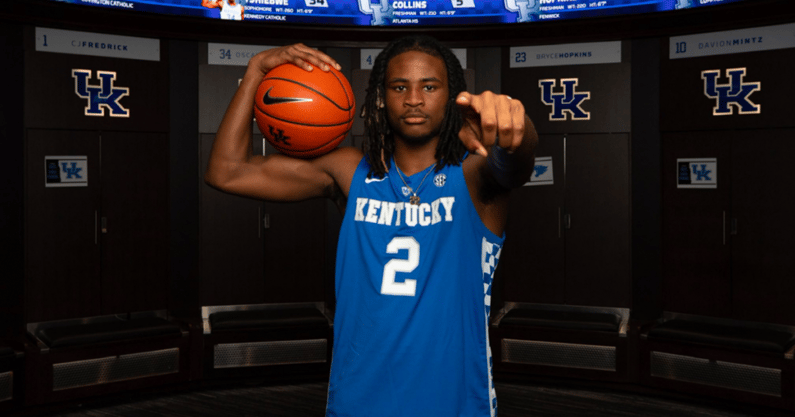 When new Kentucky Basketball freshman Cason Wallace signed with Kentucky last fall, John Calipari compared his new Wildcat to two former Wildcats of the same mold.
"Cason is a winner and a competitor who reminds me of Eric Bledsoe and Shai Gilgeous-Alexander," Calipari said back in November. "I don't like to make a lot of comparisons like that, but he has a quiet demeanor with a game that speaks loudly. He can shoot it and create for his teammates, but what really separates him is his defense. He is already an elite on-ball defender who takes a lot of pride in that part of the game."
Seven months later, Wallace reacted to his player comp from his head coach during a brief interview at a ProCamps youth clinic at Frankfort High School.
"To me, it means that I'll be a great player just like them," Wallace said. "I know that (Calipari) is going to push me to be the best me.
"Shai, I like his game and I try to model it a little bit as far as floaters and getting shots. Eric, he's a big guard. I like the way he plays. I feel like I could be a little bit of him too."
Yet, Wallace sees more of himself in another NBA guard from another college blue blood. When asked who he believes his game is most comparable to at either the college or pro level, he named a former UCLA one-and-done and recent NBA champion.
Jrue Holiday.
"That's a good comparison, I think, for me," Wallace explained. "He plays on both ends of the floor, he knows how to create his own, he gets his teammates involved, he knows how to play defense and be active on both ends."
Holiday is a four-time NBA All-Defensive Team selection and was one rebound shy of a triple-double in the game that won Milwaukee the 2021 NBA Championship.
Why the commitment to defense?
Defensively, Wallace is advanced for his age because it is rare for a freshman to arrive on a college campus with a commitment to the defensive end of the court. A two-way player at 18 years young is a unicorn in college basketball, but Wallace's scouting report already reads words like playmaker and ball-stopper.
"I feel like I do everything pretty well," he said of his own game. "I play on both ends of the court and I'm a winner, so that's what they'll get."
But why? How does one develop that mindset at such an early age?
"I know that everybody doesn't play defense, so if that's what sets me apart from everybody, that's what I'm willing to do.
"Plus it helps us win and I'm going to do anything that helps us win."
3 Minutes with Cason Wallace