TRANSCRIPT: Chin Coleman on Kentucky's win vs. Monterrey Tech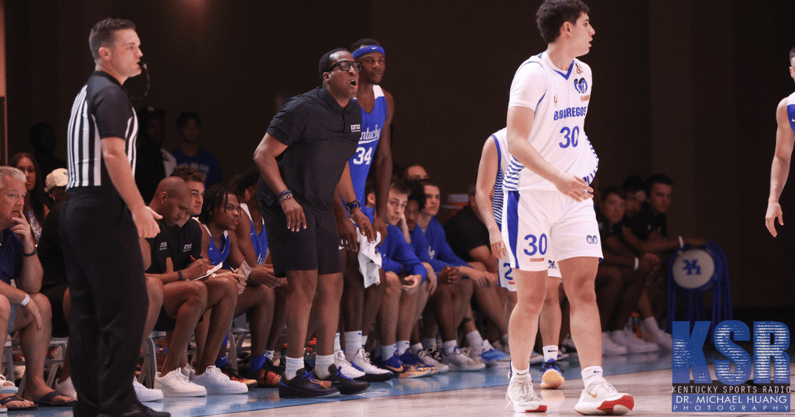 Tonight was Chin Coleman's turn to assume the role of head coach in the Bahamas. After the Kentucky's 102-40 win over Monterrey Tech, Chin stepped up to the mic to talk about what he thought of the Cats' performance. Check out a full transcript below.
On Adou Thiero following up an impressive debut with another strong performance:
I think that I said in the presser we had for me and [Orlando Antigua] a few weeks ago, someone asked me who is the surprise person that you didn't know of, I worded it something like, 'Adou was a lot better than I thought he was, especially athletically and physically.' I kind of said that then and now I think everyone is seeing that. He's a young kid, deer in headlights. He doesn't know what he's doing. He's trying so hard, he's playing with a ton of energy, a ton of passion. He's going to make mistakes but when you make mistakes as long as your effort and energy is right, you can make plays. If he's making plays, I'm happy for him.
On Kentucky's defense:
Absolutely. We want to be assignment-sound and that's something that I've talked to our guys about a lot, is being assignment-sound because there's going to be different schematics for each game because there's a game plan for each game so you've got to be locked into whatever the assignment is and be assignment-sound and try to limit your mistakes and for the most part, we did that. And, I think the opponent obviously is us. It's us vs. us. We're trying to get better every possession, every down. So, we're coaching our team. Whether it's a 50-point win, a 20-point win, a 10-point win, a 20-point loss, there's always something that you can get from that to get better.
On Antonio Reeves:
Our team, we've got a lot of good players on our team. We've got a lot of good guys that at any given moment could have a breakout game or the spurtability to go and do some things. He was 4-5 from three yesterday and 1-5 from three today. That doesn't mean anything for us because we have other guys.
Everybody has got to be the best version of themselves. We don't need anybody to go in the phone booth and put on a cape like Superman and save us. We've got enough, right? We've got a pretty good group that all like each other, that all play for one other. What we've tried to do since we've been here and this is what Coach Cal wanted us to get out of these games is one, is to play for one another. We want everyone to see how hard we play. We obviously wanted everybody to see our speed and our athleticism but then lastly, is to have fun. To me, that was fun. I just had a lot of fun.
On CJ Fredrick getting his first buckets as a Wildcat:
He's a guy that we're going to count on. He's one of those guys you can say is assignment-sound. He'll be in the right place at the right time. He'll do what we want on schematics and then obviously, he can make shots. I coached against CJ in the Big Ten when I was at Illinois. And I remember CJ was at the top of the scouting report guarding everybody's best player so we know he can defend and then obviously he's got a lot of games under his belt, so he's very experienced.
And then obviously we know he makes shots so we're going to count on CJ to be some kind of leader and there are different kinds of leaders on a team. We're going to count on CJ to provide some leadership for us, to be able to be the example of how we want our wings to defend and do some different things defensively. And obviously, he's going to be one of those guys that spaces the floor and has the spurtability to make four or five in a row in a game to give us some separation to break the game open. CJ, he's one of our dudes, man.
On what makes CJ Fredrick such a good defender:
The cerebral part. He's not the most athletic person. He's not the quickest person but obviously, he has a lot of intelligence and he has a high basketball IQ. And then, the game experience. The kid started at Iowa for two years so he's got 60+ games under his belt of experience so there's nothing he hasn't seen. There's nothing he hasn't been through. He's battle-tested. So, you rely on that, not his speed, not his athleticism. He's not 6'9″, he doesn't have long arms. He's just really smart and his intelligence is what gets him home.
On Cason Wallace and Chris Livingston already playing like veterans:
Some of the freshmen that come here are a little bit different, you know? These guys are a little different. We're obviously going to rely on them and they're here to be impacts for us and they've got to continue to get better. They're taking possession of the time, every down, one down at a time, one possession at a time and you'll see, they'll go through some ups and some downs but the good part about it is, again, no one, if everyone is good, no one has to be great. That's the type of team we have.
On what he likes about Wallace and Livingston:
That's a good question. I've kind of answered that one before too. Fearless, right? And I tried to explain, I think it went over some people's heads. They're both fearless but they have fear. What that means is, they're fearful of not being good enough or someone coming up and knocking them off their pedestal. But they're fearless in the way they play. They go out and they play with reckless abandonment and they play really really hard and they're talented.
So, they're going to make some mistakes. They're going to have some hardships but we'll be there to pick them up and we have a veteran group that can show them the way. Both of those guys are different. We have a lot of different parts of our team. No one is the same. This guy can't do what that guy can do. And that guy can't do what Oscar can do. But Oscar can't do what Daimion does. and Daimion can't do what Cason does and vice versa. So we have a lot of good parts to our team and we're only as strong as those parts.
On Chris Livingston's versatility:
He's very versatile. You see tonight, he had a triple-double, a double-double. Last night, he had what we call a triple-double. He teased us with it when he had six assists almost double the rebounds, double the points. He's what you call a triple-double wing. A guy that's going to fill up the stat sheet. Obviously, we want him to be a better defender and obviously, we ned him to be the good rebounder that he is.
He can do a little bit of everything. He can dribble past, he makes good plays when the ball's in his hands. He too is learning and the best is yet to come for him. We're just scratching the surface with our team but we've got to use this as an opportunity to give us a couple of feet ahead of everybody else. And when we get back to campus, whenever a coach puts us back in camp, we'll get back to it and continue to get better.
On the importance of fun on a trip like this:
Very important. This is what it's all about. The camaraderie. We've got guys going fishing tomorrow, we've got guys going to the waterpark tomorrow, we've got guys making sand castles. That's how you win basketball games. The game is won before it's even played. If you win your locker room and your guys are connected — we talk about connectivity, it's won off the court, so the stuff that these guys are doing, it's so invaluable to our season that we're happy we get a chance to come down here and bond and build sand castles and get me on a picture of a shirt. This is the stuff that wins basketball games so we're taking advantage of this opportunity.
On how much chemistry the team has built:
It's still in the early stages of connecting. I will say that we're challenging these guys to know everything about their teammates, to know their brothers, to know their sisters, to know their grandparents. We're challenging these guys to continue to get to know each other. We're in the early stages of that. We're not there yet. We may not be there until the beginning of the season because we had this time so this gives us an opportunity to move a little further along in that department but we're not there yet. I think we're still connecting. But we're close. We're close.