CJ Fredrick finding his footing in first competitive action since last spring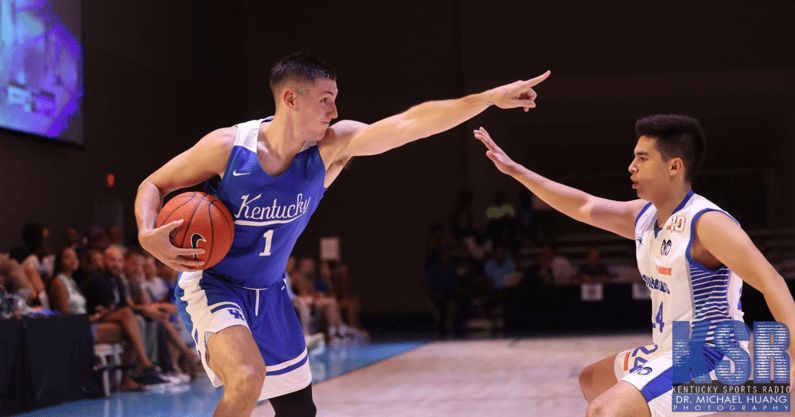 It's been nearly 17 months since CJ Fredrick played in an actual college basketball game. And depending on how you view Kentucky's Big Blue Bahamas Tour, he still hasn't returned for an official contest. That being said, he sure is finding his footing in the preseason as he continues to work back into tip-top form. The Cincinnati native isn't quite 100 percent just yet, but he's on pace to be there by the fall.
Fredrick, who sat out all of last season for the Wildcats due to injury after spending the previous three years at Iowa, has been on a minutes restriction during Kentucky's first two exhibitions of a four-game stretch down at the Baha Mar Resort. The 6-foot-3 sharpshooter played 12 minutes on Wednesday and 15 more on Thursday as he's being eased back into game shape.
Kentucky ultimately won both contests by a combined 114 points (not a typo) as the competition was not exactly… well, competitive. But Fredrick drew plenty of rave reviews despite his sparse on-court action. He failed to score a single point in his debut on Wednesday, but added four assists and had head coach John Calipari signing his praises during Thursday's film session.
On Thursday night, Fredrick continued to make plays all over the court, only this time he was finding the bucket, too. The redshirt senior finished with nine points, three rebounds, and one steal on 4-7 shooting from the floor. He navigated his way into the lane for an easy pull-up jumper and later connected on his first made triple during a live game setting since the 2021 Big Ten Conference Tournament.
Fredrick's shooting, along with his defense, will be critically important parts of what Kentucky hopes to accomplish this season.
"He's a guy that we're gonna count on," Acting head coach Chin Coleman said postgame. "CJ is one of those guys that you can say is assignment-sound. He's gonna be in the right place every time. He's gonna do what we want done on the schematics and then obviously he can make shots. I coached against CJ in the Big Ten when I was at Illinois and I remember CJ being at the top of the scouting report, guarding everybody's best player, so we know that he can defend."
Fredrick couldn't help but let out a smile when asked postgame if it felt good to see that first outside shot finally drop in. He even confirmed with the SEC Network crew that he did indeed knock down 62 straight three-pointers during practice earlier this week. His career three-point shooting percentage of 46.6 percent doesn't appear to be a fluke by any means, but some reassurance never hurts the confidence.
"It felt good, just to see one go through the net in a real game," Fredrick told KSR after Thursday's win. "It's been a year and a half, so it felt good. I'll get into a better rhythm as the months go on before the season, but just to get the first one down was a good feeling."
But beyond his shooting abilities and often overlooked defensive skills (he even took a charge on a fastbreak during Thursday's game), Fredrick is going to be relied upon heavily this season as a leader.
"Obviously he's got a lot of games under his belt so he's very experienced and obviously we know that he makes shots," Coleman said. "We're gonna be counting on CJ to be some kind of leader and there are different kinds of leaders on the team. We're gonna count on CJ to provide some leadership for us, to be able to be the example of how we want our wings to defend."
Even though he's only played 52 total games in his four-year college career, Fredrick has experienced more at this level than any of his teammates can claim.
"It helps so much. I'm 23 years old. I've had to guard the best player on every Big Ten team," Fredrick said of his experience. "Guarding Cassius Winston (Michigan State) and Ayo Dosunmu (Illinois). I'm guarding really good dudes every day so I'm just a little more experienced than everyone right now. So there's a lot of things I can help — help the younger guys and I can help the team."