Concern growing regarding Zvonimir Ivisic's status at Kentucky
Zvonimir Ivisic's ability to play basketball for John Calipari rests solely in the hands of the University of Kentucky admissions office.
And the longer this drags out, the greater the chance the 7-foot-2 big out of Croatia ends up elsewhere.
Ivisic announced his commitment to Kentucky back on August 1, followed by the program confirming his addition on Aug. 14. He was added to the basketball roster via UK Athletics just a few days later, the Vodice native selecting No. 44, the first Wildcat to sport the number since Dakari Johnson.
Locker up and ready to go awaiting his anticipated arrival.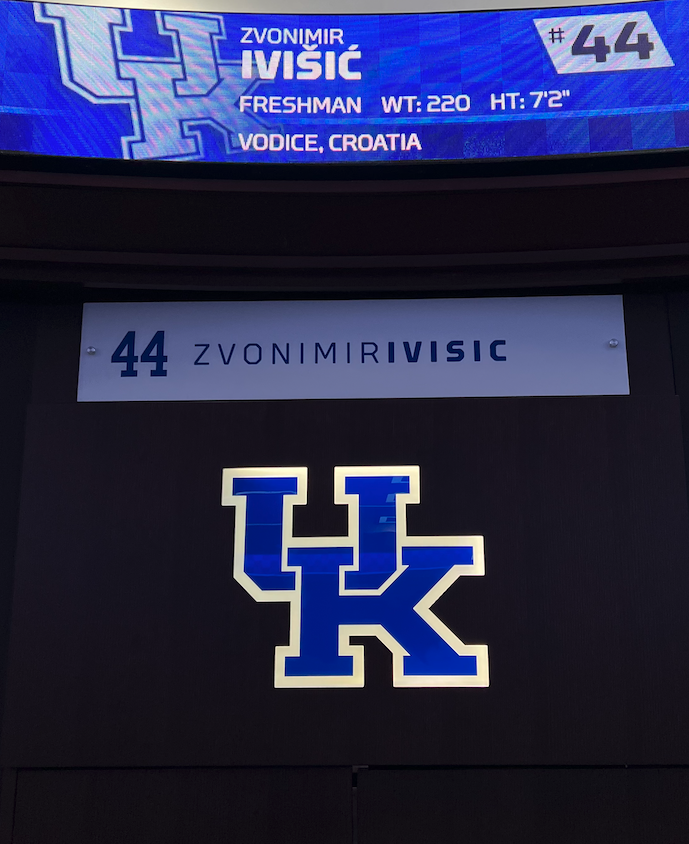 The initial expectation was Ivisic would arrive shortly before classes began on Aug. 21. Then it was before the conclusion of the class add deadline, which was Aug. 25. A grace period could have paved the path for a late addition early the following week, but that came and went, as well.
Now here we are on Sept. 5, no sign of the Croatian big man. And it's not Ivisic's fault, nor Calipari or anyone associated with the basketball department. Their hands have been tied, waiting for UK admissions to give Ivisic the all-clear to make his way to the United States and enroll. But that just hasn't happened, and it doesn't appear they're in any rush to do so.
The holdup? Admissions says Ivisic — who speaks four languages — is not proficient in English.
The 7-foot-2 forward submitted an English proficiency test with passing scores, but the school wouldn't recognize the results — a late development against the add/drop deadline. He then took a Test of English as a Foreign Language (TOEFL) and earned high passing scores in all sections but reading. Mind you, that standardized test came without necessary accommodations not readily available to Ivisic where he is in Croatia, especially on short notice. Given the academic resources available to all students at the University of Kentucky — which had an acceptance rate of 95% during the 2022-23 academic year — his college readiness and ability to communicate effectively are clear non-issues.
Again, he's quadrilingual. Does this look like a student who would struggle among his peers inside the classroom and around campus?
It's the school's call to make that judgment and let him in, which can be done via waiver through the Office of the President with Ivisic's current documentation. John Calipari has personally gone to Eli Capilouto to get the enrollment deadline extended in hopes of getting this done. That was granted, but the specifics of Ivisic's admission with the English proficiency holdup somehow remain.
And until they're figured out, the Croatian standout is unable to get his student visa to make his way to the United States.
Calipari and those around the basketball program are understandably frustrated. They believe Ivisic has done more than enough to get in and play, but the university isn't budging. And the international signee's window is closing by the day.
That's why there is concern Ivisic will ultimately back out and sign elsewhere in short order if this isn't settled in the immediate future. He'll be playing college basketball somewhere this season. His academic transcript and amateur status have already been cleared by the NCAA, making him a prized last-minute commodity given his talent and potential should he become available. Other programs have already made it clear through backchannels he's wanted and would have no problem getting into their respective schools if things fall through with the Wildcats.
It'd be a nightmare PR scenario for the University of Kentucky if that's the way this goes, a situation that was completely avoidable and brought on by the school and the school alone.
Matt Jones shares his take on Ivisic's situation on KSR
What is Matt Jones hearing about the situation? He wrote about it on the website Monday before sharing his complete thoughts on his first day back on air following Labor Day weekend.
In short: things aren't looking great.
"Today is the day they were hoping to have him here. That is not happening," Jones said. "Now the holdup that I've heard is that the University of Kentucky Admissions Office has at this point not let him in. And there's a process he cannot get a visa to come to this country unless he is admitted as a student.
"UK has to admit him as a student, then he can get a visa so he can come. He can't even come here right now without that. UK is holding it up from what I understand because he has not — according to them — passed an English equivalency exam that they accept. As I understand it, he has passed an English equivalency exam, but it's not one the University of Kentucky accepts. There's another one they do accept that has like four parts, but maybe one of the parts he did not pass and he did pass the others."
The school is able to let him in, but hasn't and won't as of today. And other programs are hoping Ivisic becomes available so they can pounce on the opportunity just two months before the start of the regular season.
"The university can grant a waiver and allow him in. Other schools have done that and apparently will do that. But as of now, Kentucky has not," Jones added. "I think it's fair to say those around the basketball program are frustrated. There are other programs that are going to take him if we don't. As a matter of fact, I think there's a decent chance if it doesn't happen today, he may up at another school. The President's Office has the ability to allow him into school later this week. They could waive it in, but they're not going to do it if he's not admitted into the school. But as of now, UK admissions has not let him in.
"… I think if it goes much longer, he's just gonna go to another school. There are some schools that start later in the year than us that he can get in easily. And we may lose a guy that is very important for this team because of admissions."
Subscribe to the KSR YouTube Channel for press conferences, interviews, original shows, fan features, and exclusive content.
Discuss This Article
Comments have moved.
Join the conversation and talk about this article and all things Kentucky Sports in the new KSR Message Board.
KSBoard