De'Aaron Fox helped talk the Sacramento Kings into signing Malik Monk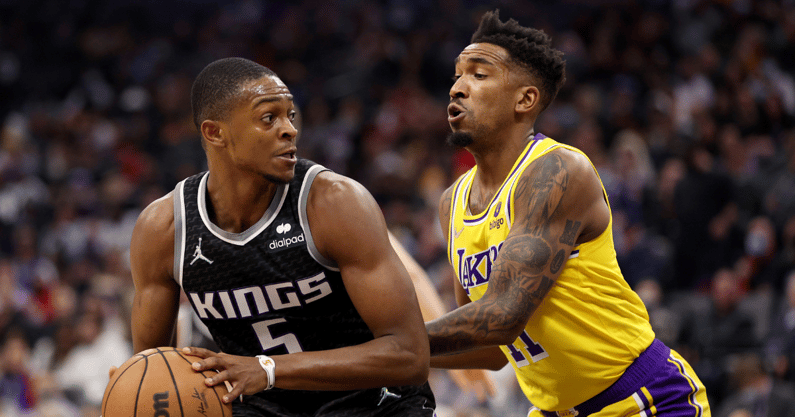 One of the most entertaining backcourts in Kentucky men's basketball history will be reunited out west five years later.
During the beginning of NBA free agency, which officially opened up on June 30, one of the first names reported to be joining a new team was 24-year-old Malik Monk. The former Kentucky Wildcat was coming off a productive season with the Los Angeles Lakers where he revitalized his career. Monk averaged career highs across the board while playing over 28 minutes per game in L.A.
As a result, he had plenty of NBA front offices poking around for his services once he became a free agent.
Ultimately, the team that landed him was the Sacramento Kings, which signed Monk to a two-year, $19 million contract. The deal became official on Wednesday. Considering how close he was to being bounced from the league during the end of his four-year run with the Charlotte Hornets, this type of money was no small feat for the one-time five-star recruit.
But Monk might have landed elsewhere had the Kings' star point guard, De'Aaron Fox, not gotten involved. Fox, who was teammates with Monk at Kentucky during the 2016-17 season, made sure to put in a good word for one of his closest childhood friends.
"With Malik, it was definitely a thing. (The Kings) asked me about him and I told them my honest opinion of him," Fox told KTXL reporter Sean Cunningham on Wednesday. "I think people in the NBA know the type of player he is, the type of shooter that he is, the type of athlete that he is. I definitely vouch for him."
It was actually Fox who facilitated the interest between the Kings and Monk's camp.
"The bug was put in my ear, they asked, and then I let him know," Fox added. "It was mutual interest and obviously money plays a factor as well and we could offer him more. That was a bit of a thing and I think it's a great fit for our team. He shoots the hell out of the ball and we all know that he's a guy that can come in and fill it up really well."
The two became very close in Lexington, but they've been friends since middle school and continue to talk with each other regularly. Fox and Monk were part of an intimidating '16 recruiting class that also included a trio of fellow five-stars: Bam Adebayo, Wenyen Gabriel, and Sacha Killeya-Jones. Fox said that he and Monk still talk all the time with Adebayo and Gabriel, specifically.
"It's strong," Fox said of his relationship with his former UK teammates. "I say it all the time, I talk to (Monk), Bam (Adebayo), and Wenyen (Gabriel) — our freshman class — just about every day. We're all still close and you had Wenyen in L.A. this past year too. We're all close and now we're going to be together just about every day, so I think it'll make the bond even stronger."
It shouldn't take long at all for Fox and Monk to rediscover their on-court chemistry from their days in Lexington. Monk should receive a significant role from the jump, especially on a team that will likely fight once again for one of the final playoff positions. The Kings did recently trade for another shooting guard, Kevin Huerter, but Sacramento is thin at that position as it currently stands. Monk should be in line for 25-plus minutes just about every single night.
A starting Kings backcourt of Fox and Monk should be an exciting thought for any basketball fan, not just the Kentucky and Sacramento ones. Fox has been a borderline All-Star the last few years now, but hasn't had much to play for in terms of winning. He averaged 23.2 points, 3.9 rebounds, and 5.6 assists in 2021-22, which was a bit of a drop from his impressive campaign the year before. The Kings have posted an overall record of 158-232 (.405) since drafting Fox ahead of the 2017-18 season, failing to reach 40 wins in all of them.