A Decade of Mark Stoops: 10 Most Influential People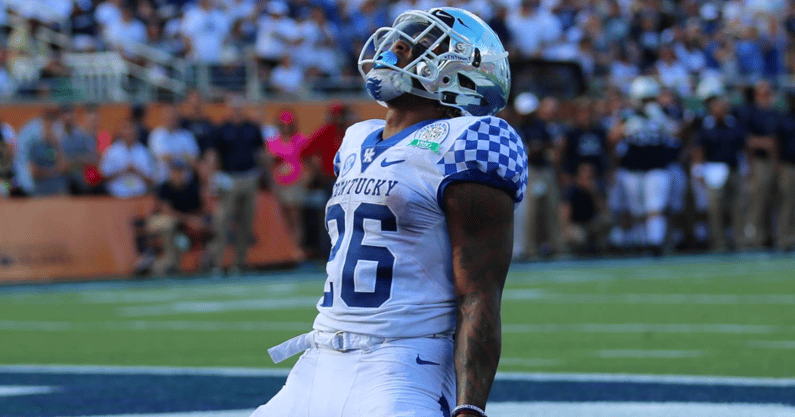 In 2022 Mark Stoops will step on the sideline for his tenth season as the Wildcats' head football coach. Before he surpasses Bear Bryant with more wins than any other Kentucky coach, this summer KSR will reflect on the transformative decade under Stoops' watch.
Rome was not built in a day by one person. Neither are 10-win Kentucky football seasons. Mark Stoops has two of those over the last four years. Even though he deserves a ton of credit, none of it could have been possible without contributions from these ten influential individuals.
10. Austin MacGinnis
It's not hyperbole to say that Mark Stoops is not sill Kentucky's head football coach if Austin MacGinnis does not bury a pair of game-winners in 2016, more specifically, the 51-yard bomb that beat Mississippi State at the horn.
Mitch Barnhart is often credited for giving Stoops more rope than most administrators during an era of instant gratification. The head coach was running out of rope after a 4-1 start in 2015 did not produce a bowl appearance (thanks to a gut-wrenching loss at Vanderbilt). With discontent festering in the fan base, it was "bowl game, or else," in 2016.
Postseason possibilities were dim at the beginning of the season thanks to a loss at home to Southern Miss. Searching for wins, Kentucky had to beat Mississippi State to surpass the six-win threshold. The Wildcats were in command, until they nearly screwed it up in familiar fashion.
On the verge of taking a 17-point lead with less than 10 minutes to play, Stephen Johnson fumbled it inside the 10-yard line. Mark McLaurin returned the turnover 81 yards for a touchdown. When Kentucky settled for a field goal on the following drive, every person at Kroger Field knew the collapse was inevitable. "Same old Kentucky football." Miss. State scored the go-ahead touchdown with just over a minute on the clock.
There was a changing of the guard on UK's final drive. Johnson remained poised and Jeff Badet made the savvy move to drop to his knees in the middle of the field with three seconds on the clock, setting up MacGinnis' game-winner. Two months later, MacGinnis drove another dagger through Lamar Jackson's Louisville team, officially retiring the phrase, "Old Kentucky football."
9. Stephen Johnson
About that 2016 season, let's go back to the beginning. Drew Barker was billed as the Wildcats' next great quarterback. The four-star homegrown product chose UK over Steve Spurrier and South Carolina. All of the offensive chips were in the Barker basket. He performed well for a half, throwing for more than 300 yards, until he injured his back, essentially ending his career (even though we did not know it at the time).
Kentucky's hopes in a do-or-die season now rode on the shoulders of a 170-pound JUCO quarterback whose collegiate career started at Grambling. He did not possess the physical attributes, but he made up for it in heart. Johnson got the Cats a win over Tennessee, consecutive bowl games, a photo people will never forget and the performance of a lifetime, out-dueling Heisman Trophy winner Lamar Jackson.
8. Liam Coen
After trying out a few different offensive philosophies, Liam Coen finally gave Stoops' program what it was looking for. The pro-style offense did not completely abandon the powerful rushing attack, while providing pass concepts to recruit talented quarterbacks and athletes on the outside. Thanks to the new style, Wan'Dale Robinson returned home and broke a pair of Air Raid single-season passing records while catching passes from a future first round draft pick. Even though Coen returned to the Rams after one 10-win season, his legacy will be felt for years to come.
7. Joe Craft & Mitch Barnhart
The success behind the scenes could not happen without these two. Barnhart provided stability for Stoops to do what he felt was best for the program. The athletic director orchestrated a plan to transform the football facilities, thanks to some help from Joe Craft. Once seen exclusively as a basketball donor, Craft picked up exactly what Stoops was putting down.
This is what greeted Kentucky football recruits prior to Stoops' arrival. After investing more than $155 million, the Cats have a renovated stadium and a football facility that meets the needs of a competitive SEC football program. Facilities alone cannot win you recruits, but they can sure lose some. That's no longer the case at Kentucky.
6. Lynn Bowden
Few football players have impacted the program in as many different ways as Lynn Bowden. Even though Kentucky had success recruiting Ohio, they struggled to land game-changing playmakers. The addition of Bowden sent a message on the recruiting landscape that Kentucky could compete with the Ohio State's of the world.
Even though most people immediately go to Josh Allen or Benny Snell when reflecting on the historic 2018 season, Bowden's contributions cannot be overlooked. He caught as 51-yard touchdown on third and long to give Kentucky the second half momentum it needed to take down Florida in The Swamp. He scored Kentucky's only offensive touchdown in an overtime thriller at Kyle Field. Bowden's punt return touchdown at Missouri gave the Cats new life in a thrilling walk-off win that set up the SEC East title match vs. Georgia. He delivered once again with a punt return touchdown in the Citrus Bowl.
Quarterback injuries nearly derailed the 2019 season and eliminated all of the goodwill and momentum Kentucky created the year prior. Bowden saved the day in the most extraordinary way. In 50 years you'll tell your grandkids about Bowden's play at quarterback and they will not believe you.
5. Josh Allen
Stoops has never been a flashy promoter. "Recruit and Develop" is a boring tagline, one that Allen truly embodied. During his time in Lexington Josh Allen transformed from two-star recruit to the best defensive player in college football and a Top 10 draft pick. Brad White nearly made this list. His contributions to the program started with Allen and are still embedded into the consistently productive defense today.
4. Eddie Gran
Stoops cut his teeth as a defensive coordinator. Finding the right formula for successful offense was a practice in trial and error. Stoops turned to his old friend from Florida State to rehabilitate the offense following the failed Shannon Dawson experiment.
Gran produced an explosive aerial attack at Cincinnati. Following Barker's injury, Gran quickly adapted, using a two-headed rushing attack to will the ball through SEC defenses. That malleability was crucial to the Wildcats' success in 2019 when Gran scrapped the original playbook to feature Lynn Bowden at quarterback. Even though it was clear Kentucky had to move on from Gran and Darin Hinshaw after the 2020 season, his tenure was among the most successful five-year runs in program history.
3. Benny Snell
Most coaches need a superstar at quarterback to rebuild a program. Mark Stoops did things differently and it all worked thanks to the superstar running back. Not only did Benny Snell provide stability in the backfield, rarely taking a loss, he did it with some swagger. Snell went to SEC Media Days and declared he was the best running back in the SEC. He knew how to look into a camera and deliver confidence the BBN so desperately missed during the dark years of the program. Snell capped off his historic career in storybook fashion, rushing for a touchdown in the Citrus Bowl to become the school's all-time leading rusher.
2. John Schlarman
One of the original members of Mark Stoops' staff, like many others on this list, Schlarman was a centerpiece to the culture created at Kentucky. The Wildcats were never known for their play on the offensive line. Between 1993 and 2013, zero Kentucky offensive linemen were taken in the NFL Draft. There's been one picked in four straight NFL Drafts, with five total players hearing their name called in that time.
Schlarman did not just recruit and develop NFL Draft picks and All-Americans. The offensive line is typically a position filled with degradation. Playing on the Big Blue Wall at Kentucky is cool. The BBN celebrates play on the offensive line, in large part thanks to Schlarman. Big men lead the way with physical play that has been the foundation fo Kentucky's success.
In his final years he remained selfless, fighting cancer admirably "for the team." He rallied the unit to average 7.4 yards per carry in a win at The Swamp. In his final game on the sideline, Schlarman's inspiring pregame speech propelled the Cats to a win at Neyland Stadium, the first in three decades. Even though he's no longer with us, Schlarman's legacy remains alive and well within the Kentucky football program.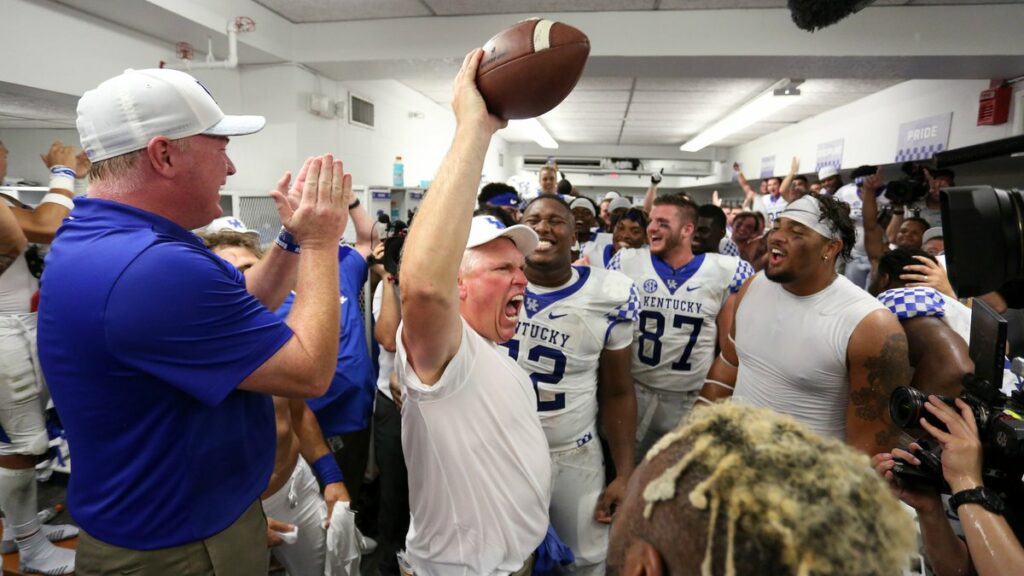 1. Vince Marrow
It's hard to imagine Mark Stoops without his righthand man, Vince Marrow. I do not have an exact number, but it's safe to say Kentucky's lead recruiter is responsible for bringing in half of the players that have played for Mark Stoops. He established Kentucky's recruiting pipeline in Ohio, bringing in players like Benny Snell, Lynn Bowden, Mike Edwards and more, then set his sights on the Commonwealth, completely encompassing the state in recent years.
Vince is much more than a recruiter. He's the Big Dog. Over time Stoops has shown more and more of his personality, but that's not his forte. He needed Marrow's charisma to win over and rally the fans. Kentucky's PT Barnum has never been afraid to take shots at opponents. Fans feel connected to the Kentucky football program like no other time in my life and Marrow is a big reason why. He's one of us, carrying a chip on his shoulder until the Cats reach unprecedented hypes with Mark Stoops in charge of the program.