Deone Walker is giving Kentucky some needed DL playmaking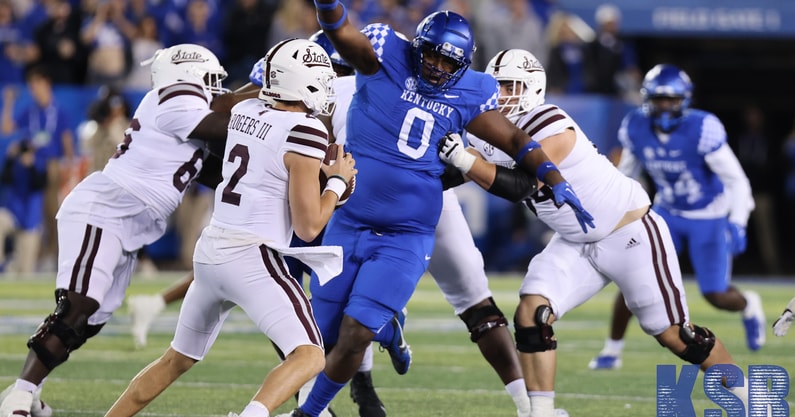 When Kentucky signed four top-500 recruits in the class of 2020 and beat out Tennessee and Texas in the recruitment of Octavious Oxendine, the bar was immediately raised for the future of the defensive line in Lexington. The Cats signed one of the top defensive line hauls in the country and followed it up with solid additions in both the 2021 and 2022 cycles.
Fast forward to the bye week during the 2022 season, and that five-man group is in the middle of their third year in the Kentucky football program. The Cats are coming up short of preseason expectations, but a true freshman has come in and helped change things for the defense.
Before diving into Tennessee prep, now feels like a good time to take a closer look at how big of an impact Deone Walker has made as a true freshman and how the Cats can improve along the defensive front.
Deone Walker is making an All-SEC push
Rewind back to August as fall camp got started, and one of the biggest developments was the fact that Detroit (Mich.) Cass Tech true freshman Deone Walker was pushing for a starting role on Kentucky's defensive line. The former top-300 recruit picked Kentucky over Michigan on signing day to give the Cats another recruiting win in Detroit.
At this point, Walker has outplayed that ranking by a large amount. The mammoth defensive tackle (6-6, 330) is pushing for All-SEC honors as a first-year player in the best conference in college football.
The rookie leads the defensive line in snaps (251), pressures (14), pressure rate (10.1%), tackles (17), non-sack tackles for loss (2), run stuffs (3.5), and pass breakups (2). Walker is now a starter for Kentucky at the boundary tackle position having earned a quality grade over 72 from PFF in four of the last five games. In certain subpackages, defensive coordinator Brad White is sliding Walker inside to play nose and provide an interior push.
Kentucky is getting an excellent pass rush from the young player and seems to have found a special talent. An argument can be made that Deone Walker is one of the top 2-3 players on Kentucky's defense this season, and no one on the roster has a higher ceiling than the versatile defensive tackle.
Kentucky needs more production from the surrounding parts
In Kentucky's zone-heavy defense that plays with an odd front, creating tackles for loss and taking chances with their front is not something that will happen very often. Kentucky wants their line of scrimmage players to eat blocks so outside linebackers can set the edge and off-ball linebackers can run free and make tackles.
That has mostly happened through seven games. DeAndre Square is averaging 9.2 tackles per game in SEC contests, and Jordan Wright has logged six non-sack tackles for loss. Kentucky is playing to its strengths on defense.
However, players need to win in one-on-one situations at certain points and create havoc plays. To this point of the season, the 2020 class is coming up short of expectations.
Justin Rogers has been the best player of the bunch at nose with 11 tackles, six pressures, and 2.5 run stuffs. The zero technique appears to be improving with each week.
Replacing Josh Paschal at boundary end, Kentucky decided to slide redshirt sophomore Octavious Oxendine from tackle. Following a knee injury that cut his season short last year, the Radcliff (Ky.) North Hardin product lost some weight but it hasn't led to consistent production. Oxendine has recorded 14 tackles in 238 snaps but has yet to log a tackle for loss and has only produced five pressures.
Elsewhere, Josaih Hayes and Tre'vonn Rybka have seen playing time decrease in recent weeks. Redshirt freshman Kahlil Saunders has been the group's second-best pass rusher behind Deone Walker and has seen his snap count increase over the last three weeks.
Kentucky needs more from its front.
A very good defense could get even better
At the end of the day, this Kentucky defensive line is still young. An argument can be made that Kahlil Saunders and Deone Walker are the two best players and they are each freshmen. Meanwhile, Octavious Oxendine and Justin Rogers are in their first full season as permanent starters. That is leading to some growing pains.
As Walker continues to shine, Kentucky needs some of its older players to turn the corner. If Kentucky's defensive line continues to keep their linebackers clean but starts to make some more havoc plays in the last five games of the season it could make a stout defense even more dangerous.