A different side of Rhyne Howard shines in win over Georgia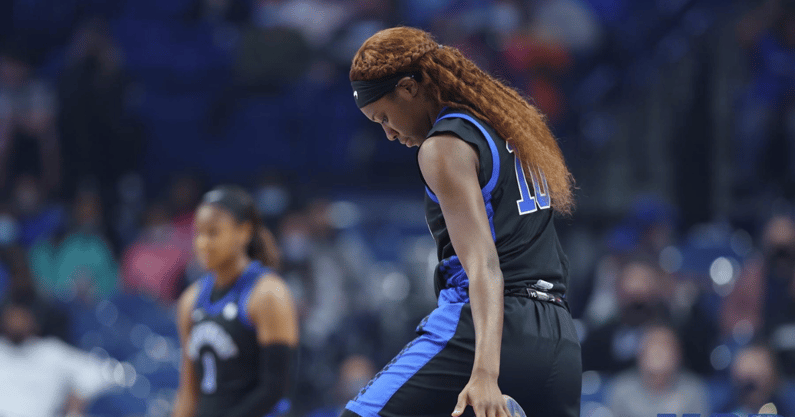 Rhyne Howard has been good this season, but one could argue she hasn't played to her full potential. After Thursday night, there's no debate: Rhyne Howard is back.
Howard dropped a season-high 30 points in No. 21 Kentucky's 84-76 victory over No. 15 Georgia on Thursday evening. In UK's first game of conference play, the senior Wildcat reminded everyone why she's the two-time SEC Player of the Year and the favorite to win a third.
Rhyne Howard's shining moment
The contest was a war of attrition. With nine lead changes throughout the game, victory was up for the taking. In the fourth period, Rhyne Howard roped in the victory.
The 6-foot-2 guard dropped 17 points in the frame. Further, she put on an efficient show. Howard went 6-9 from the field and 4-4 from the charity stripe in the quarter. Not to mention, Howard became Kentucky Women Basketball's third all-time leading scorer along the way.
Howard's jaw-dropping stats didn't come from her typical fancy step-backs, either. Howard got buckets in perhaps an even more impressive fashion; she went directly at 6-foot-5 Georgia star Jenna Staiti.
As wild as Howard's performance appeared on the television screen, the star insisted the spectacular performance came naturally.
"Attacking their post, who is much bigger and, I would say slower, is always just easy buckets for me," Howard said during the postgame press conference. "Attack, get to the rim, see something go in and just go from there."
Howard showing heart
Howard's statistics weren't the only noticeable difference on Thursday. She played with a different intensity. Howard was on the floor, demanding the ball and fighting for extra possessions. Her typical calm demeanor had disappeared; instead, she was playing with urgency. She was playing on "Rhyne Time."
Howard acknowledged her hustle plays after the game.
"I have to be able to make those 50/50 plays like tying the ball up or the hustle plays, because those are things that don't go on the stat sheet," Howard said. "Making those is just as big as you know, hitting the game-winner or making free throws."
Howard wasn't the only one who took notice of her improved intensity. Head coach Kyra Elzy discussed her prized senior's passionate attitude.
"[Howard] played aggressive. I thought she looked to score in a variety of ways tonight. She posted up, she got offensive rebounds, she played in the passing lanes and that made her harder to guard," Elzy said.
Although praise for Howard is nothing new, it's nice to remember why it's deserved. Perhaps Georgia's head coach Joni Taylor summed up the Rhyne Howard experience best after the game.
"Rhyne Howard is obviously who Rhyne Howard is."
Short, yet sweet. Simple, but meaningful. Keep being you, Rhyne Howard. It's nice to have you back.