Dr. Gerald Lesser's Wednesday News and Views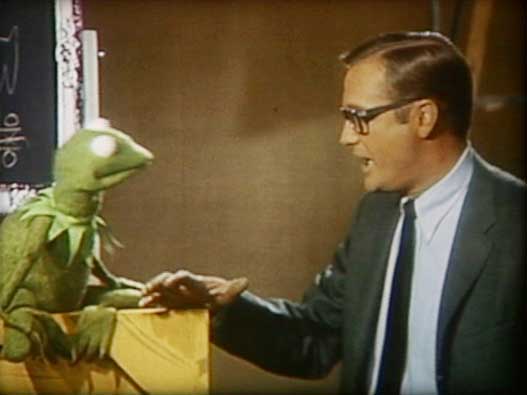 Good morning, it's another sunny day here at KSR as we continue to sweep the clouds away and give you the bright side of all UK-related happenings.  Before we jump into a handful of educational notes, let's stop and pay quick tribute to
Dr. Gerald Lesser, who passed away Tuesday at age 84
.  Lesser, a Harvard psychologist, was the developer behind the Sesame Street curriculum, which not only shaped the minds of the nation, but formed as the basis of this blog.  It's believed (and written in stick figure sketches on the KSR compound walls) that Matt Jones and Rob Gidel formed this site based on their real life relationship, which they modeled after Bert and Ernie.  Had it not been for Gerald Lesser, there would be no KSR.  And, if it weren't for KSR, you wouldn't have anything to do at work.  So, on this Wednesday, give thanks to Gerald Lesser - an educational innovator and a man who gave us one more place to show off Katy Perry's cleavage. Now, onto some UK notes...  - The most intriguing piece of news came from Mike DeCourcy of The Sporting News, who spoke with
Dr. Mehmet Kanter
, better known in these parts as Paul Bearer.  The discussion was the elder Kanter's first with the American media regarding his son's NCAA limbo and provided a side of the story not previously seen, especially in Pete Thamel's New York Times story.  In DeCourcy's article, Mehmet Kanter insists that the Turkish club is trying to make an example out of his son for going against the grain and attempting to play college basketball in the US.  He also tells DeCourcy that they have planned since 2007 for his son to cross the ocean for college basketball and the family has kept "meticulous" financial records, which he said are nothing like what the New York Times story claimed they were.  Mehmet Kanter also added that his son turned down a spot on Turkey's runner-up World Championships team, which split an $18 million prize, this summer in order to complete classes at Kentucky and remain academically eligible for the fall.Kanter's father.  For Kentucky fans, it was a bit of reassuring news on a subject that seemed to be looking grim at one point.  - Speaking of the New York Times and disputed stories about Kentucky players,
Jon Rothstein of ESPN NY wrote this article comparing the Bledsoe situation and the Michael Oher situation
, saying that though Oher and Bledsoe had similar circumstances, they were treated differently.  And why is that?  Well, because the stage of Kentucky basketball is far bigge than Ole Miss football (sorry for typing those three words again).    - On the football front, the Cats continue to prepare for a dynamic and rapidly improving Auburn Tigers team and
spent Tuesday focusing on, in Joker's words, execution and holding themselves accountable
.  Phillips said the practice had "good tempo" and said that the missed tackles and dropped balls are no longer acceptable.  According to Cat Scratches, Joker said that the team leaders have been telling the guys making the mistakes that "it's alright" and he emphasized that, at this point in the season, it's not alright.  It's time to make plays.   - Joker also referred to Auburn quarterback
Cam Newton as an "animal".
  Unfortunatley, that's probably as good of an assessment as can be made.  - Faced with his own "animal" to contain, Auburn coach
Gene Chizik said he's not sure that you can shut Randall Cobb
down.  He also said that he's been impressed with Mike Hartline's efficiency in passing the ball, the way UK uses their tall receivers and the physical nature of UK's offensive line and Moncell Allen. 
You can read all his quotes here.
 - Some potentially big news on the recruiting front broke on Tuesday as Dixie Heights quarterback
Zeke Pike set up a visit for Saturday
.  The junior quarterback is the biggest name in the state in terms of recruiting right now and is rapidly rising in terms of stature nationally.  Kentucky's classes over the past few years have been built by signing and developing an increasing number of three-star players and snagging one or two four-stars when they can.  If they were able to land Pike, who is nowhere ready to commit anywhere, it would be a solid piece and a strong signal-caller to transition to once the Newton/Mossakowski duo leaves campus.  - As the Cats continue to prepare to break
"The Curse of The Red Lobster"
, there is one place that they cannot count on for support - Red Lobster.  I contacted the public relations department at Darden Restaurants on Tuesday and asked them if they'd like to release a statement denouncing the curse and they declined.  However, they stopped short of calling me an idiot and telling me that I was wasting their time, so I guess we have that.  - Down I-64, it was a
tough day of baskteball news for Little Brother
.  Their top remaining incoming player, Gorgui Dieng, was ruled ineligible and starting forward Jared Swopshire was shelved for six weeks thanks to a case of Boogiephobia disguised as a hernia injury.  The also announced that Ralph Willard and Mark Lieberman had traded their assistant coach and director of basketball operations positions, but that doesn't really matter too much.  What does matter is that U of L's 2010 class is now headlined by Elisha Justice.  2011 can't come soon enough (sorry, Rick, poor wording) for the Filthy Cards.  - For Kentucky's last freshmen class,
it was a night of solid NBA debuts
.  John Wall went for 21 points and 9 asssists as the Wizards beat the Mavericks and DeMarcus Cousins went for 16 and 16 in 28 minutes of work as the Kings beat the Suns.  Patrick Patterson grabbed four rebounds in only seven minutes and Daniel Orton, who is still rehabbing from a knee injury from high school, did not play in their showdown.  Meanwhile, Eric Bledsoe looked a little rusty in a four point, five turnover (-22 rating) first half for the Clippers.  Jodie Meeks had 9 points for the 76ers.  - Finally,
Dick Vitale talked about Coach Cal
on 790 WKRD in Louisville Tuesday.  You can
hear that audio here
. That's it for now.  Stay tuned throughout the day as we continue to inch closer to Big Blue Madness and get you ready for Kentucky's chance to shock the world and right the ship against Auburn on Saturday.  Stick around....