Early standouts emerge in Kentucky basketball summer practices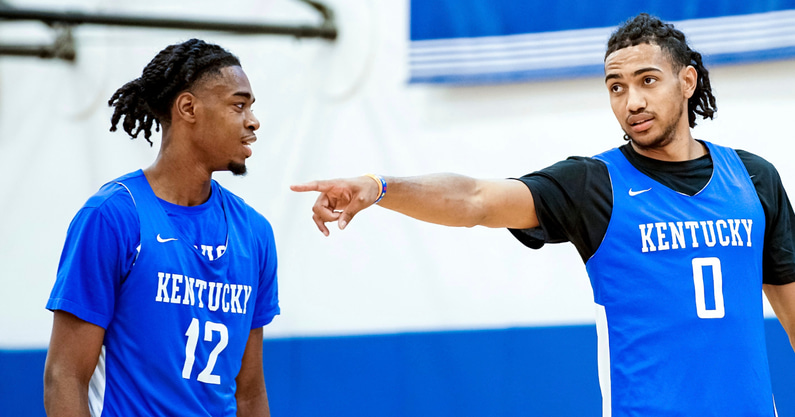 For the first time since 2018, Kentucky fans will get a chance to see the Wildcats in action this summer, with the program taking a preseason exhibition trip to the Bahamas in August. It will be our first public look at the 2022-23 roster, with the team set to play four games against the Dominican Republic National Team on Aug. 10, a professional team from Mexico on Aug. 11, the Carleton University Ravens (Ottawa, Ontario) on Aug. 13, and the Bahamas National Team on Aug. 14.
Until then, though, how are things coming along at the Joe Craft Center? What should fans be looking for in Kentucky's trip to the Bahamas and this fall when basketball season rolls around?
After one month of summer practices and workouts with the team on campus, KSR has the scoop on where things stand.
Excluding Oscar Tshiebwe — you don't need to be told he looks the part — four names have emerged as early standouts: Jacob Toppin, Antonio Reeves, Cason Wallace and Chris Livingston.
After a strong start to the summer, there is serious optimism within the program that Jacob Toppin is primed for a breakout season in Lexington. He looks the part physically and has taken over a leadership role on the team, along with clear growth as a shooter. The 6-foot-10 forward has shown flashes of excellence in his two years in Lexington, but never consistent production over long stretches. Now taking over the starting four spot, he's no longer an entertaining role player in the frontcourt; he's expected to be a top contributor. Everything he's shown this summer indicates a strong senior jump is not only possible, it's likely.
Toppin continues to earn rave reviews from onlookers at practice, easily the most common name thrown around when discussing early standouts. If there is a close second, though, it's Antonio Reeves, who has adjusted better than expected making the jump from Illinois State in the Missouri Valley to Kentucky in the SEC. In fact, sources tell KSR his adjustment to SEC pace, size and length has been undeniably quicker than Kellan Grady last season, who was a step behind until October. Reeves has impressed as a three-level scorer capable of creating for himself, with his size (6-foot-6) allowing the staff to get creative with his usage. "He's got some TyTy Washington in him," one source told KSR. The Chicago native has turned heads early and often.
The two freshmen, Cason Wallace and Chris Livingston, have also been pleasant surprises, specifically from a physical standpoint. They are both college-ready and have been immediate contributors on both ends of the floor in practice. Wallace has shot better than anticipated and has lived up to his billing as a vicious defender. He will also split point guard duties with Sahvir Wheeler, thriving as a willing facilitator and playmaker rather than focusing solely on scoring as an off-ball guard. As for Livingston, his versatility and physicality has opened the door for playing time at the three and small-ball four, essentially as a fourth guard on offense. He gets downhill and finishes through contact well around the basket, but also shoots it well enough to keep defenders uncomfortable out on the perimeter. Both players will produce early.
To round out the freshmen, Adou Thiero is experiencing some growing pains — literally. Currently standing 6-foot-6, the four-star guard continues to sprout up, with the expectation within the program being that Thiero will ultimately reach 6-foot-8 or taller by the time he's done growing. There is genuine excitement about his development and long-term potential, but where does he fit regarding position and role? Will he simply be a massive two-way point guard threat or will his size allow him to play one through three down the road? There's a chance he contributes early as a defender, but the real excitement comes from figuring out just what Thiero is (and can become).
Sticking with the guards, CJ Fredrick "just doesn't miss" from three, one source told KSR. The team is bringing him along slowly as he recovers from hamstring surgery, but even with a limited sample size, the 6-foot-4 native of Cincinnati, OH has lived up to the shooting hype this summer. He transferred to Kentucky as a career 46.6% 3-point shooter, and judging by his time on the floor this summer, he's not expected to go cold anytime soon.
What about Kentucky's lead guard? Sahvir Wheeler has cut weight and has been noticeably quicker, while also improving as a shooter. Confidence has never been an issue with the 5-foot-9 playmaker, but after finishing the year as a 41% 3-point shooter in SEC play, he's building on that late success going into year two in Lexington. The staff simply needs Wheeler to keep defenders honest while continuing to thrive as a facilitator and scorer around the basket. So far, so good.
Rounding out the roster, Daimion Collins continues to show flashes while working to add weight and build muscle. You won't find a player with higher potential in college basketball, but the focus right now is on laying the building blocks to set up that jump in the not-so-distant future. Elsewhere, Lance Ware has been Lance Ware, providing energy and effort as a complementary piece in the frontcourt.
Overall, there is confidence within the program that the right pieces have been found and real development is taking place to build on the successes of last year's team. Injuries derailed things late to set up a historic upset loss in March, but optimism remains that a good team overall in 2021-22 will be better a year later — anchored by reigning National Player of the Year Oscar Tshiebwe.