ESPN owes Kentucky fans an apology for last night's broadcast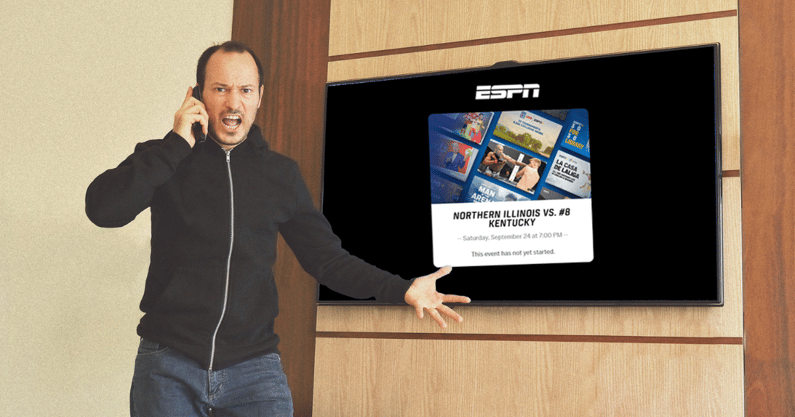 If Kentucky plays the first quarter of a football game but 95% of its fans don't see it, did it really happen? That's the question we're asking ourselves after ESPN2's broadcast of Kentucky vs. Northern Illinois last night. The Cincinnati/Indiana game preceding the Cats vs. the Huskies ran over its allotted time slot, a common occurrence in TV scheduling these days — and an issue all its own. But if you've done this dance before, you knew what was coming.
All eyes went to the rectangular box in the bottom right corner of the screen. At first, kickoff was pushed to 7:05 p.m. When it became clear that wouldn't be long enough for Cincinnati/Indiana, a game well in hand, to wrap up, the six most dreaded words in a sports fan's life popped up on the screen.
"Streaming live on the ESPN App"
Let the dance of the devices commence! Even if you were able to navigate the notoriously terrible ESPN app, the Kentucky vs. Northern Illinois game was nowhere to be found. Not under "Featured," not under "Also Live," not under "Football," not even if you looked up "Kentucky." The Kentucky vs. Georgia State men's soccer game, yes. The football game being played by the No. 8 Kentucky Football team? Nope.
Surely, there has been a mistake. Flipping back to ESPN2, you see that the network is still telling viewers to go to the app.
At this rate, Northern Illinois had already scored, taking a 7-0 lead on the opening drive. Frantic not to miss a single second of an alarming start, frustrations mounted in the BBN. The cruelest insult of all came to fans who were able to actually find the game on the app, but were greeted by a screen saying it hadn't started yet, even though it was well underway.
With no video feed of the game available to those of us at home, traffic on the KSR Live Blog spiked, and radio and streaming devices tuned in to Tom Leach's call. Finally, a fan on the live blog found the game on ESPN News and gave us a heads up, and TVs across the Bluegrass came to life in time to see Kentucky enter Northern Illinois' red zone and score a touchdown to tie it up.
Eventually, the game moved to ESPN2, but the Worldwide Leader wasn't done with BBN yet.
The most confusing graphic of all time
The success of "basketball schools" in football was a big talking point this week nationally as Kansas, Duke, North Carolina, and Kentucky all entered Saturday 3-0 for the first time in history. Predictably, ESPN2's crew of Anish Shroff and Brock Osweiler highlighted this fact, but the graphics crew found a way to add insult to injury.
Most people would look at this and think Kentucky is the fourth winningest college basketball program of all time when the Cats are now second behind Kansas, a fact we're all well too aware of after the Jayhawks passed us in March. Even if you interpret it as Kentucky is the 3-0 for the fourth time in school history, it's still wrong. The Cats have achieved that feat four times in the Mark Stoops era alone.
Look, facts are optional here at KSR and everyone has an off day, even at a multi-billion dollar company like ESPN. But causing the fans of a top ten team to miss almost all of the first quarter and then rubbing salt in a still fresh wound is just mean. Wasn't the Noon ET/11 a.m. CT kickoff for the Ole Miss game enough, ESPN? If we're going to be tied together for eternity thanks to the SEC's TV deal, a peace offering would be nice. College Gameday for the Georgia game, perhaps?
Let it out, #BBN
BBN Twitter was hot last night. Here's a rundown of the most relatable tweets.