Facebook's Friday News and Views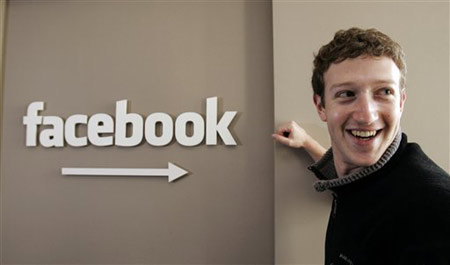 Good morning and Happy Facebook Day to you, my beloved KSR readers.  When the world looks back and reflects on great internet innovation when we're all riding around in flying cars or living through avatars in twenty years, they'll likely start with a piece of the web known as Kentucky Sports Radio.  After they've sufficiently shown love to Matt Jones and Rob Gidel, though, the world will likely celebrate
Facebook, which celebrates its 7th birthday today
.  That's right, on this day in 2004, a goober named Zuckerberg launched a little website that would eventually not only change the life of college students, but eventually the world as a whole.  What started as a way for you to creep on hot girls and find people from your classes to mooch notes off of has now evolved into a way for you to creep on hot girls and pretend you didn't see your grandmother's poke.  It's turned the day after Halloween into a must-search and pretty much gauranteed that anyone who entered college after 2004 will marry someone with the fear that they'll come across a stomach-turning photo of their spouse online at some point.  Most importantly, it gave us the neverending comedy that is Mark Hamilton.  So, happy birthday to you, Facebook.  Keep on creepin' on. Now onto a few UK notes...  - If there was ever a day to lose on the road to a bad Mississippi team, Coach Cal's team picked a good one as Signing Day Wednesday seemed to slow the irritated masses a bit and divert some of the attention elsewhere.  While frustrations were temporarily diverted a bit, the fact remains that the Cats look to bounce back from their worst game of the season by entering
one of their toughest games to this point
.  It wasn't too long ago that these two basketball teams appeared to be heading in the exact opposite directions as Florida dropped games at home to UCF and Jacksonville and struggled with American and Kent State.  In SEC play, however, the Gators have proven that they can win the big games so far and they're now a team that presents several issues for a vulnerable Kentucky team
1. Size inside - In the post-Noah, Horford and Brewer years, the Gators have been as soft those blankets from Brookstone.  In the early part of the season, it looked to be much of the same thing.  As the season has progressed, though, they've found some presence inside from players who, on paper, look to be exactly the types of athletes that give Kentucky problems.  Former McDonald's All-American Vernon Macklin is finally showing signs of playing with the presence that Florida expected to get from him when he transferred from Georgetown and Chandler Parsons - yes, Chandler Parsons - has posted double-digit rebounds in the last four games.  They're improved work on the boards has allowed Alex Tyus to move back to his natural role of a physical inside-out guy and they're getting nice minutes from Erik Murphy and freshman All-American Patric Young.  On paper, the Gators seem to have a sizable advantage inside.  That's a big change from years past.
2. Road Environment - Despite their early issues at home and an SEC loss in Gainesville to South Carolina, Florida will have a decided advantage in front of a GameDay crowd sure to be loud and ready by the time tip-off rolls around at 9pm.  Given Kentucky's struggles in road games in Athens, Tuscaloosa and Oxford - all of which are far less intimidating than The O Dome - the Cats have an uphill battle on their hands.  It will be a lot harder to take the Florida crowd out of the game than it was in their victory over South Carolina, but it all starts with, well, the start.  The Cats have to stand tall early and avoid letting the crowd's emotion raise Florida's play and lure them into making the "hero plays" that Coach Cal spoke about a few weeks ago.  This is where they have a chance to make a statement.  Will they make it?
3. Experience - For the first time in SEC play this year, the Cats will not have a clear talent advantage in their favor and, if they are able to push the game to the wire, you have to wonder if they'll be able to finish it.  Kentucky has not closed out a close game yet this season and struggled with execution and decision-making down the stretch several times.  Florida, meanwhile, has closed out three of the SEC's best teams (Tennessee, Georgia and Vandy) and won both contests that went to overtime.  In fact, 8 of the Gators' last 9 games have ended with a deficit of six-points or less or gone to overtime and Florida is 7-1 in those games.  It's another area where Coach Cal is waiting for his team to take the next step and one where Florida appears to have found a comfort level.  Again, it's another chance for this team to move forward.  If they do it in Gainesville, it will be a Shagari-sized step.
- Saturday's game also brings major implications in terms of the SEC standings.  If the Cats drop Saturday's game to the Gators, they'll likely remove themselves from
contention for an SEC regular season title
.  With eight games remaining, climbing back to the top wouldn't be impossible, but falling two games behind with Mississippi State, another game with Florida and two apiece against Tennessee and Vandy remaining, creeping back atop the standings would be very difficult.  A victory would put them either tied with the Vols or one game back, depending on how Tennessee fares against Alabama.  That's another long way of just saying, "Win the damn game". - On a more positive note, 2011 commit
Kyle Wiltjer was picked for the Nike Hoops Summit game
, which is to be played in his home state in April.  Wiltjer, who holds dual US and Canadian citizenship, will most likely play on the international team against his three future teammates, Anthony Davis, Marquis Teague and Michael Gilchrist.  He's currently sitting out with an ankle injury, but is expected to be ready for the high school playoffs in March and the UK Showcase, I mean Hoops Summit.  No word on whether Josh Hopkins will be there.  Reminder:  Watch Cougar Town Wednesdays at 9:30 on ABC.  - On a final Signing Day note, during Joker Phillips' press conference, he challenged the media to write stories about the guys they thought would become
the future stars of the program
.  Fortunately, I'm not in the media and I don't have to answer his challenge.  But, the people who know these things on a level much higher than I do myself, the guys that have that "star" potential to them seem to be running back Marcus Caffey, defensive end David Washington, linebacker Demarius Rancifer and Bubba Tandy, whatever position he might play.  You could even throw Christian Coleman and the trio of solid offensive linemen in that group.  And while many people are frustrated with the star rankings of the players Kentucky brought in when compared to their SEC peers (well, not really "peers") and the Filthy Cards, one thing to note with this class when compared to those in the past is that the Cats seemed to sign players that were rising in their rankings and guys who have physical abilities that will allow them to develop at a faster rate.  For Kentucky, that's progress and a good class.  It's now on the staff to develop them.  That was the bread and butter of the staff under Rich Brooks.  Joker and his guys now have the chance to do the same.  - Remember back when we were writing nearly every single day about DeAndre Daniels enrolling early and possibly playing in the spring?  Well,
Daniels is back at IMG Academy
and will finish out his senior season there instead of heading to Kansas early.  Given the fact that he got us all excited about possibly reclassifying prior to this season and didn't, we probably should have filed this under the "Fool me once..." heading.  Oh, DeAndre, you're such a tease.  - On a non-related note, feel free to
follow @KennethColePR
on Twitter.  It was
born from this
.  And it's funny.  - Finally, say a little prayer for
Drew Franklin
.  He's on his way to Las Vegas for six days.  Let's hope he makes it back.  We don't want to do another blogger contest. That's it for now.  Stay tuned throughout the day as we get you all prepped for the ESPN College GameDay showdown with the Gators and confuse at least 5-10 angry people with another appearance from Not Jerry Tipton.  The fun gets going with Matt and Zach at 10am on Talk Radio 1080.  In the meantime, let's remember to
give thanks for the recruit that got away to Gainesville
, Dan Werner, and hope his spirit can still haunt Billy Donovan's team.
See you in a few...