FINAL: Kentucky uses second-half push to cruise vs. Bellarmine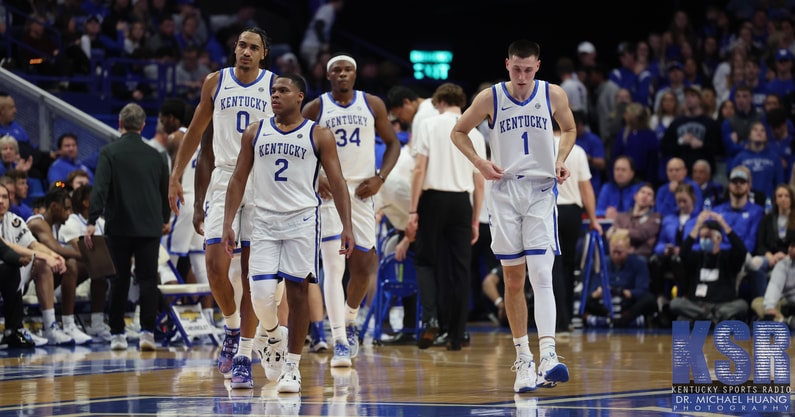 It was a tale of two halves for Kentucky basketball vs. Bellarmine, putting forth one of the worst offensive efforts of the year in the first 20 minutes before rolling to a blowout victory in the final 20.
The Wildcats scored the fewest total points the program has seen at halftime since 2018, tied at the break 21-21. UK shot just 30.0% from the field (9-30 FG), 18.2% from three (2-11) and 50.0% from the line (1-2) while allowing the Knights to shoot just 29.2% from the field (7-24) and 21.4% from three (3-14). To put it simply, it was a rock fight in the worst way imaginable.
It wasn't any better to open the second half, with Bellarmine leading by as many as four points with 16:08 to go and tying it back up at 32-32 with 13:31 remaining. From there, though, Kentucky quickly put it back together offensively, nearly doubling up the Knights after the break (39-20 overall).
The Wildcats' best stretch came on a 12-0 run (23-3 overall) in eight minutes to push the lead to 16, then built on that momentum to lead by as many as 20 in the game's final minutes. Kentucky would close things out with a 60-41 final score, moving the team's record to 5-2 on the year and 5-0 at home.
On the day, the Wildcats shot 41.5% from the field (22-53), 31.8% from three (7-22) and 81.8% from the line (9-11) while allowing the Knights to shoot just 30.4% from the field and 28.6% from three.
Antonio Reeves led Kentucky with 18 points on 7-15 shooting and 3-6 from three to go with five rebounds, two assists and one block in 24 minutes, followed by Jacob Toppin with 12 points (4-9 FG, 4-4 FT), five rebounds and two assists and CJ Fredrick with 11 points (3-7 3PT) to round out double-digit scorers.
Oscar Tshiebwe came up just short of a double-double, finishing with eight points (4-9 FG) and 12 rebounds to go with three blocks and two steals.
Kentucky Wesleyan is the last in-state team to beat both Kentucky and Louisville in the same season back in 1926-27. Bellarmine accomplished half of that feat to open the season against the Cardinals, but couldn't get the job done in the other half — no matter how hard the Knights fought to make it happen.