Flory Bidunga inching toward decision with Kentucky visit in the works
Would it surprise you to learn basketball isn't even the nation's most dominant player's best sport? 2024 five-star center Flory Bidunga's first love was actually soccer, a game he's been playing since he was a little kid in the Democratic Republic of the Congo.
Believe it or not, the goal is to play for Kokomo (IN) High School his senior season — despite being a consensus top-five basketball recruit in his class. And standing 6-9, 215 pounds.
"I mean, yeah (laughs)," Bidunga said of his upcoming dual-sport plans. "I've played soccer all of my life, so it's exciting. I just want to have some fun. I'm better at soccer."
That's the crazy part. He's only been playing basketball for four years, yet does things no one else in high school can. An explosive leaper with a lightning-quick second jump, he's a terror around the basket offensively. He essentially looks down at the rim on jump hooks and looks to tear it down entirely on dunks.
And if that doesn't impress you, just wait until he gets back on defense at the other end of the floor. Bidunga is a truly exceptional shot-blocker with impeccable instincts, timing and length. Attempting to score on him inside takes guts (followed by a psych evaluation).
If there was ever a kid to bet on as a college star, it's this one. The floor is simply too high.
Yet he's relatively new to the sport, better at soccer. A physical anomaly in the best way.
"With hard work, you can do anything," Bidunga told KSR. "It's about getting focused and playing harder, practicing to get better. Hard work always pays off."
The star center was named Indiana Boys Basketball Gatorade Player of the Year after averaging 20.2 points, 13.8 rebounds, 4.5 blocks, 1.6 assists and 1.2 steals in 28.0 minutes per contest as a junior at Kokomo. He then rolled through the adidas 3SSB circuit before being invited to prestigious national all-star events, first the 2023 Pangos All-American Camp in Las Vegas, followed by NBPA Top 100 Camp in Orlando.
He was voted co-Most Outstanding Player at Pangos AA Camp after averaging 13.8 points and 10.5 rebounds in 25.8 minutes per contest, shooting an absurd 83.9% from the field overall.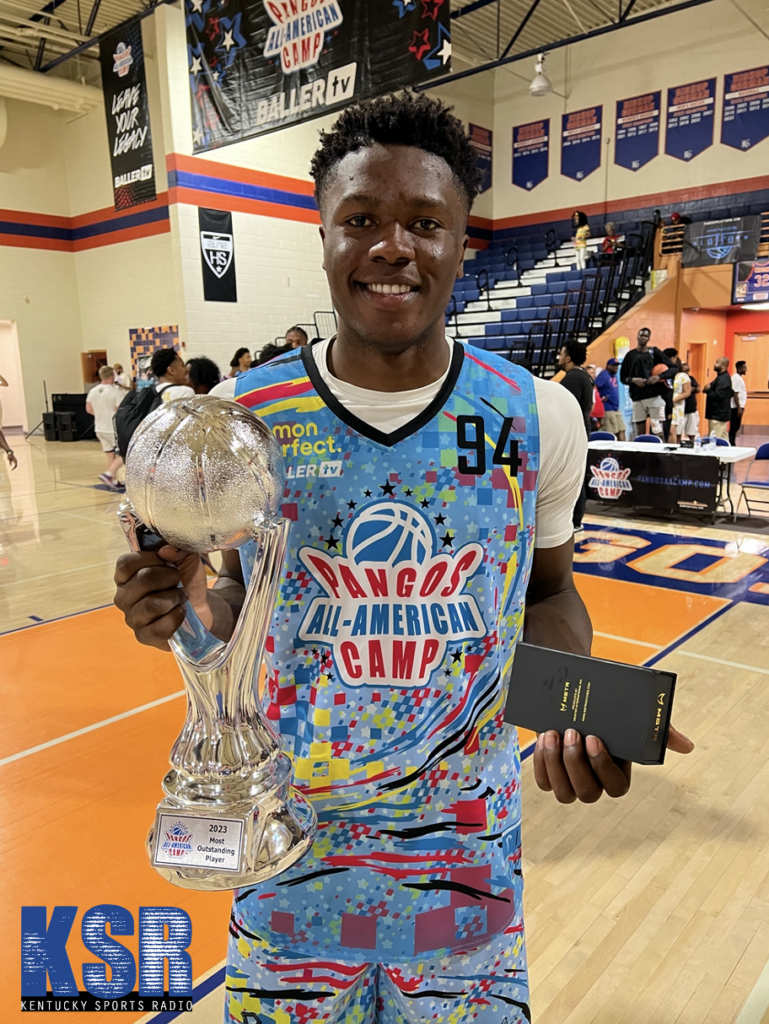 Needless to say, he's come a long way since arriving in the United States back in August 2021, certainly since picking up a basketball for the first time just two years before that.
"I would say I've improved a lot. If I look back to my first year over here to right now, you can see a lot of growth," he told KSR. "Dribbling, driving to the basket, scoring, all of that stuff, I've gotten a lot better."
His explosion from unranked and unknown to certified superstar has led to obvious national recruiting interest, schools tripping over themselves to get involved. Among them? The University of Kentucky, who offered the five-star center last October. Hometown Indiana, along with Michigan, Kansas, Auburn, Florida and Cincinnati are among the others making a push.
"I have to turn off my phone, I do it a lot (laughs)," Bidunga said of college programs reaching out. "But yeah, it's exciting to see that schools want you and are interested in you. That's always exciting."
He has taken visits to the likes of Michigan, Indiana, Kansas, Florida, Auburn and Michigan State, all programs he says are "pretty good with academics and with basketball."
"Things have been really good, I've been seeing some of the top schools. It's really exciting to see them in person."
For the Wolverines, the appeal is with head coach Juwan Howard and his history as an NBA big man himself.
"I like their coaching style, the coach and the program," he said of Michigan. "Getting a degree from there would be good, it's a pretty good school with an amazing coach. Juwan Howard is a really good coach who has been to the NBA, and he played as a big. That would be pretty good because he can develop bigs."
The blue-blood appeal is there with Kansas, as well. And Hall of Fame coach Bill Self roaming the sidelines doesn't hurt.
"It's a blue-blood program, that's pretty good. I liked the facilities and I love the coach, he's been there for years," Bidunga said. "The experience at Kansas was pretty good. It's one of the top programs in college basketball."
And what about Florida and Auburn?
"Oh yeah, that was exciting," he said of the Gators. "I have a really good relationship with the coach, Coach (Carlin) Hartman and Coach Todd (Golden). We've been staying together."
"(Auburn) was pretty good, too," he added. "Bruce Pearl is big on energy, he's a tough guy, a great guy. It was really good, I've got some pretty good relationships over there."
Indiana is a very real contender and he has close relationship ties to Cincinnati. Duke has also emerged as a late option, a program Bidunga has had his eye on.
So where does that leave Kentucky? The good news is the two sides have worked on getting a visit scheduled for months now, this past weekend being the most recent attempt. Freshman orientation was going on in Lexington while the five-star center was scheduled to fly out to Las Vegas for Pangos on Sunday. Another missed opportunity, but there's clear mutual interest there.
"We're trying to figure out a date for a visit, they've been busy with their offseason stuff, and me too," Bidunga told KSR. "We're going to find a day, and so far, so good. I have a really good relationship with the coaches, I love Coach (John) Calipari and Coach Orlando (Antigua). They're always there for me."
It helps having a former national player of the year in Oscar Tshiebwe — also from the Congo — to use as a recruiting pitch. That's been Kentucky's go-to.
"It's a great pitch, Oscar (Tshiebwe) is a pretty great player," he said. "He averaged a double-double, which is a lot. They've been comparing me to him and that's really exciting."
Bidunga is longer and more athletic than Tshiebwe, while the former Wildcat is one of the most gifted rebounders in the history of college basketball. Similar play styles, though, and they both take pride in their motors — maybe the most important trait of all.
"People have been telling me it's my motor," Bidunga told KSR. "As a big, you have to run fast and work harder than everyone. If you do those things, you can really help your team. It helps get your program open shots and easy baskets, so I do that with my motor."
The five-star center's recruitment is one that could shake up the college basketball landscape entirely depending on where he lands. Bidunga is that kind of talent. But what will he be looking for when it comes time to make a decision?
It starts with academics, a school that will help him reach his dream of earning a college degree. And ideally, that program will also be able to help him get to the NBA so he can live out his professional dreams, as well.
"I would say, first of all, with student-athletes there is the student portion," he said. "I'm focused on getting a degree. Then there's the coaching side. I want to go somewhere that's fit for me and cares about helping me with my goals."
When could that commitment come? It won't be long, with Bidunga planning to get things wrapped up in the coming months.
"I would like to make a decision before school starts, my senior year," he told KSR.
Late summer or early fall is the goal. The clock is ticking for schools in pursuit to do what it takes to land the game-changing talent, now or never.
Discuss This Article
Comments have moved.
Join the conversation and talk about this article and all things Kentucky Sports in the new KSR Message Board.
KSBoard