GAMEDAY on KSR: Beat Florida Edition

Good morning, and happy Groundhog Day, BBN! It's been a cold and relatively ugly week, but hopefully a big win in a hostile environment for the Kentucky Wildcats this afternoon can help cheer you up a little bit. It sure worked against Vanderbilt on Tuesday. The Cats are rolling, and they'll look to continue that in Gainesville as they take on the Florida Gators. Let's dive right in.
What should we know about Florida?
General information:
Record: 12-8 (5th in the SEC) Key wins: West Virginia, Arkansas (away), Georgia (away) Key losses: Oklahoma, Butler, Michigan State, South Carolina, Tennessee, and TCU (away) Exactech Arena at Stephen C. O'Connell Center Capacity: 10,133
Numbers:
Right off the bat you can see the obvious statistical advantages the Wildcats have over the Gators. Florida averages an underwhelming 69.8 points, 34 rebounds, 13.6 assists, 4.4 blocks, and 7.8 steals per game. Kentucky, on the other hand, averages 79.9 points, 38.3 rebounds, 14.4 assists, 5.4 blocks, and 6.8 steals per contest. With total efficiency, Florida shoots just 42.4 percent from the field, 35.5 percent from three, and 68.7 percent from the free throw line. Kentucky, on the other hand, shoots 48.4 percent total, 36.2 percent from three, and 75 percent at the line. As far as specific players go,
KeVaughn Allen
(13.1 PPG),
Noah Locke
(11.7 PPG), and
Noah Nembhard
(7.3 PPG) are the team's three leading scorers, each rounding out Florida's starting backcourt. Led by Locke's 43 percent clip from beyond the arc, each of their backcourt members shoot over 33 percent from three, with seven players on the roster breaking that threshold, as well. In the frontcourt, Kentucky will almost certainly be able to find some matchup advantages against a relatively mediocre Florida group. No Gator on the roster is taller than 6-foot-9, with only two players averaging more than four rebounds per contest and zero averaging more than 6.3. Offensively, center 
Kevarrius Hayes
averages just 6.9 points per game on 65.5 percent shooting, while frontcourt-mate 
Keyontae Johnson
averages 6.7 points on 49.5 percent shooting and 40 percent from three. While Hayes isn't a major threat offensively or rebounding on the defensive end, he does have 60 offensive boards on the year, which is good for No. 1 in the SEC. He also has a defensive plus/minus of 10.8, taking the top spot in all of college basketball. Hayes also swats away two blocks per contest with an 11.4 percent block total, good for No. 1 in the SEC. He can make an impact doing the dirty work against the Wildcats. Forward
Keith Stone
is out for the year with a torn ACL, as well.
Vegas
As of right now, the Wildcats are favored by three points against the Gators, including an over/under total of 130. Kentucky is 11-9-0 against the spread this year while Florida sits at 9-11-0. The Cats have covered in five consecutive matchups, but they haven't managed to cover the spread against the Gators since February 25, 2017. ESPN's matchup predictor also favors Kentucky by a total of 55.7 percent to 44.3 percent. KenPom, on the other hand, gives the Wildcats a 56 percent chance of winning and projects a 64-62 victory for Kentucky.
Prepare on the KSR Pregame Show
Before the Kentucky takes the court, listen to the KSR crew preview the matchup between the Cats and the Gators.  All of the action begins on 630 WLAP or
online
at 1:30 pm.
How to Watch and Listen
Jason Benetti and Dan Dakich will be on the call for ESPN beginning at 4:00 p.m.  If you're stuck on the road and can't watch, there are multiple ways to listen to The Voice of the Wildcats.
AM: 840 WHAS, 630 WLAP
FM: 98.1 WBUL
Satellite: XM-190 and Sirius-119
Online: iHeart Radio
Fried Gator at KSBar and Grille
What better way to spend your Saturday afternoon than beating the Gators and chowing down on them too? Head on out to KSBar and Grille this afternoon and you'll be able to do both. The official shipment of fresh gator has arrived at your favorite sports bar in Lexington, and it will be available for you to eat today while supplies last.
While you're dining in and hanging out for the matchup, here are all of the pregame and postgame specials at KSBar and Grille this afternoon: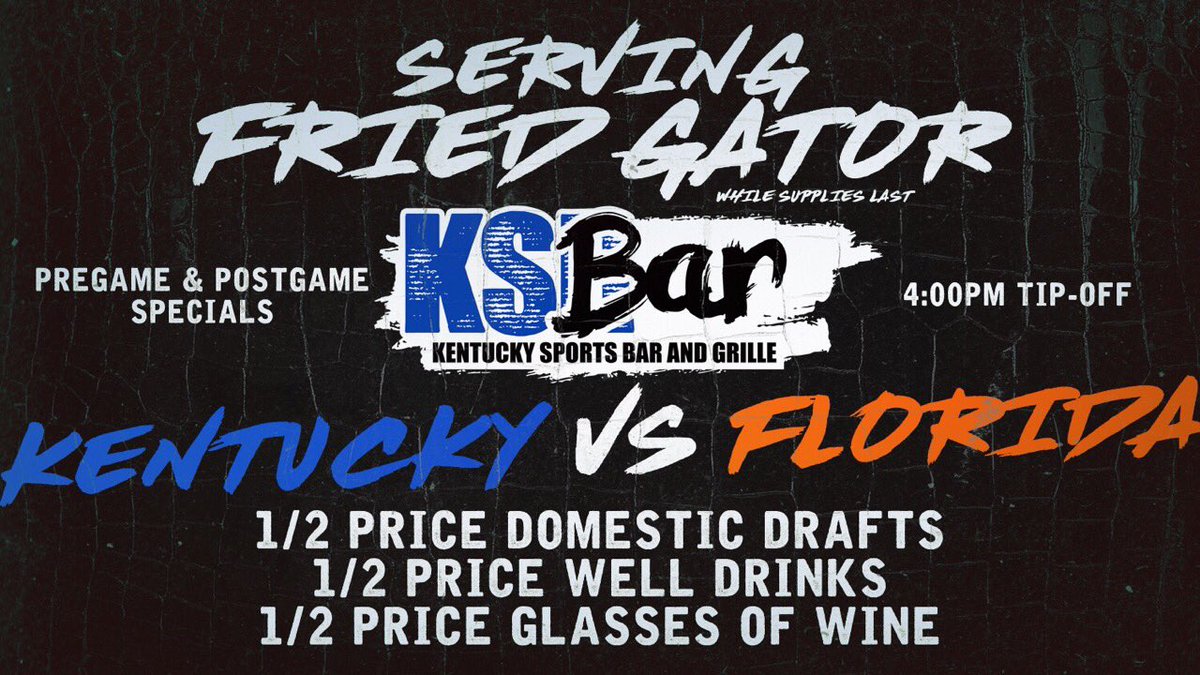 In other news...
Hamidou Diallo will compete in the Slam Dunk Contest
With Derrick Jones Jr. sitting out of the event due to injury, former Kentucky guard Hamidou Diallo will get his chance to shine. According to Chris Haynes of Yahoo! Sports, Diallo is expected to compete in the Slam Dunk Contest at NBA All-Star Weekend on February 16. https://twitter.com/ChrisBHaynes/status/1091457442343354369 The official Kentucky men's basketball account is certainly excited about it... https://twitter.com/KentuckyMBB/status/1091482193581494274
DeWayne Peevy inducted into Montevallo Hall of Fame
Today, UK Athletics deputy athletic director DeWayne Peevy will be inducted into the University of Montevallo Athletics Hall of Fame. https://twitter.com/UKAthletics/status/1091355111895588864 "I'm extremely honored to be inducted into the University of Montevallo Athletics Hall of Fame," Peevy said in a statement to UK Athletics. "As the chair of the UK Athletics Hall of Fame committee, I've made that call before and to be on the other end this time was very humbling. Montevallo has played an important role in my life and career. To be honored along with others that I worked with and admired is exciting for me and my family." Peevy was a baseball student-athlete and former sports information director at Montevallo before eventually finding his way to the University of Kentucky. Congratulations to Mr. Peevy on the accomplishment!
Punxsutawney Phil doesn't see his shadow
Are you tired of the cold weather? If so, good 'ole Punxsutawney Phil has some good news for you. After coming out of his burrow this morning, the world's most famous groundhog did 
not 
see his shadow, and thus, there will not be six more weeks of winter. https://twitter.com/ABC/status/1091704072384770048 Spring is (hopefully) coming, folks. #GoCats #BeatFlorida [mobile_ad]