How Kentucky Wins the Governor's Cup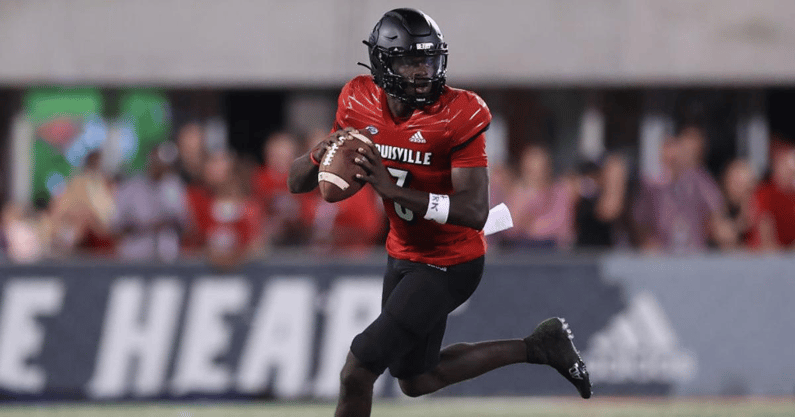 Well, it's here. The long-awaited Governor's Cup will be played on Saturday night in the Derby City. The Cardinals are red-hot after beating up on Syracuse and Duke by a combined score of 103-25. Kentucky had similar results against Vanderbilt and New Mexico State. Louisville is favored in spite of a 6-5 record. The brightly lit buildings in the desert perceptibly value the Cardinals' losses more so than UK's wins. Mark Stoops relishes in the underdog role. Pregame prognostications are providing ample motivation for his football team. 
To put it nicely, these two teams and fanbases don't like each other very much. This game will be heated and features two offenses that are capable of scoring points in bunches. Louisville quarterback Malik Cunningham is electric. The redshirt junior from Montgomery, Alabama leads the team with 933 rushing yards and 18 scores on the ground. He's also passed for 2589 and thrown 18 touchdown passes compared to five interceptions. The Kentucky defense will have their hands full trying to slow the dynamic playmaker. But, so will Scott Satterfield, who will be dealing with UK's newly vamped passing game and the SEC's second-leading rusher Chris Rodriguez Jr.
Let's take a deep dive into this rivalry game. 
OFFENSE
Kentucky produced a 400-yard passer, two 100-yard receivers, and a 100-yard rusher on its way to accumulate 29 first downs and 56 points against New Mexico State a week ago. Four turnovers prevented the Cats from hanging seventy on the Aggies. Generosity with the football has been a common theme throughout the 2021 season. Will Levis has manufactured back-to-back, high-level outings. Liam Coen will need his signal-caller to stay at that level against the Cards who are allowing 260 passing yards per game. 
Louisville presents the ACC's 8th ranked total defense. It's giving up 392 total yards and 25 points per game. Kentucky should have opportunities to maximize personnel advantages along the line of scrimmage. The Big Blue Wall has faced adversity after losing midyear All-American guard Eli Cox to injury. It's necessary for Kentucky to be the most physical team on the field and exercise its will in the run game. The Cats have done so in its two most recent Governor's Cup victories. Let's see what the Wildcat offense has to do in order to get the win. 
Hold on to the football
The fact that Kentucky is 8-3 with a -14 turnover margin is a modern-day miracle. That turnover/win ratio makes no logical sense. Saturday's goal is simple. Kentucky cannot turn over the football. Just can't. Giving Cunningham and that high-powered offense additional possessions could prove to be insurmountable. 
Possess the football 
First, hold on to the football. Second, live in the S.L.O.P. (Sustained-Long-Offensive-Possessions). Cunningham can't score from the bench. With this goal in mind, Kentucky must find the end zone inside the 20. Red Zone field goals won't cut it. Kentucky dominated the time of possession against Tennessee to the tune of 46:08 to 13:52 and lost. This metric has lost its tarnish as of late but will be important in order for Kentucky to win. 
Slug it out
No, this doesn't reference a fistfight. Kentucky has to exert its physicality on the line of scrimmage. Playing bully ball and rushing for 225+ yards is an accomplishable goal.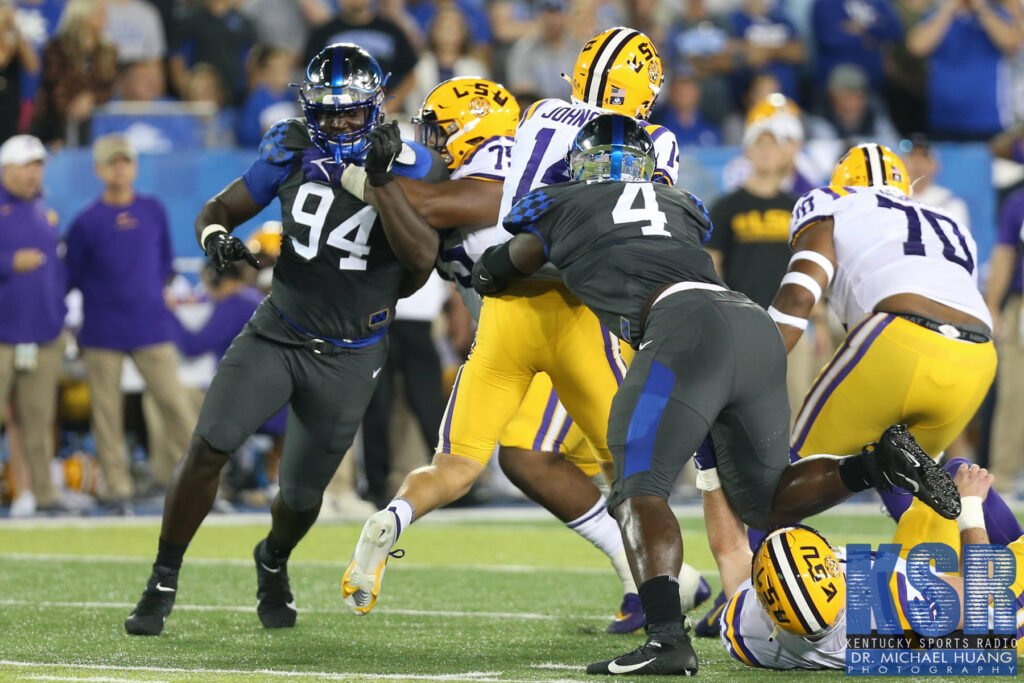 DEFENSE 
The BBN is justifiably a little nervous about this game. Malik Cunningham is the most threatening offensive player that Kentucky will face in 2021. The quarterback is averaging 321 total yards per game. Clearly, he is the focal point of the offense. At times, the Wildcats' pass defense has been a liability especially in the second half of the season. This is a derivative from devastating injuries along the front seven, lack of cornerback depth, and the fact that Kentucky has faced some dynamite passers. Add Cunningham to the list that includes Stetson Bennett, Will Rogers, and Hendon Hooker. 
Louisville is averaging 33 points per game. Major concern surfaced after the Cards lit up the scoreboard in its two most recent contests. This one may come down to which team has the football last. Another scenario is that turnovers will decide the outcome. Regardless, Cunningham presents all kinds of challenges for Brad White's defense. 
The Cardinals are going to get their yards. Kentucky's goal is to be stout on third down and in the Red Zone. Louisville has scored 26 touchdowns in 39 trips inside the 20-yard-line. In theory, Kentucky is a bend-but-don't-break defense. Additionally, the Cards rank 10th in the ACC by converting 40% on third down. The Wildcats have to use the Cards' third down and Red Zone limitations to its advantage. Here's what Kentucky has to do to get the win. 
Game ball to the linebackers
Louisville will utilize Cunningham on designed runs via the RPO or other creative options. Inside 'backers DeAndre Square and Jacquez Jones are going to be faced with trying to slow a dynamic athlete from sideline to sideline. That duo and other LB contributors have to get Cunningham to the ground before he gets rolling downfield. Outside linebackers JJ Weaver and Jordan Wright (if healthy) can disrupt the pocket but must do so in a disciplined manner. 
Tackling will be at a premium. Additionally, the Cards will deploy multiple formations and motions in order to get to the edge with jet sweeps and other actions that place tremendous pressure on the perimeter. Kentucky linebackers can't afford to get outflanked or lose leverage. 
Smart rush
Back to Cunningham. Wildcat defensive linemen and outside linebackers will be tasked with rushing the passer. That's fine and happens every Saturday. But, this Saturday is different. Pass rushers must maintain path and depth discipline in the pocket. Getting out of place on the interior opens cracks for the Cardinal quarterback to get loose for an explosive run. Overshooting the quarterback from the edge also opens lanes. This is a tricky proposition. On one hand, they're asked to sack the quarterback. On the other, they must have sound eyes and proper trajectory in order to stay within Cunningham's reach.
Second game ball for the secondary
Kentucky's secondary has been under the microscope after getting torched by Mississippi State and Tennessee. The Bulldogs and Volunteers took differing paths but the results and optics were less than ideal. The Governor's Cup presents similar challenges for the questioned group. Simply said, the Wildcat secondary has to be better in order to retain the big trophy.  
Missed tackles in the secondary could lead to touchdowns against this speedy collection of Louisville skill players. While showing improvement against Vandy and NMSU, tackling in space has not been a strength. That has to be the focus on Saturday night. The Wildcats can't let this football game turn into a track meet. The Cardinals will take vertical shots. That's what I'd do. Kentucky has to be in the proper position to contest home run balls. Kentucky defensive backs will need to play their best game of the season against the run and pass. 
Slow the run
Louisville is the second-ranked rushing team in the ACC, recording 218 yards per game. Cunningham is the team's leader after averaging 85 yards per contest. Joining the quarterback is Jalen Mitchell's 712 yards and five scores. Trevion Cooley is averaging over five yards per carry and brings the element of speed to the equation. Cunningham is going to get his. The Cats can't let non-Cunningham ball carriers hurt them on the ground. The objective here is for 175 or fewer rush yards. 
SPECIAL TEAMS 
Kentucky was not good in the third phase against New Mexico State. Multiple penalties along with personnel issues on the field goal team combined for a less-than-effectual outing. The goal here is to be sound. Boring, but consistent. 
Be solid
Kentucky will need to be specific in all three phases. Special teams execution is all about attitude. The Cats need an edge in this category. 
What Does All This Mean?
There's quite a bit of motivation for the Cats to beat its arch-rival. Obviously, 365 days of bragging rights is priority number one. Secondly, a Kentucky victory would all but assure a sunny, Florida bowl game and a nine-win regular season. Those years don't come around too often in Lexington. 
Two of Kentucky's three losses have occurred on the road. One of the three was against its other rival, Tennessee. This game combines both elements which have led to pregame apprehension. Throw Malik Cunningham into the mix and the result is an uneasy fan base leading up to kickoff.  
Motivation for this game can't start during pregame warmups or in the tunnel. Monday through Friday purposeful practices and focused preparation are extremely important especially in rivalry games when emotions can run wild. The significance of the Governor's Cup can't be overstated. Recruiting and offseason mood are other considerations that are impacted by this game. 
Kentucky's offense exploded for over 700 yards against New Mexico State. The Aggies rank 127th in the nation in total defense. Louisville lit up Duke for 62 points a week ago. The Blue Devils have the second-worst defense in all of college football. Predicting the outcome of this game based on those two performances is impossibile. Both offenses are capable of scoring a bunch of points. A single turnover or the randomness of a goal-line stand could be the deciding factor. Who knows. Should be fun. 
Kentucky needs to win this one. Badly.