"How to Perpetuate Bad Stereotypes," my response to "How to Land a Husband at The Masters"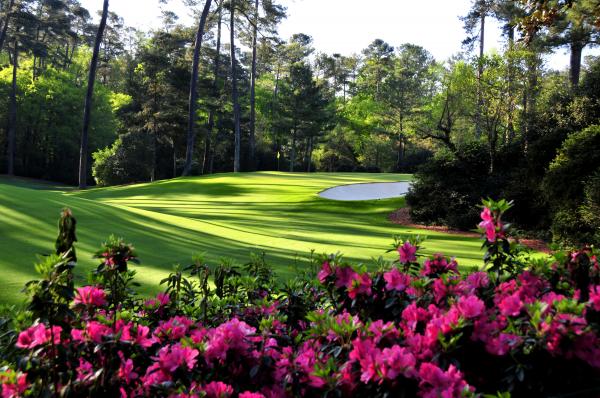 This morning, a tweet directed me to an article on Outkick the Coverage, Clay Travis' blog on FoxSports.com, entitled "How to Land a Husband at The Masters."  (Click if you dare!) Normally, I roll my eyes at OKTC pieces like this, but the title was so bad that I fell victim to the bait.
The author, Rebecca Johnson–who has no other articles on the site–starts by describing how she grew up outside Augusta and was fortunate enough to use her grandfather's badges to go to The Masters for years. OK, fine, nothing wrong there. Lucky girl. I didn't even cringe when Johnson described the guys she's taken to the tournament for the first time as "Masters virgins." Golf's most prestigious tournament is a powerful thing, so I can see the comparison. For that reason, I didn't roll my eyes when Johnson criticized the patrons' dress for the first time, chastising young guys for wearing t-shirts. I feel like if I'm ever fortunate to go to The Masters, surely I'll wear something nicer than a tee. That's how much I respect the event.
Then it all went downhill. Johnson spent the rest of the article talking about how she and her sister (one married, one in a serious relationship) got hit on by guys at a practice round because they were "naturally pretty" and "31, attractive, and have a great tan year round." Immediately, I became suspicious. What woman describes herself like that, let alone types the words on a post that will be published on the internet? I don't think I've ever heard a woman describe herself or her sister as "naturally pretty." "Beautiful" maybe, but that seems like something a guy would say about a girl. Hmm.
Johnson then comes to the crux of her piece: "the Tournament is like live Tinder heaven for a single girl. And there's NO competition!" She gives readers six tips for meeting their future husband at The Masters, including "smile and have fun," "don't drink too much," and "keep your options open." Memorable lines (for bad reasons):
"As we walked from Amen Corner to #16, we were engaged in conversation, laughing and smiling, and we couldn't keep guys away. It was like they wanted whatever Kool-Aid we were drinking."
…I feel like even the shallowest chick lit wouldn't include lines like this. On the fine line of confidence and arrogance, this registers as narcissism.
"The Masters is a classy golf tournament. You're looking for your husband, not a one night stand."
…Or, you're there to watch golf?! Oh wait...
"Let's be honest. You aren't there for the golf."
…If that's really true, why are you there? I doubt any men go to The Masters to meet women. Millions of women who love sports are weeping right now.
Here's the thing: I get lighthearted social commentary. I also get satire. I think there is a place for both in sportswriting, especially in the South, where sports are inevitably a social gathering. Unfortunately, this is neither of those things, or if that was the intent, it failed miserably.
Here's what I don't get: an article on a sports site by a woman about one of the greatest events in sports that doesn't even mention the sport. Sure, here on KSR, we embrace topics other than sports, but if I were ever lucky enough to go to The Masters, I sure as hell wouldn't write about guys hitting on me. I'd write about walking around one of the most hallowed grounds in sports, feeling the tradition in the air, and enjoying sports for the love of sports.
I also wouldn't drag female sports writers and fans down with an article that perpetuates the stereotype that women only care about sports to get a man. Because that's what this piece does and it's embarrassing. As a female sportswriter trying to find her footing in this world, all it does is make the climb a little steeper.
For Rebecca Johnson's sake, I hope she's just Clay Travis' pseudonym.