How Tyler Ulis Will Be Remembered
When describing Tyler Ulis' career at Kentucky, I guess we really have to start by thanking Emmanuel Mudiay. In the summer of 2013, the Cats was considered the favorite for Mudiay, who, at 6'5" 200 lbs., looked every inch the ideal Calipari point guard; however, in August, the winds shifted in SMU's direction. The first sign that Kentucky wouldn't land Mudiay came on August 16 in the form of a scholarship offer to Tyler Ulis, a 5'9" point guard from Chicago, Illinois. Eight days later, Mudiay committed to SMU. Three weeks after that, Tyler Ulis became a Kentucky Wildcat. At the time, most considered Ulis the consolation prize for Mudiay; a four-year player who would keep the boat steady as one-and-dones came in and out. Two and a half years later, he's one of the most beloved players in the program's history and a potential lottery pick.
---
I'll never forget the first time I saw Tyler Ulis because, at the time, it seemed so forgettable. I was covering my first Calipari Fantasy Camp back in early September 2013, the same weekend as the Alumni Game. Ulis, Devin Booker, Charles Matthews, Jahlil Okafor, and some other recruits were on campus and a few of them came into one of the lounges at the Joe Craft Center to watch football. I was in there 
watching football
working on a post and while I recognized a couple guys, I, quite honestly, thought Ulis was somebody's little brother. I realized my mistake a few minutes later when someone called for "Tyler" and they weren't talking to me. Over a year later, when I found out what happened next, this moment became even more laughable. Another Cal Fantasy Camp/Alumni Game tradition is pickup games between the pros, current players, and, occasionally, recruits. The game that year became the stuff of legend when a 17-year-old Tyler Ulis refused to back down from 22-year-old DeMarcus Cousins after Cousins didn't listen to Ulis when he called a foul. Instead of giving the ball back to Cousins, Ulis and Devin Booker stood their ground and refused to play until the NBA center honored the call. Little 5'9" Tyler Ulis vs. 6'11" 270 lbs. DeMarcus Cousins. We wouldn't find that story out for another year, but looking back, it is one of many instances where Ulis acts way bigger than his size.
"The day he came to play with us last year and tried to fight — who'd he go after? — DeMarcus Cousins. And DeMarcus Cousins is a big person, so I wouldn't do nothing stupid like that. But he had that fight, like, 'No, I'm not backing down from you.' I'm like, 'All right, let me help you with this. Let's back it up.' But he wasn't stopping."

-- Marcus Lee
Tyler's stock continued to rise during his senior year of high school as the spotlight inched closer and closer his way. Thirty-point nights became the norm and he turned heads on the All-Star circuit for his vision, handle, skills, defense, and of course, stature. Fair or not, Ulis' height (or lack thereof) is the first thing most notice about him, but the second is always how he plays way above it. As Kentucky prepared for its "great story" in the Final Four, Ulis tweeted out this picture of him playing against Andrew Harrison on the AAU circuit back in the day:
Little did young Andrew and Tyler know they'd be sharing a backcourt at Kentucky years later.
---
With the majority of the 2013 recruiting class coming back to Lexington for a sophomore year, Ulis was put in charge of the second platoon while Andrew Harrison manned the first. Ulis shined early on in UK's exhibitions in the Bahamas and in limited minutes during the non-conference schedule; however, the Louisville game was when we first found out what he was really made of. Ulis took an elbow to the eye from Chris Jones early in the first half, forcing him to go to the locker room and get bandaged up. When he came back, he scored 14 points, 12 in the second half, taking over for a struggling Andrew Harrison. We knew Ulis was good, but against Louisville, we found out he was also tough as nails.
After his gutsy performance, there was a growing sentiment to put Tyler on the first platoon, but Kentucky kept winning, so Cal stuck with the Twins. Tyler battled shin splints throughout the season, but continued to win over the hearts of fans, especially when he exchanged words with Auburn's 7'2" Trayvon Reed during the SEC Tournament: [caption id="attachment_197669" align="alignnone" width="792"]
Photos by UK Athletics
[/caption] Marcus Lee called Tyler a bulldog who "never backs down from anybody." Karl Towns said his heart is "bigger than his body shows." Unfortunately, Kentucky's season came to a premature end vs. Wisconsin in the Final Four, and even though the Cats had accumulated 38 wins that season, all Tyler could focus on was the one loss.
"It really means nothing. We lost today. It takes everything away. All the wins to me, mean nothing."

-- Tyler Ulis after the Wisconsin loss
---
The days after the loss to Wisconsin were pretty hard on the BBN, with seven players announcing they were heading to the pros and Duke taking home the National Championship, but there was some solace in the fact that Tyler was coming back. One day after Kentucky's loss to Wisconsin, Calipari texted Tyler to tell him he's building a team around him. "Get your guys and let's do this again," Cal said. Ulis entered the season with "unfinished business," and with Jamal Murray at his side, Kentucky's backcourt became the backbone of the team. Tyler took Calipari's words to heart and assumed complete leadership of the squad, at times so in sync with Cal that the two could finish each other's sentences. Against #5 Duke in his hometown of Chicago, Ulis stepped into the national spotlight, putting up 18 points, 6 assists, and 0 turnovers to lead Kentucky to a huge win. Both Jay Bilas and Coach K raved about him after the game.
"If you're good enough, you're big enough." -- Jay Bilas

"There aren't many out there like him. God was good to him. He didn't give him height, but he gave him a heart that's five times bigger than most people's." -- Mike Krzyzewski
Ulis hyperextended his right elbow vs. South Florida and although he protested, had to sit out one game. He returned for UK's trip to UCLA, and with his team struggling, told Skal Labissiere to man up under the basket: https://vine.co/v/iWUDYWFpPPe As good as Ulis was playing, he took it to another level at the halfway mark of the season. Once again, Ulis had a red-letter day vs. Louisville, scoring 21 points, including four three-pointers, a performance good enough to earn him MVP honors. In conference play, he thrived, eager to prove himself as the league's best player. He embraced the challenge of guarding Ole Miss' Stefan Moody and put up 20 points and 10 assists, his first career double-double, while holding Moody to 23 points (most in garbage time) and forcing him into five turnovers and one assist. The rest of league play quickly became a platform for all of the SEC's coaches to rave about Ulis, starting with Alabama's Avery Johnson, who quipped that he didn't want to see Ulis next season. "Go to the pros!" Johnson joked. (Avery, you got your wish.) On an inconsistent team, Ulis was the constant, bringing it all each night, regularly turning in 20+ point and 10+ assist point totals. Rare was the game in which Tyler played less than 38 minutes, and when his teammates faltered, he stepped up to shoulder the load and didn't hesitate to hold them accountable for their mistakes. When his coach got ejected for the second straight year at South Carolina, Ulis even took over the offense. With Tyler and Kenny Payne splitting coaching duties, Kentucky stormed to an 89-62 statement win over the Gamecocks, which Payne fully attributed to the sophomore guard.
"The story is Coach Cal coached the team through Tyler Ulis. I never touched on offense, didn't have to. Between Cal and Tyler Ulis, they're on the same page. Tyler Ulis ran the offense. Every now and then I may have interjected something, but at the end of the day, it was his show."

-- Kenny Payne after the South Carolina win
Ulis' big day put him squarely in the national spotlight and gave Calipari the opportunity to launch Ulis' campaign for National Player of the Year. For the remaining month of the season, Ulis stole headlines alongside Murray, who was on a run of his own. Together, they led Kentucky to another SEC Tournament Championship, and along the way, Ulis broke John Wall's single-season assist record, which he now holds at 246. As the postseason went on, Ulis' accolades continued to mount: SEC Tournament MVP, SEC Player of the Year, SEC Defensive Player of the Year, First Team All-American. As Kentucky kept winning, the momentum kept building for Ulis to be National Player of the Year. And then Kentucky lost. It's both cruel and fitting that Ulis' career at Kentucky ended with him playing his heart out to prolong it. With the rest of the team MIA, Ulis single-handedly tried to beat Indiana, going on an 8-2 run with one minute left to bring Kentucky to within three. Sadly, it wasn't enough, and the image of Ulis with a towel over his head on the bench while Indiana celebrated will be a hard one to forget. [caption id="" align="alignnone" width="600"]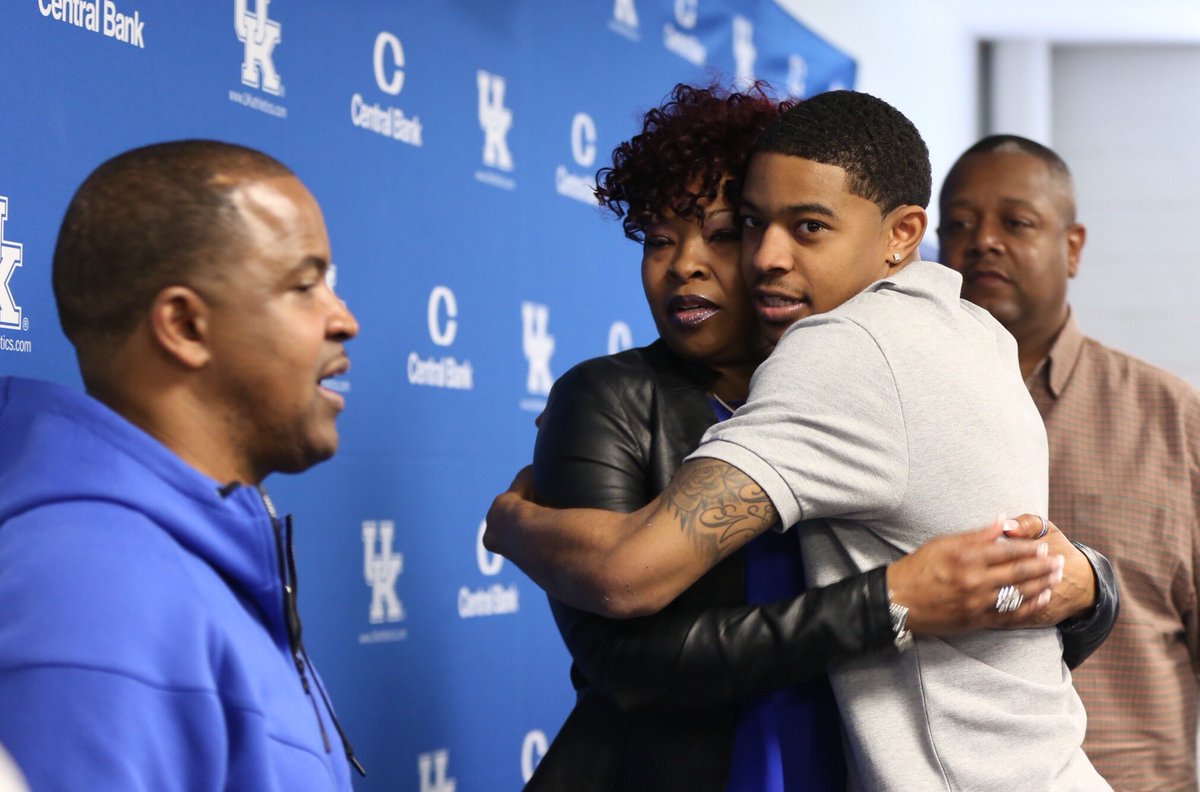 @UKCoachCalipari
[/caption] Instead, we'll focus on this image of Tyler embracing his mother after announcing he was declaring for the 2016 NBA Draft. Ulis finished his UK career with 381 career assists, 10th most in school history. He was named a consensus First-Team All-American and a finalist for the Naismith Trophy, the Oscar Robinson Trophy, the Wooden Award, and the Bob Cousy Point Guard of the Year Award, the latter two of which will be awarded later this week. When asked how he wanted to be remembered at Kentucky, Ulis' words couldn't have rung truer.
"I would like to be remembered as someone who comes out and does whatever he needs to do to win the game and leaves everything out on the court."

-- Tyler Ulis
Calipari has championed Ulis throughout his career at Kentucky, continually telling the naysayers that the pint-sized point guard would not only be a pro, he'd leave early to do it. It's a line most of us probably laughed at when we first saw Ulis, but on Wednesday, he said that before he even committed to Kentucky, Calipari told him, "Don't come here if you want to be a four-year point guard." Time will tell, but Ulis may go down as the player we never imagined would leave early when he arrived, but the one we wanted back the most.