How and when Kentucky will improve indoor football facility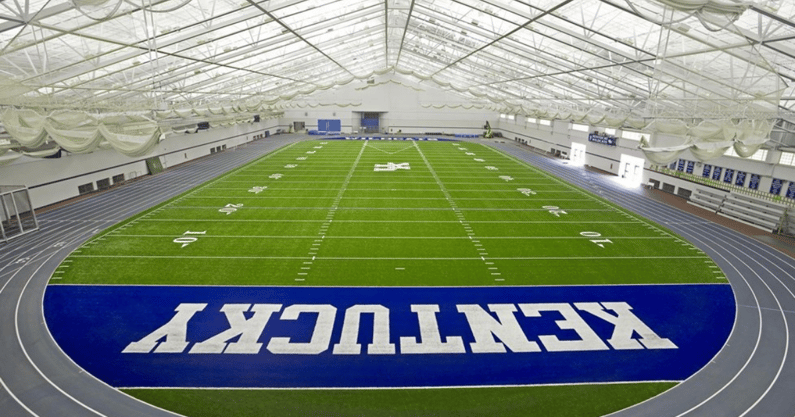 The remnants Hurricane Ida swept across the nation ahead of the opening week of college football. Mark Stoops is unsure of its impact on the Louisiana-Monroe, but it certainly changed things for his Kentucky football team, forcing the Wildcats to practice in the indoor football facility.
"It has an impact on us with our practice with what we're getting. It does not benefit us," he said during Monday's coach's show. "We got a track around our indoor (facility). I don't have a 100-yard field. It impacts us heavily."
When the rain forces UK inside for practice, the Wildcats are limited by space. Instead of a standard 120-yard field with complete end zones, a track cuts off the corners to make it only 100 yards. Space and the quality of the indoor football facility's turf is a point of contention for the UK football program. Stoops' complaints have grown louder and louder in recent years.
A Dated Indoor Football Facility
Nutter Field House was a state of the art $8.5 million facility when it was dedicated in 1993. It has received some updates over its almost 30-year history.
"It's old — it's older. It allows us to do some stuff." Barnhart said, "It needs more run-out, is what it needs. The track is around it and we've talked about finding a way in the facilities to create an indoor facility for our track team to prepare."
From a financial standpoint, the football team takes a priority. However, after watching former UK track and field stars when gold in Tokyo, those athletes deserve a place of their own too.
"Obviously, some of the people that won medals in the Tokyo Olympics, people are very proud of what they've done, and they trained on that track. Clearly some world class athletes have been on that track. We've got to get the track out of there and get it wall-to-wall with grass so we don't have the run-out issues," Barnhart said
"Other than that, we can revamp it and it'll be fine in terms of widening. We hope (it will happen soon). It's not one of those things where you can flip the switch on. Keep in mind, let's go back to what's happened in the last 18 months. We were just trying to survive financially."
Available Space
Of course, finding funds to create an updated, larger indoor football facility is difficult as the world's economy recovers from the COVID-19 pandemic. Luckily, Kentucky has the space to make it happen. Since the baseball team moved to Kentucky Proud Park, there's now some wiggle room at the old baseball facility to create a new home for indoor track, giving the UK football team more room to operate at Nutter.
"There's pieces that give us the ability to move some things, but it's a puzzle piece and part of the masterplan of the university. I want it as much as he (Stoops) does and there are finances involved with that stuff," Barnhart said.
Five years ago the Kentucky football program received a major facelift with the construction of the Joe Craft Football Training Facility. An updated indoor football facility appears to be on the horizon. Exactly when that will happen, remains a mystery.